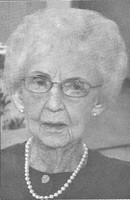 June Bunderson, 95, died on March 4, 2012 in Montpelier. June was born to Boon and Augusta Pehrson Bunderson in St. Charles on June 5, 1916.
After graduating from Fielding High School, June continued her education at Utah State University. June also served a full-time mission for The Church of Jesus Christ of Latter-day Saints in the Northwest States Mission, which included Oregon, Washington and Northern Idaho. Never idle, she enjoyed a long business career where she was known not only for her fast typing skills, but her ambidexterity. June worked for PMA Offices, as well as a secretary for Montpelier High School. She worked as a Montpelier City Clerk until retirement. June still remained active in her community. She enjoyed working as a voting registrar for Montpelier City and county elections. June was also involved in church, as an active member of the LDS church. She most recently served as Visiting Teaching Supervisor.
June looked forward to spending time with friends, which included Monday lunches and movies. She enjoyed her Thursday hair appointments. June also loved spending time with family. She loved visiting with them. She always had time for those she loved. June was a very caring sister and a thoughtful aunt to her nieces and nephews and their families. She was invested in their lives and never forgot a birthday or significant event. June will be greatly missed.
June was a remarkable woman and a sharp dresser with a sharp mind. She was still driving up until her death, and she was proud of that. The family would like to thank all those who served and enriched June's life.
June is preceded in death by her parents and sisters Virginia Whittington, Velma Scofield, Elaine Perkins and numerous others.
June is survived by her sister Rula Minor of Pocatello, as well as nieces and nephews and their families.
We will gather in June's honor on March 8 for funeral services at noon in the LDS church located at 485 S. Seventh Street in Montpelier. Interment will follow at the Montpelier City Cemetery.