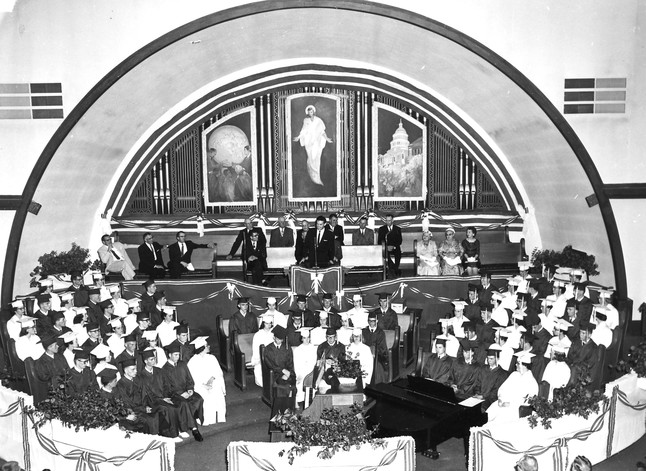 Graduation: Senator Frank Church addressing the class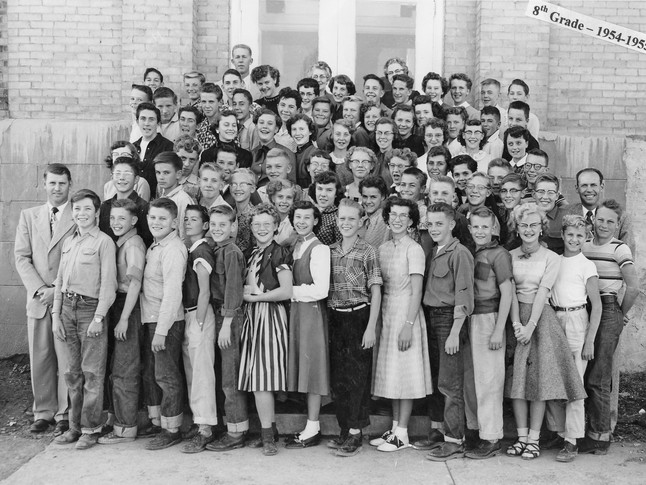 Central School Eighth Grade Class 1954-5
Back Row: Waldo Anderson, Gertrude Teuscher, Helen Whitman (Teachers)
Row 6: Richard Short, Willy Jenkinson, Ralph Busco, Ruth Wilcox, Linda Stephens, Carolyn Nield, Bob Wigington, Loren Young, Karen Messerly, Marilyn Wilcox, Calvin Burgoyne, J Muir
Row 5: Lynn Hansen, Dick Grunig, Jerry Hunzeker, Val Watkins, Edward Leissring, Grant Messerly, Bentsen Moss, Linda McMurray, Marilyn Edghill, Judy Davis, Marjean Sommers, Michael Nelson, George Irving
Row 4: Dwight Mudd, Dwayne Mudd, Carole Egley, Julianna Hayes, Lucille Vannoy, Rosanna Combs, Diana Mumford, Gail Gardner, Karen Arnell, Doris Lloyd
Row 3: DeAnn Evans, Bobby Trussell, Dean Dimick, Boyd George, Glenna Lloyd, Bonnie Esterholdt, Doris Thornock, Roger Aland, Leonard Young, Richard Bunderson, Lee Roderick
Row 2: George K. Loveless (Teacher), Charles Sorenson, Michael Brown, Bill Hymas, Dean Swenson, Jane Williams, JoAnn Alleman, Annetta Kunz, Ross Peterson, Richard Pool, John Nield, Steve Stelovich, Bruce Walton, J.L. Jaussi (Teacher)
Front Row: Ronald Devenish, Lloyd Jacobsen, Lanny Phelps, Billy Jensen, Don Haddock, Carole Bradley, LaNeta Alleman, Lamar Sleight, Karen Kunz, Jerry Williams, Jerry Bissegger, Margo Kunz, Kent Perkins, Michael Teuscher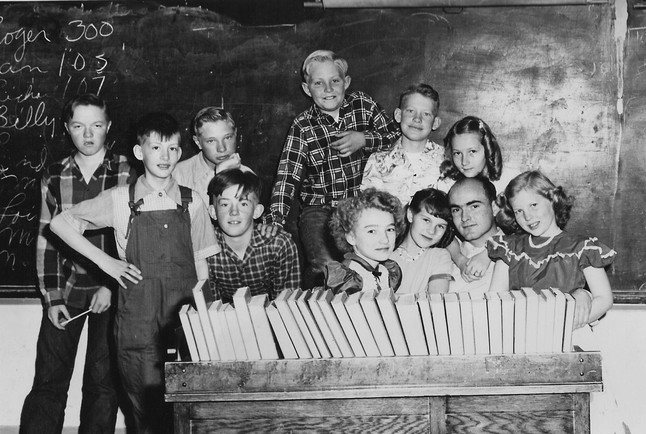 Bennington School Fifth to Eighth Grade Classes 1952-3 Teacher, David Wright
Standing: Roger Burdick (57), Marvin Alleman (57), Van Ness Perkins, Bill Jensen (59), Will iam Hunter (57), Louise Crane (60)
Seated: Richard Bunderson (59), Monte Sparks (59), Marie Mouritsen, David Wright, Linda Buhler (60)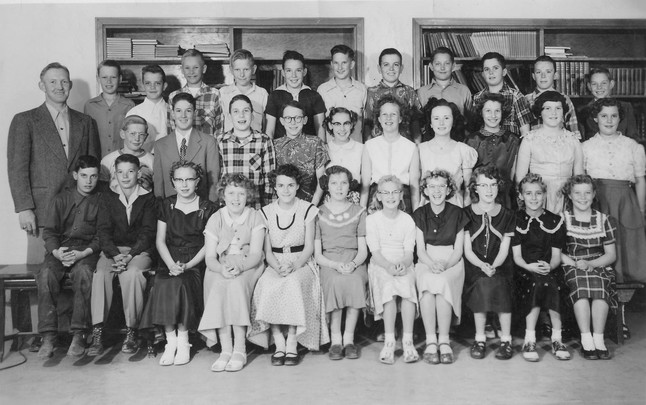 Lincoln School Sixth Grade Class 1952-3 Teacher, Gene Jacobsen
Back Row: LaMar Sleight, Jerry Williams, Glade Quinney, Bentsen Moss, Dean Dimick, Loren Young, Ralph Bingley, J. Muir, Leonard Young, Lee Roderick, Don Haddock
Middle Row: Bill Hymas, Richard Short, Ralph Busco, Bill Hunter, Karen Arnell, Linda McMurray, Judy Davis, Carolyn Nield, Linda Stephens, Julianna Hayes
Front Row: LaVell Lewis, Bill Jensen, Marie Poulson, Marjean Sommers, Annetta Kunz, Diana Mumford, Margo Kunz, Doris Thornock, DeAnn Evans, Jeanette Sorg, Carole Bradley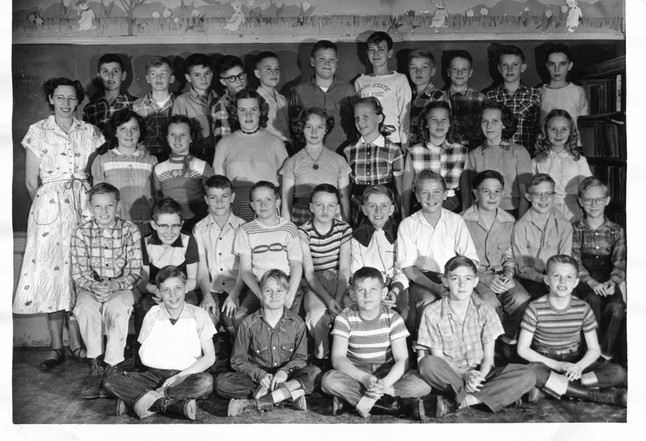 Washington School Sixth Grade Class 1952-3 Teacher, Mrs. Jacobsen
Back Row: Roger Aland, Calvin Burgoyne, Mike Brown, Charles Sorenson, Val Watkins, Grant Messerly, John Davis, Boyd George, Lynn Hansen, Jerry Hunzeker, Victor Young
Row 3: Doris Lloyd, Glenna Lloyd, Ruth Wilcox, Gail Gardner, Marilyn Wilcox, Karen Messerly, Carole Egley, Rosanna Combs
Row 2: Willy Jenkinson, Bruce Walton, Ross Peterson, Jerry Bissegger, Grant Irving, Robert Trussell, Dick Grunig, Bob Wigington, John Nield, Dean Swensen
Front Row: Lloyd Jacobsen, Kent Perkins, Lannie Phelps, Steve Stelovich, Richard Pool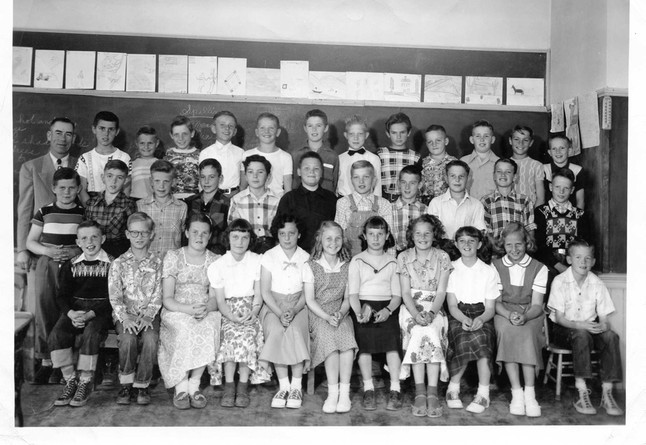 Washington School Fifth Grade Class 1951-2 Teacher, Truman Rigby
Back Row: Roger Aland, Kent Perkins, Lloyd Jacobsen, Bob Trussell, Dick Grunig, Mike Nelson, John Nield, Mike Brown, George Irving, Bruce Walton, Ross Peterson, Jerry Bissegger
Middle Row: Lannie Phelps, Steve Stelovich, Jerry Hunzeker, Val Watkins, Ed Leissering, Grant Messerly, Boyd George, ? , Bob Wigington, John Davis, Lynn Hansen
Front Row: Richard Pool, Dean Swensen, Ruth Wilcox, Carole Egley, Doris Lloyd, Rosanna Combs, Glenna Lloyd, Karen Messerly, Gail Gardner, Marilyn Wilcox, Calvin Burgoyne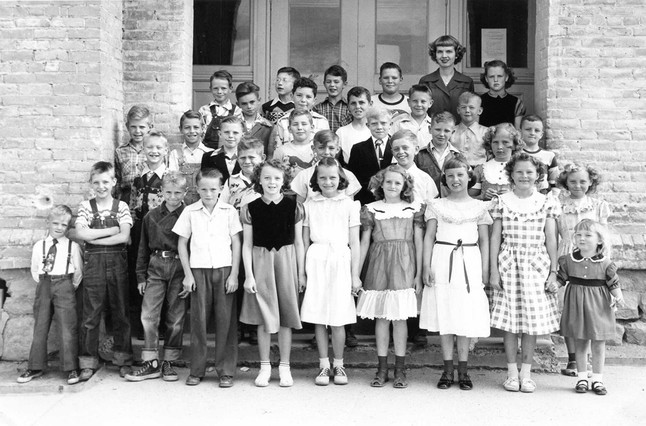 Washington School Fourth Grade Class 1950-1 Teacher, Mrs. Campbell
Back Row: Lynn Hansen, Charles Sorenson, Mike Nelson, Grant Messerly, Mrs. Campbell, Ruth Wilcox
Row 4: Mike Brown, Ed Leissering, Roger Aland, Bob Wigington, Calvin Burgoyne
Row 3: Jerry Hunzeker, Ross Peterson, Richard Pool, Bruce Walton, John Nield, Dick Grunig, George Irving
Row 2: Dean Swensen, Lannie Phelps, Steve Stelovich, Bob Trussell, Marilyn Wilcox
Front Row: Visitor, Lloyd Jacobsen, Kent Perkins, Jerry Bissegger, Gail Gardner, Carole Egley, ? , Glenna Lloyd, Karen Messerly, Rosanna Combs, Visitor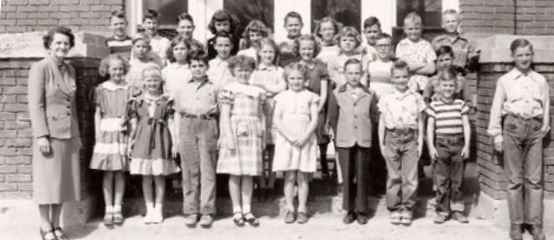 Lincoln School Third Grade Class 1949-50 Teacher, Mrs. Anderson
Back Row: Bill Jensen, Loren Young, Ralph Busco, Linda Stephens, Carolyn Nield, J Muir, Karen Arnell, Val Watkins, Bentsen Moss, Glade Quinney
Middle Row: Bill Hymas, Diana Mumford, Dean Dimick, DeAnn Evans, Linda McMurray, Donna ? , Lee Roderick, LaVell Lewis
Front Row: Doris Thornock, Margo Kunz, Leonard Young, Margean Sommers, Carole Ann Bradley, Mike Teuscher, Jerry Williams, ? , Gene Wells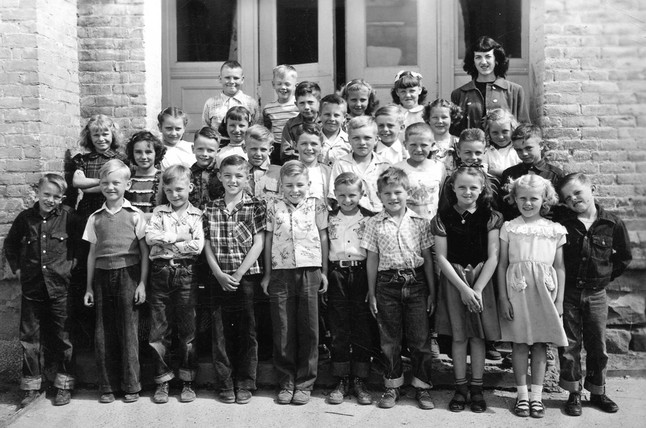 Washington School Third Grade Class 1949-1950 Teacher, Jean Erramouspe
Back Row: Grant Messerly, Calvin Burgoyne, Charles Sorenson, Marilyn Wilcox, Ruth Wilcox
Row 3: Sharon Cheney, Carole Egley, Glenna Lloyd, Bob Wigington, Bob Trussell, Karen Messerly, Rosanna Combs
Row2: Myrna Kunz, Lynn Hansen, Jerry Hunzeker, Mike Nelson, Boyd George, Dick Grunig, Ross Peterson, Mike Brown
Front Row: Jerry Bissegger, Dean Swensen, Lloyd Jacobsen, Steve Stelovich, Bruce Walton, Kent Perkins, Lannie Phelps, Gail Gardner, Claudia Williamson, Richard Pool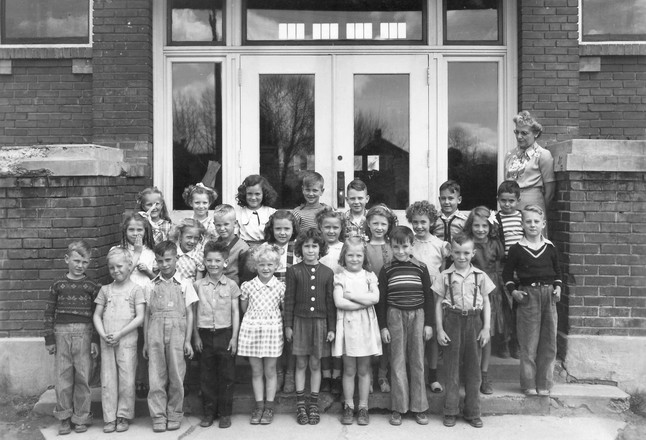 Lincoln School Second Grade Class 1948-9 Teacher, Miss Bowers
Back Row: Linda McMurray, ? , Linda Stephens, John Davis, Ralph Busco, Val Watkins, Leonard Young
Middle Row: Diana Mumford, Doris Thornock, Glade Quinney, Judy Davis, Marjean Sommers, DeAnn Evans, Karen Arnell, Carolyn Nield, Larry Shirm
Front Row: Mike Teuscher, Leonard Johnson, LaVell Lewis, Bill Jensen, Margo Kunz, Judy Lewis, Carole Bradley, Dean Dimick, Lee Roderick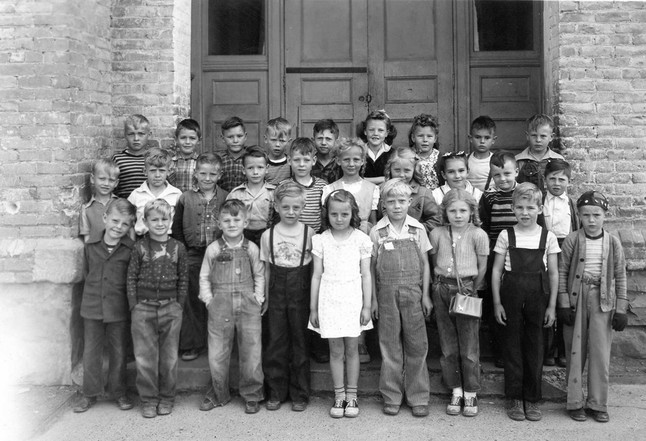 Washington School Second Grade Class 1948-9
Back Row: Boyd George, Mike Nelson, Grant Messerly, Calvin Burgoyne, Charles Sorenson, Ruth Wilcox, Karen Messerly, Mike Brown, Bob Wigington
Middle Row: Dean Swensen, Jerry Hunzeker, Dick Grunig, Lynn Hansen, Merlin Call, Marilyn Wilcox, Rosanna Combs, Myrna Kunz, George Irving, Ray Rasmussen
Front Row: Richard Pool, Kent Perkins, Lannie Phelps, Bob Trussell, Gail Gardner, John Nield, Sharon Cheney, Bruce Walton, Jerry Bissegger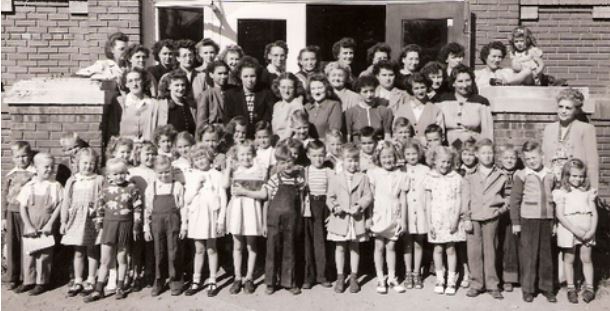 Lincoln School First Grade Class 1947-8 Teacher, Miss Bowers
Mothers of classmates are standing behind (first day of school?) and Pat Stephens (Burdick) is sitting on the column.
Classmates Back Row: Mike Teuscher, Blade Quinney, DeAnn Evans, Marjean Sommers, Judy Lewis, ? , Judy Davis, Linda Stephens, Val Watkins, Gene Wells, Larry Schirm, Leonard Young, John Davis, Dean Dimick, Diana Mumford, ?
Front Row: Leonard Johnson, Carole Bradley, Margo Kunz, ? , Donna ? , ? , Karen Arnell (behind boy), Lee Roderick, ? , Linda McMurray, Carolyn Nield, Doris Thornock, ? , Ralph Busco, ?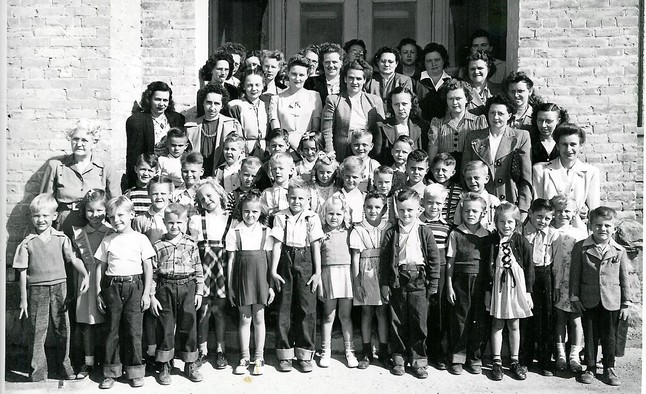 Washington School First Grade Class 1947-8 Teacher, Mrs. Weaver
Mothers of classmates are standing behind (first day of school)
Back Row: Michael Brown, Bruce Walton, ? , Carole Egley, Boyd George, ?
Row 3: Mrs. Weaver, Mike Nelson, ? , Grant Messerly, ? , Calvin Burgoyne, Rosanna Combs, ? , ? , Roger Allen, Charles Sorenson, Bobby Trussell
Row 2: Glenna Lloyd, Ruth Wilcox, Marilyn Wilcox, Gail Gardner, Robert Wigington, Claudia Williams, Myrna Kunz, George Irving, John Nield, Ross Peterson, ? , ? , ? , Lanny Phelps
Front Row: (three boys on the left) Dean Swenson, ? , Kent Perkins