A big "thank you" to all of you who have been willing to share your lives and family photos with us this past year.
As we draw this area of the website to a close, I would like to thank my daughter, Brenda, for scanning many of your photos and for teaching me how to operate this page. Hopefully, you have enjoyed reconnecting with each other and are more comfortable with exploring the website.
Your support has been awesome, and I wish each of you the very best!
Bonnie Olsen Burch (MHS 64)
________________________________________________________________________
Much appreciation to those who brought us all together!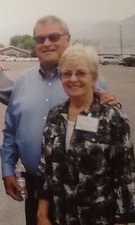 Ross Peterson (MHS 59), along with his wife, Mary Kay Grimes Peterson (MHS 61), started the ball rolling toward a very successful Montpelier High School Sesquicentennial Celebration in 2014.
For some strange reason, I realized that it has been over a year since we held the MHS Reunion in Montpelier. We have been very busy this year and have been a little negligent in keeping track of our classmates and friends. Mary Kay and I spent some time this spring at Colorado Mesa University in Grand Junction where I held the Aspinall Chair in History. It was a great place and we enjoyed traveling to National Parks and also relaxing. Two of my colleagues and I have just completed a manuscript on the History of the Central Utah Project, a massive water manipulation scheme that is now fifty years in the making. One of the most enjoyable events was being asked to be the commencement speaker at Rich High School in Randolph, Utah. It certainly reminded me of MHS as the people gathered and had a great time. We have six grandchildren in college this year in three different states and one on a mission in Kentucky.
I think Kay B. Rasmussen had some more of the videos produced. If anyone wants to use the banners and pictures from the Reunion for their gatherings, let me know. We have them in storage. Thanks again to everyone.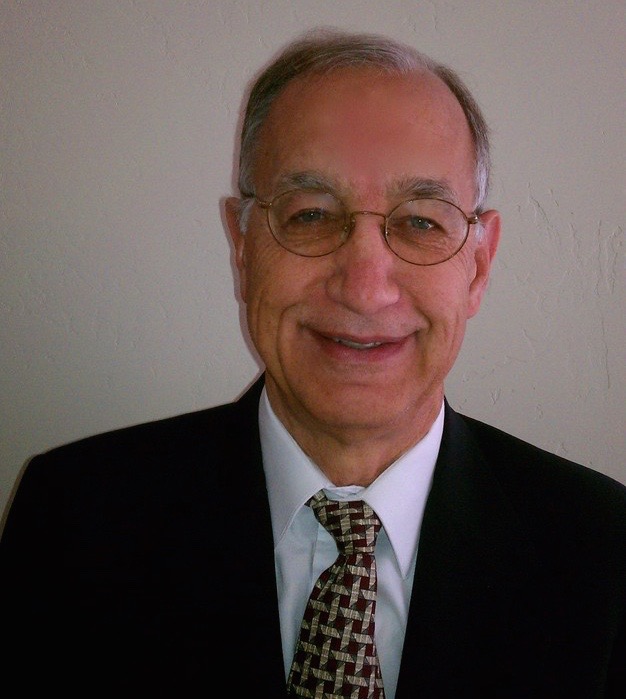 David Dimick (MHS 64), the Website Creator
We would like to encourage you to scroll through each of the pages located on the left of your screen. New photos and information have been added and more will be added in the future. We look forward to reading your updated profiles and seeing more photos. Remember, you can add videos, too!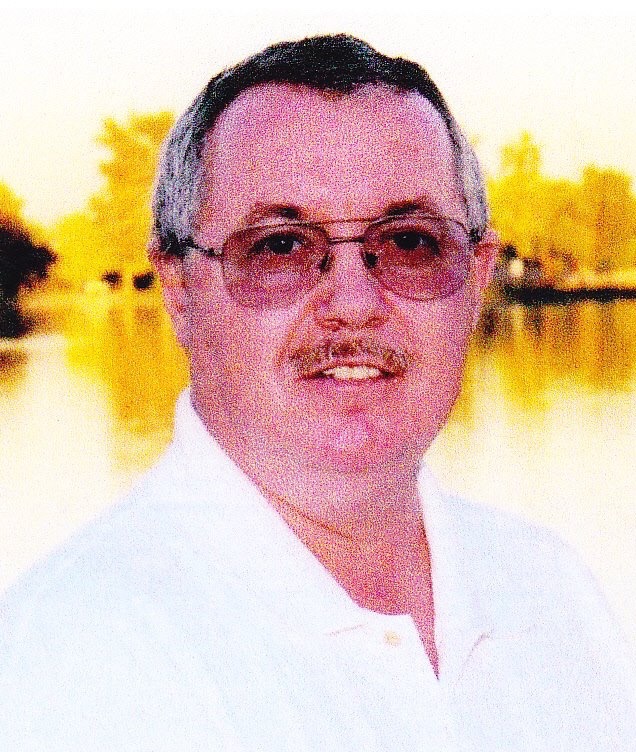 Lynn Roderick (MHS 64), the Information Researcher
Message from Lynn:
If your e-mail or phone number changes, please contact me through the website. We would like to encourage more classmates to join the website and enjoy reconnecting with each other.
_________________________________________________________________________
This page will remain as is, for the time being, so that you may scroll through the past years events. Enjoy reminiscing through pictures of the classmates who attended the reunion, pictures of many who were unable to attend, family photos, and many old and new class photos.
___________________________________________________________________________________________
These pictures were shot at my great-grandfather's homestead just southeast of Georgetown, on the way up Dunn's Canyon (Meads Peak area).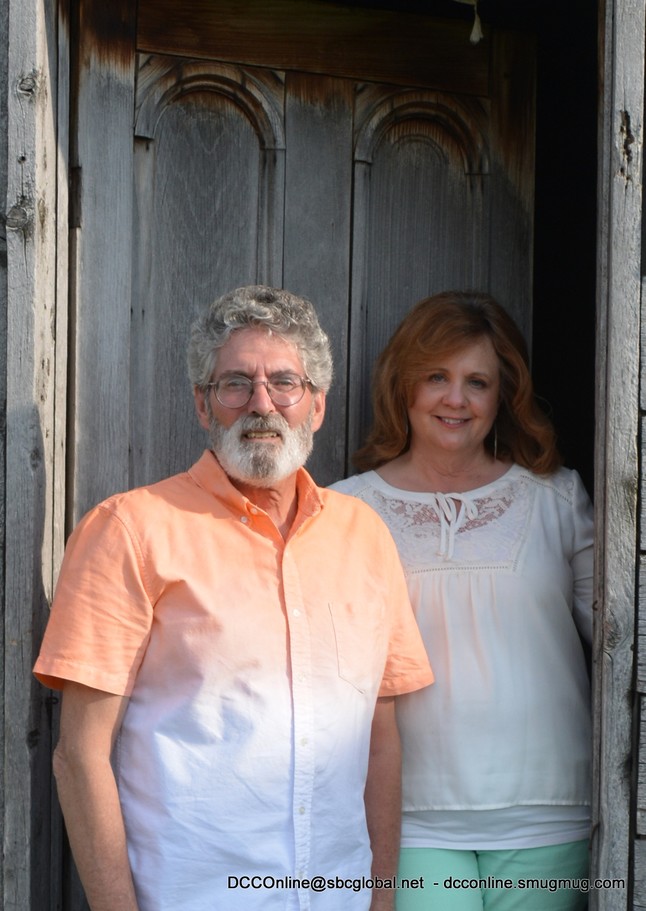 Kent Bunn (MHS 64) and his wife Kathy.
Turn your back and.....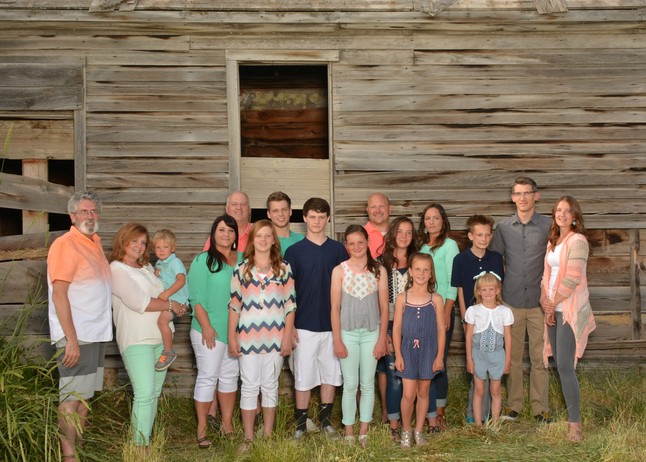 They're all grown up! Son, Steven and family, are missing, so we're short five family members.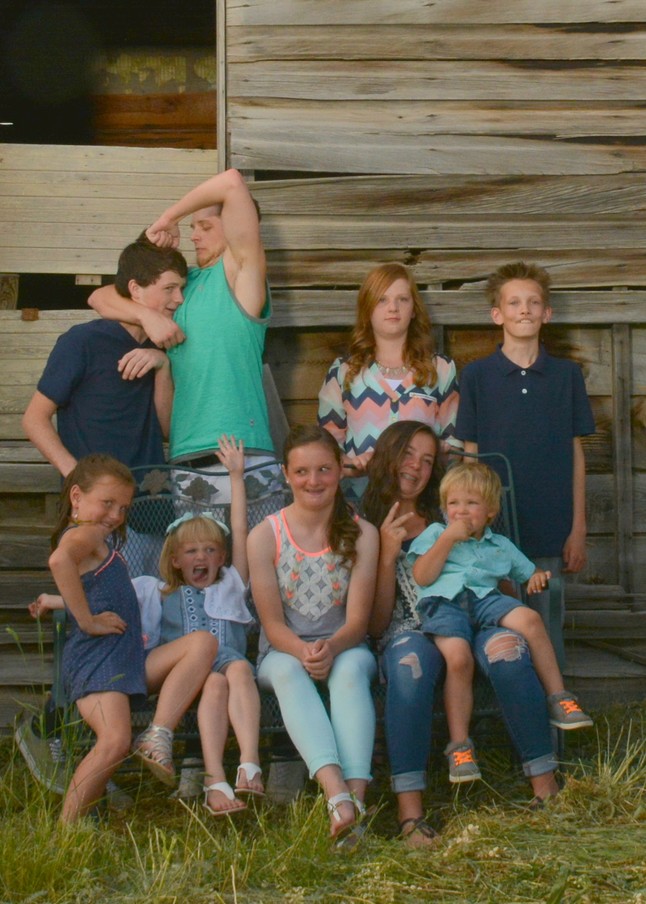 Yes, these are our grandkids enjoying each other! Their feet are half webbed as we spend as much time as possible with them at the lake.
_________________________________________________________________________________________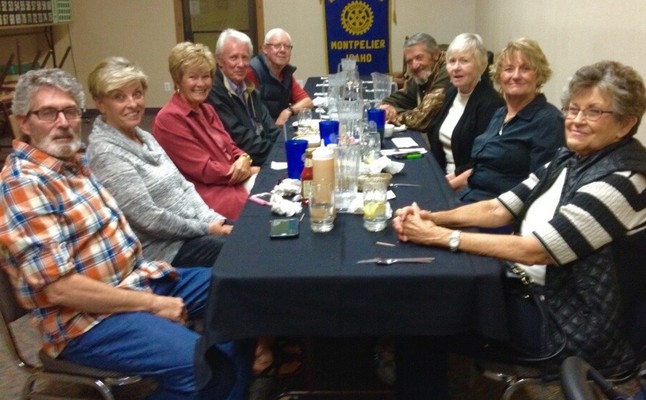 A group of MHS friends got together for lunch to hear about Trudy and Dave's vacation to Turkey. What a venture!
Left to right: Kent Bunn, Trudy Bradley, Chris & Ron Jensen, Dave Bradley, Wayne & Donna Skinner, Jan Keetch and DeEtte Bastian.
________________________________________________________________________
Dave and Trudy Tufts Bradley (MHS 64)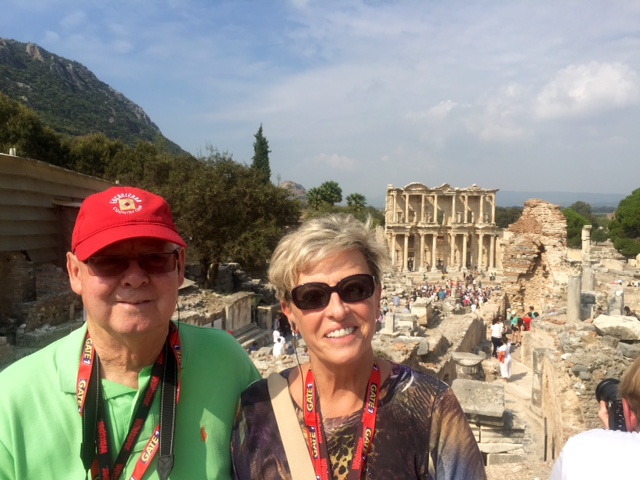 The Ruins in Turkey - not us, the structures behind us..... Dave and I just got back from an amazing two week trip to Turkey. We're spending our children's inheritance while we are still healthy. Sooo many places yet to see!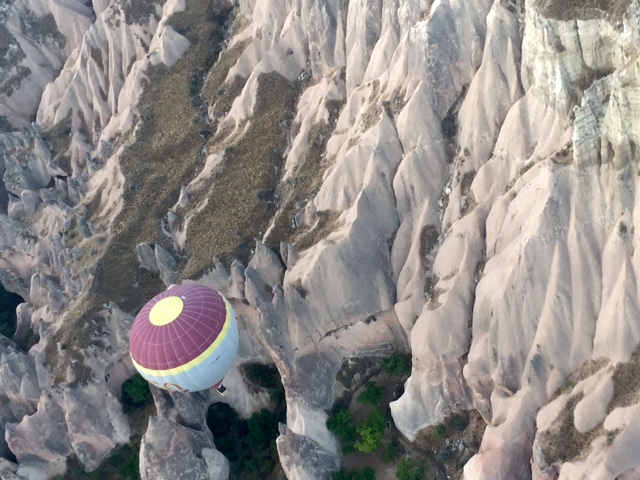 We also enjoyed a hot air balloon ride over Cappadocia.
_______________________________________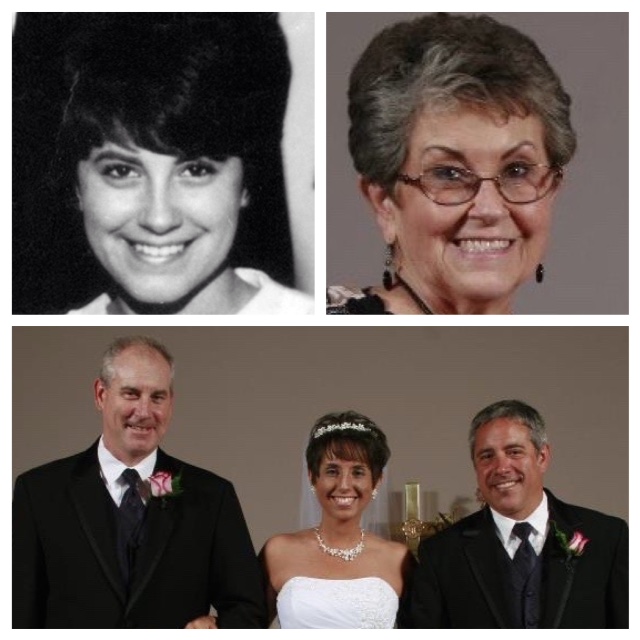 DeEtte Taylor Bastian (MHS 64) is retired and resides in Nampa, Idaho. Her three children, pictured above, are Jeff, Samantha and David.
Profile:
When I finished the 9th grade at Montpelier High School, I returned to Boise and attended Borah High School for my 10th, 11th and 12th grades. I attended Boise Jr College for a semester, worked at Beneficial Finance, Idaho First Nat'l Bank, Idaho Orthopedics (as a receptionist) and Junior Achievement (as a bookkeeper). Last of all, I worked 15 yrs. as a cook in the school lunch program, retiring at 62 to take care of my ailing husband. Richard died in 2007.
It's been an interesting life. Learned lots of things, mainly about myself. Life is good and I enjoy all the blessings the Lord has showered down upon me.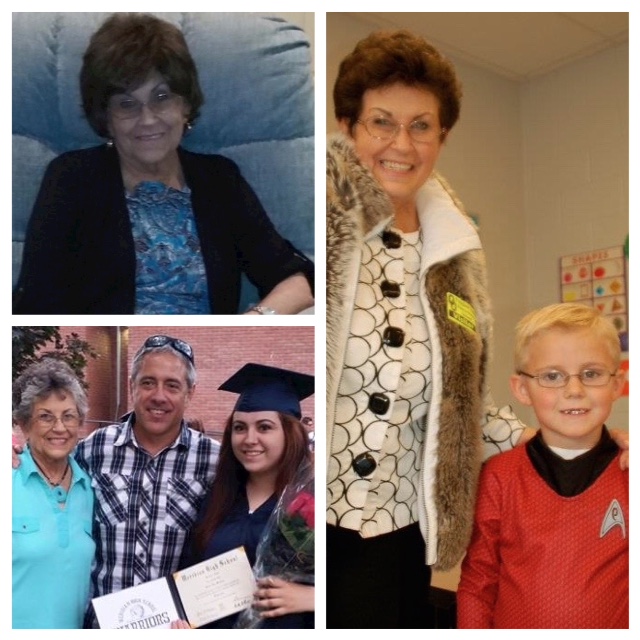 DeEtte with her son, David, and two of her grandchildren.
Update:
DeEtte has recently had extensive back surgery and is in Rehab at the University Hospital in SLC until Oct. 1. She will be spending time with her sister, Atheleen Taylor Rasmussen (MHS 54), in Montpelier, while continuing her recuperation. If you would like to send her a note of encouragement, her e-mail address is, deettebastian@cableone.net
_________________________________________________________________________________________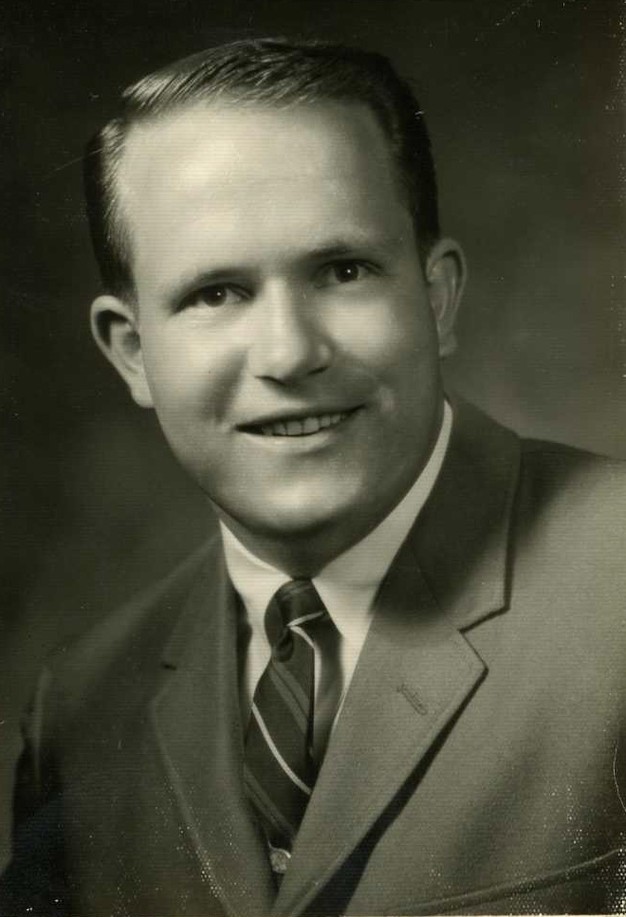 Jerry Bissegger (MHS 59) and his wife, Diane Wilde, are retired and reside in Winchester, CA. They have four children.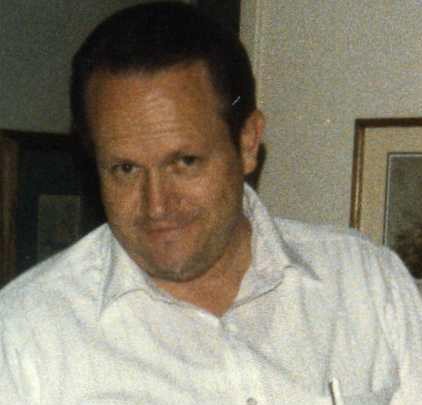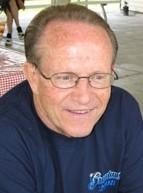 Profile:
Served an LDS mission to Great Lakes; Graduated from BYU; Worked for Texas Instruments, C.B. Fleet Pharmaceutical, Ross Laboratories (Abbott); Retired; Worked with Brother at KO Advertising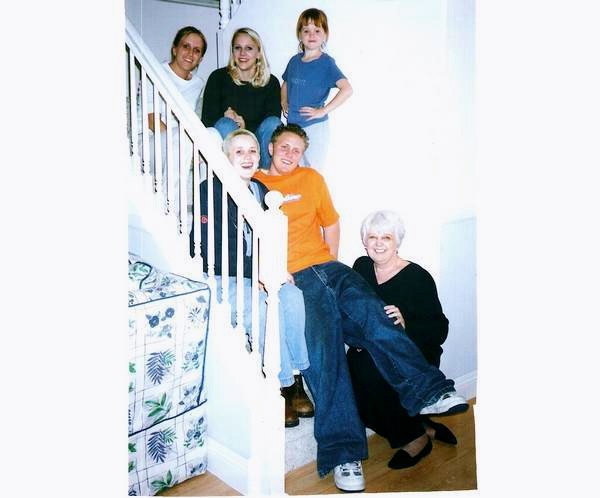 My wife, family and oldest grandchild
________________________________________________________________________________________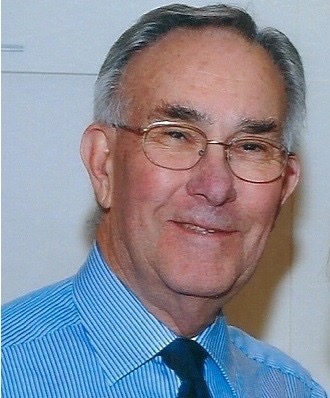 Leonard Matthews (MHS 54)
Profile:
Following graduation I attended BYU for two years, worked for the railroad that summer and then served an LDS mission to Missouri for two years. I then joined the Army Reserves and spent active duty in Fort Ord, Calif. Upon returning I worked for Central Farmers in Georgetown Canyon for a year before returning to BYU for 2.5 more years. I then worked for Litton Industries in Salt Lake for two years. In 1964, I got married to Pamela Glade of Salt Lake City and then attended the California College of Mortuary Science graduating in Sept 1965. I returned to Salt Lake and worked for Neil O'Donnell Mortuary for 2 years and then Deseret Mortuary for 1 year moving back to Montpelier in 1968. I worked at KVSI Radio for 3 months and then purchased the American Oil Bulk Plant which I ran for the next 10 years while also working for Matthews Mortuary. In 1978 my dad's health failed, and I had to take over the mortuary full-time, so I sold the Bulk Plant. I then operated the mortuary until my retirement in 2009. In 1989 I went through a divorce and a year later I married Kathryn Jacobsen of Bountiful, Utah. Upon retiring we moved to Hurricane, Utah where we have lived since. I have always been active in the Church of Jesus Christ of Latter-day Saints and have held many positions over the years. I had 10 children with my first wife and then Kathryn had six when I married her and I have adopted her three youngest.
__________________________________________________________________________________________
MHS Class of 1965
50th Reunion, Aug. 1, 2015
Location: Oregon Trail Museum, Montpelier, Idaho
Submitted by: Jan Michaelson Dick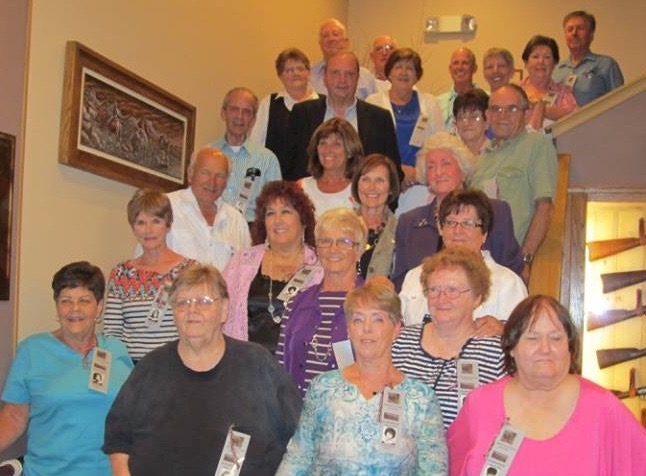 Front Row: Linda Sleight Payne, Pearl Jean Betzer Emerson, Delone Smith Hayes, Colleen Sorenson McMurray, Linda Johnson Bartschi
Second Row: Sherrie Smith Barney, Ron Galloway, Frances Martinez Cook, LaRae Nelson Kunz, Betty Widmer Gleed
Third Row: Lonny Arnell, Linda Jacobson Eyre, Nancy Teuscher Preston, Polly June Crane Willardson
Fourth Row: Susan Aland Bauman, Mont Evans, Cynthia Spratt Anderson, Diana Pugmire Capell, Rex Talbot
Back Row: Phil Parker, Myron Wilson, Mark Johnson, Jan Michaelson Dick, Mary Lyn Collipriest Rich, Dennis Hunzeker
__________________________________________________________________________________________

MHS Class of 1960
55th Reunion, Aug. 1, 2015
Location: Senior Citizens Center, Montpelier, Idaho
Photo: The News Examiner
Submitted by: Richard Anthony

Front Row, Left to right: Kay Teuscher Crandall, Paulette Smith Alleman, Karma Lee Loertscher, Colleen Jensen Long, Linda Bartlome Aland, Diane Dalrymple Guinn, Barbara Grunig Arnell, Frankie Sorenson Bagley, Gloria Allred Miller
Middle Row: Sandra Stoddard Solum, Carrie Kunz Anthony, Judy Rasmussen Grunig, Barbara Aland Neeley, Carol Ann Stoddard Alleman, Rosselin Ritter LaPlant, Carol Leigh Whitman Hammett
Back Row: Jim Aland, Glay Homer, Grant Widmer, Marden Phelps, Nolan Phillips, Rodney Wood, Carlos Smith, Orrin George, Steve Pugmire, Allen Bagley, James McCammon, Richard Anthony
___________________________________________________________________________________________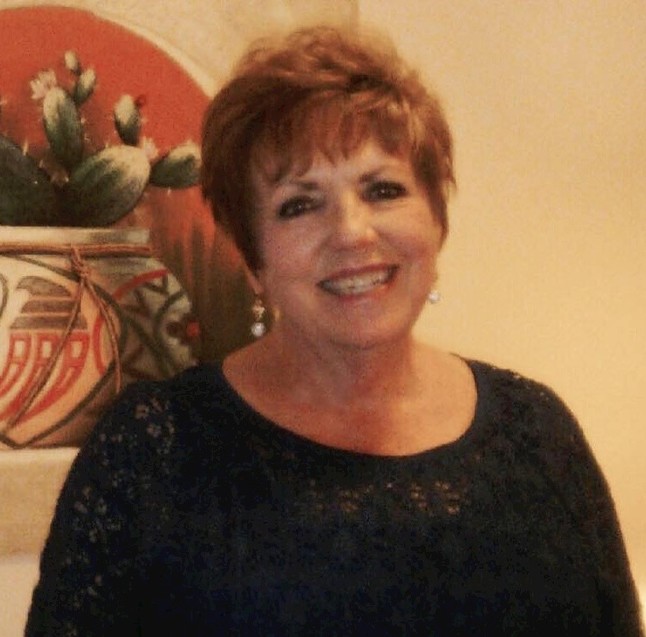 Get well wishes to Renee Kunz Wuska (MHS 63), who is recuperating from a knee replacement at her home in Idaho Falls. Renee is an avid golfer and is looking forward to getting back on the course.
May you have a speedy recovery, Renee!
__________________________________________________________________________________________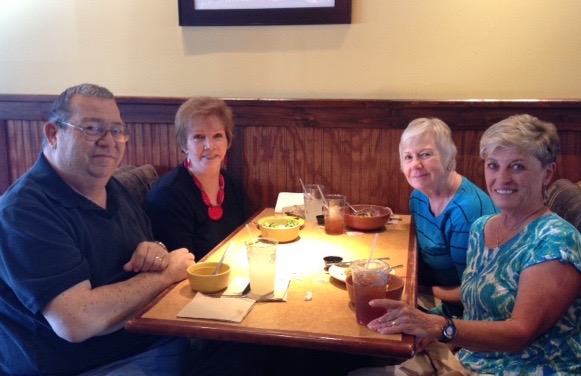 Several classmates from the class of '64 were delighted when Paul Pendrey felt well enough to join them for lunch in Sandy, Utah. Paul entertained Bonnie, Donna and Trudy while reminiscing back to the summer he and Brent Boehme were haying and milking cows in Geneva. What a fun afternoon!
_________________________________________________________________________________________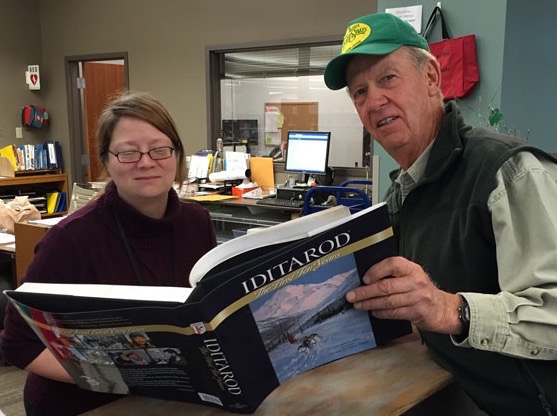 When Alan Crane (MHS 62) was asked how the sales were going on his new book, "IDITAROD The First Ten Years," he responded, "The sales have been very good. It broke records for a book this size with our publisher and distributor, and it has won 2 book awards already for content, layout and design. Because of its historical value, we're in the process of raising money to put a book in every Alaska school. We have several sponsors already. The book was put together by 11 of us who were involved in those first ten years, but there were over 100 contributors of stories, unpublished photos and art by Alaskan artist, Jon Van Zyle."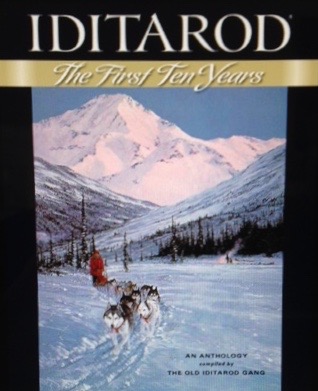 Be sure to check out this website: www.iditarodfirsttenyears.com. Classmates can read about the book and even see sample pages.
Congratulations, Al, we wish you continued success with your book!
---------------------------------------------------------------------------------------------------------------------------------------------------
MHS CLASS OF 1965
45th Reunion (2010)
Thanks to LaRae Nelson Kunz for sharing class photo

Front Row (left to right): LaRae Nelson Kunz, Cynthia Spratt Anderson, Linda Sleight Payne, Pat Twitchell Teuscher, Terry Lynn Arnell Glenn, Betty Widmer Gleed, Francis Marteniz Cook
Sitting: Sharon Rowsell Warner, Pearl Jean Betzer Emmerson
Middle Row: Colleen Sorenson McMurray, Byron Hansen, Murray Sneddon, Joy Powelson Price, Sandy Rainy Grunig, Roger Grunig,Vicki Cochran Smith, Mark Johnson, Polly June Crane Willardson, John Pendlebury, Jan Michaelson Dick, Mont Evans, Ronald Galloway, Lee Tippetts, Doug Buhler
Back Row: David Budge, Rex Skinner, Rex Talbot, Phil Parker, Kent Twiss, Milton Hayes, Doug Powell, George King, Dennis Hunzeker, (Dennis' wife in front of him), Lonnie Arnell, Linda Jacobson Eyre
______________________
To: Montpelier HS Class of 65
From: Jan Michaelson Dick
Subject: 50th Reunion
Dear all…
Five years ago you asked me to head up our 50th Reunion. We have the venue and dinner set; now all we need is for you to tell me you are coming. Thus far we have 11 classmates paid to attend for a total of 19 dinners paid. We need to have a minimum of 30 dinners guaranteed and paid for us to have the reunion.
As you can see we are low in numbers. I need to hear from you very soon in order to move ahead with the reunion.
This is a special date for all of us who have made it this far in life. Fifty years is a life-time and a time to reflect, honor those who no longer are with us, and a time to celebrate those few formative years we spent as the Class of 1965. I look forward to seeing all of you on August 1. Please contact me with any questions you may have.
Jan Michaelson Dick
Reunion Date: August 1, 2015
Place: Oregon Trail Museum
Dinner choices: Prime Rib Salmon Veggie Lasagna
Cost: $23.00 per dinner $46.00 per couple
Remit to:
Janet Dick
51 W. Outlet Creek Rd
Shelton, WA 98584
360-427-5084
---------------------------------------------------------------------------------------------------------------------------------------------------
Dean Davis (MHS 62) and his wife, Lonna, live in Georgetown, Idaho. They are well and happy, enjoying their lives like never before. They have 7 children and are celebrating the birth of a new grandson.
Congratulations, Dean and Lonna!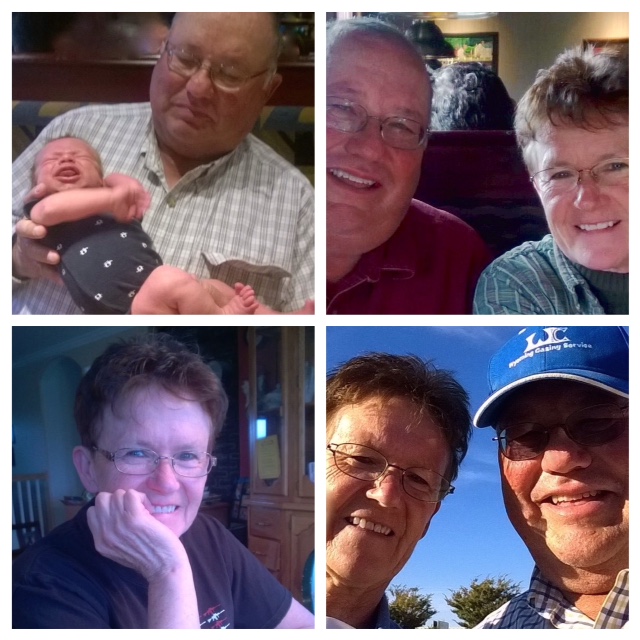 Profile:
Served a mission in Switzerland. While there, I either saw or worked with Kent Kunz, Grant Widmer, & Terry Bartschi. Graduated from USU, BS in education. Taught school in Soda Springs, Laketown and Evanston, Wy. Have been working as a drilling fluids engineer (oilfield chemist) for the last 33 years. Worked in middle east 7 years, North Africa 2 yrs., Indonesia 2 yrs., Alaska 5 years and most of the western US. Very happily married to Lonna Williams. Living in Georgetown, Idaho. Still working with no plans to retire.
---------------------------------------------------------------------------------------------------------------------------------------------------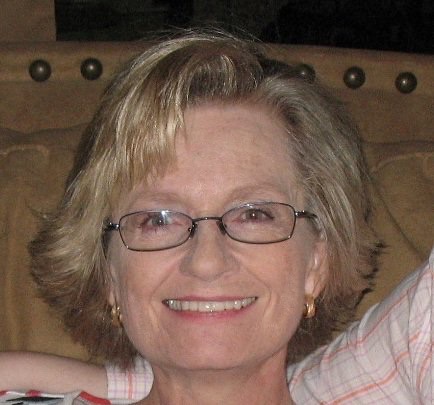 Sandra Sorenson Bergholm (MHS 63) and her husband, Rod, are retired and living in Parker, Co. They have four children (shown below), eleven grandchildren and three great-grandchildren. They own the Purple Sage in Montpelier and are looking forward to its renovation.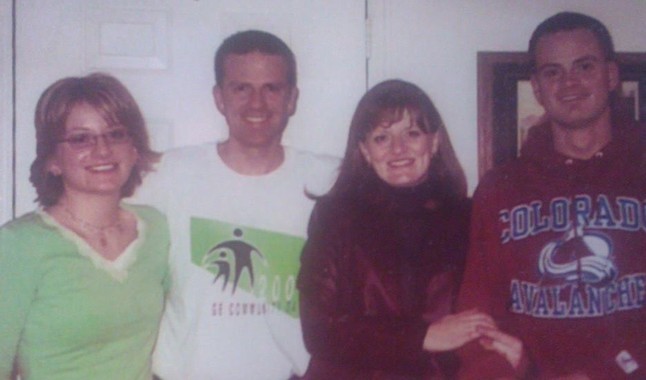 ---------------------------------------------------------------------------------------------------------------------------------------------------
It is with sadness and a heavy heart that we regret to inform you of the passing of one of our fellow classmates, Russell Peterson (MHS 64).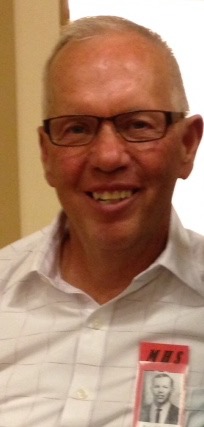 Russell Loveday Peterson
June 17, 1945 - June 20, 2015
Russell returned home to Heavenly Father on June 20, 2015 at the age of 70 years old. Russell was born to Vernal and Hazel Peterson in Montpelier, Idaho. He married the love of his life, Janet Kaye Stucki, March 19,1970 in the St. George Temple. They raised their four children in Montpelier, ID. Russell loved his family. He loved spending time at his cabin on Bear Lake, four-wheeling, walking and just enjoyed the sunny weather. He was happiest when surrounded by friends and family. Russell always lit up the room with his outgoing personality and great sense of humor. He will be missed greatly by many. Russell is survived by his sister Lannett (Harv), brother Robert (Jenny), his four children, Stacy (Mike) Caldwell, Travis (Victoria), Brenda (Ryan), Suzanne (Quinn) and ten grandchildren. He was proceeded in death by his wife Janet, his parents Hazel and Vernal, and three brothers Jerry, Steven and Jeff.
There will be two viewings:
Friday June 26, 6-8pm Matthew's Mortuary, 702 Clay St, Montpeilier, ID
Saturday June 27, 10-11:30am LDS Church, 340 North 6thStreet
Funeral services Saturday June 27, 12pm at LDS Church, 340 North 6th Street, Montpelier, ID.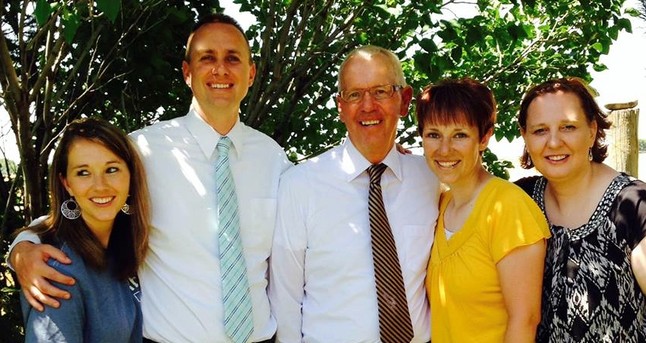 Russell with his children
Left to right: Suzanne, Travis, Russell, Brenda and Stacy. Russell spent the winter in St. George and had recently returned to Bear Lake for the summer.
We send our love and condolences to his family.
________________________________________________________________________________________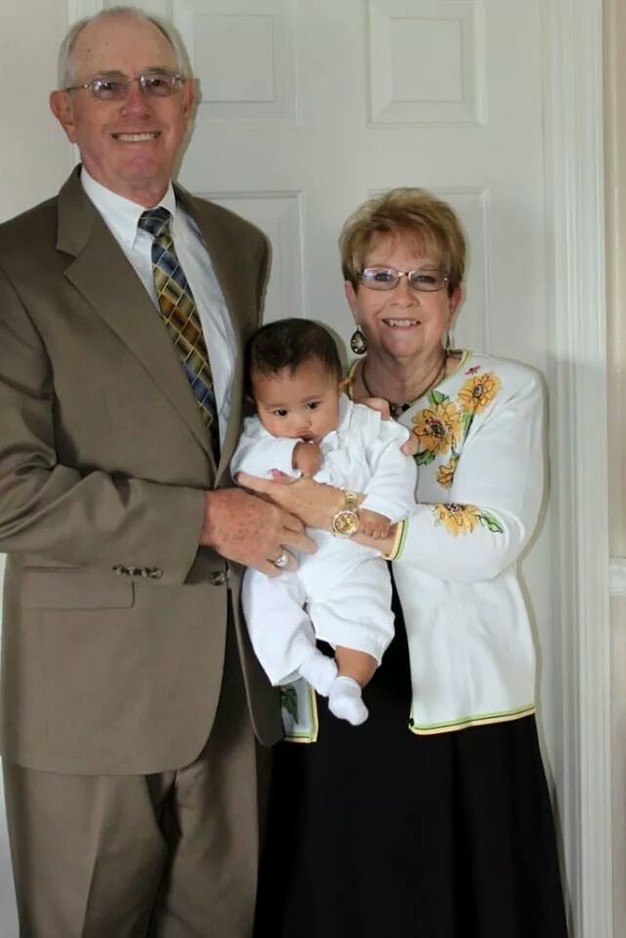 Karen Stephens Cox (MHS 61) and her husband, Paul.
Profile:
*Graduated from Utah State University.
*Taught English or Reading to grades 7 through 12 for 26 years in Murray, Utah; Shelley, Idaho; and Pocatello, Idaho. (Mrs. Adams would never have believed it!)
*Took an 8-year break in the middle to spend Mom time with our 3 children. Then went back to work.
*Retired 2003.
*Spend summers in Pocatello or at our Blackfoot Reservoir cabin.
Spend winters in Wickenburg, AZ.
*Grandchildren: 9-year-old triplets, Landon, Lauren, and Nathan;
4-year old, Brody; and 3-month-old Ryker.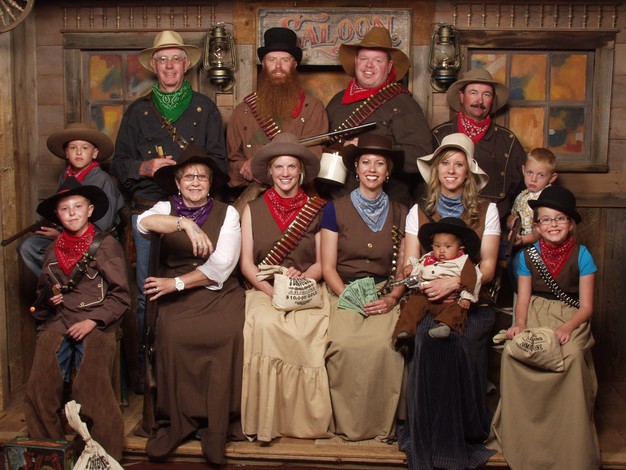 The Paul and Karen Cox family
___________________________________________________________________________________________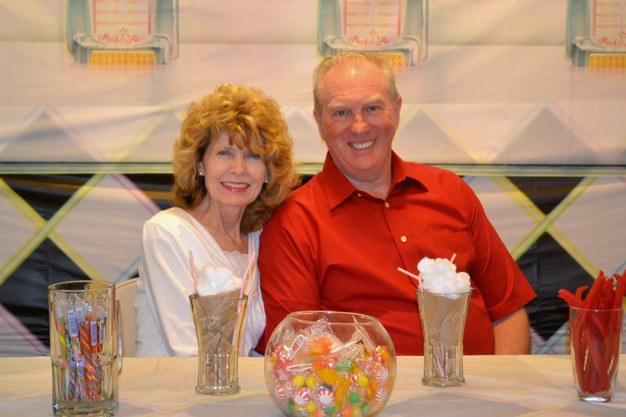 Kiera Lewis Newbury (MHS 67) and her husband, Glen, have three children and two grandchildren.
Profile:
After graduation, I left Montpelier to pursue studies in music and dramatic arts at Brigham Young University. While there, I was part of the Program Bureau and toured with them extensively in the states and also overseas with the Defense Department.
I met Glen at a dance at BYU shortly after he had been drafted into the military. He was an amazing ballroom dancer, and he danced his way right into my heart. So when he returned home after his years of military service, he waltzed me up to Logan where we were married in the summer of 1970.
We lived in Springville, Utah and both continued studies at BYU. I received my Bachelor of Arts and Teaching Certification at the end of 1970. I taught Speech and Dramatic Arts from that time until our first child was born, and then I became an at-home-mom. That has been my favorite work, and I have continued to use my education for the benefit of my family, friends, church, school, community, and private students.
We lived for a short time in southern Utah and then moved to the Phoenix area in 1976. The southwestern lifestyle hooked us and has held us here.
We like traveling and ballroom dancing. We are regulars enjoying the bands and ballrooms of nearby Sun City, where we now fit right in and they play our kind of music.
To our delight, our children and grandchildren have followed us in this love of ballroom dancing. So when our family gets together, we dance.
___________________________________________________________________________________________

Update:
Merrillyn Lewis Dover (MHS 64) and her husband, Mark, have six children and they are growing.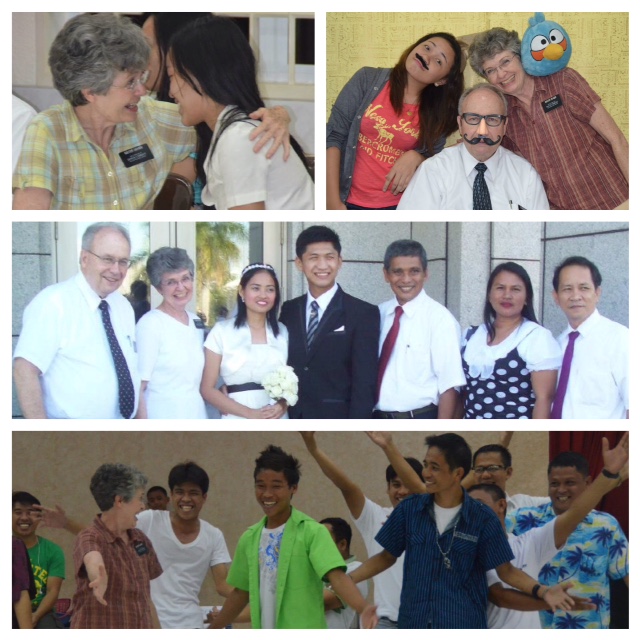 Profile:
After high school, I attended BYU where I met my husband, Mark Dover. After graduation, Mark accepted employed with a CPA firm in Puerto. We enjoyed four years of tropical weather, then moved back to the Salt Lake City area. We raised our six children in Utah moving from Woods Cross, to Bountiful to Centerville. In 2000 we moved to Augusta, Georgia and came to love Southern Hospitality. In 2006 we moved to Gilbert, Arizona where we could live virtually next door to two of our children.

My focus for so many years was being a wife and mother. They have been good years of sharing children's literature and art, forming and directing children singing groups, teaching piano and filling callings within our church. We have loved watching our family grow with each marriage and grandchild. We have 25 grandchildren and 5 great grandchildren.

Recently we have spent several summers as part time missionaries in Cody, Wyoming - where Mark grew up – showing a wonderful mural to vacationers from around the world. We recently completed a member and leader support mission for the LDS Church serving in the Philippine, Cebu mission.

My parents, Merrill and Ramona Lewis, both graduated from MHS, as did my older brother, Kent. My sister, Kiera, was in the last graduating class and younger brothers, Bryce and Matt, graduated from Bear Lake High.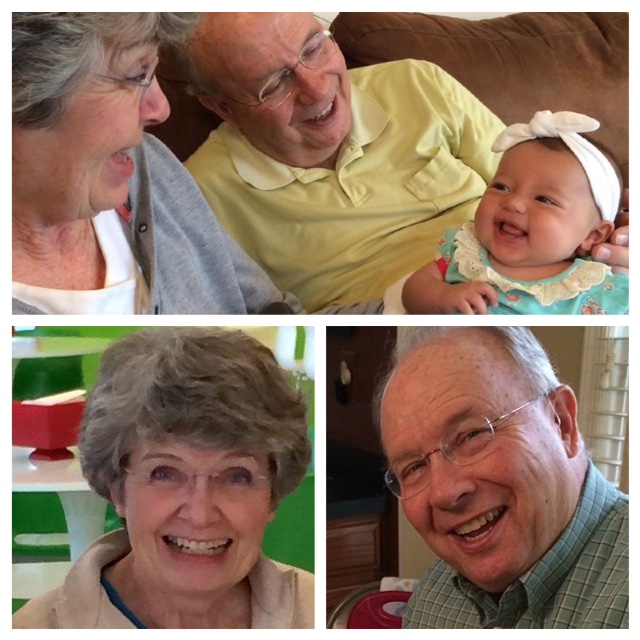 We are happy to announce the arrival of our 5th great grandchild.
Congratulations, Merrillyn and Mark!
__________________________________________________________________________________________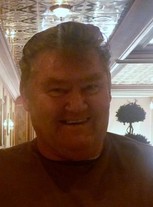 Kent Twiss (MHS 65) and his wife, Shanna Marie Hartley Twiss (MHS 66), are retired and live in Mesquite, Nevada.
Profile:
Joined the Navy in June 1965. Became a Hospital Corpsman. Spent more time with the Marines than the Navy. Served in Lima Company 3rd Battalion 5th Marines, 1st Marine division in Vietnam as a line corpsman for 13 months. Received the Purple Heart and enough gore to cancel my interest of becoming a Doctor. Agent Orange, a chemical the US sprayed on the thick jungle forage, has caused me a lot of physical problems, the worst being Type 2 Diabetes. I married Shanna Hartley, a girl I started dating in my junior year. Together we have raised three wonderful kids. They have blessed us with seven grandchildren, five step grandchildren, and a great grand daughter from the oldest step grand daughter. Tried using the GI Bill to attend ISU. Could not get those folks to do anything so I quit and worked just under 30 years at Monsanto, Soda Springs.
________________________________________________________________________________________
Ione Pugmire Wilcox (MHS 41) is living in Washington, Utah.
Profile:
I graduated from MHS in 1941. I married Eugene W. Wilcox. Our only child, Layne, was born in 1942. I worked at Watkins Dairy & Restaurant. We moved to Pocatello where I lived with my mother and sister and our kids while our husbands served in WWII. We returned to Montpelier after the war and I eventually worked at Thiel and Olsens (later known as Tri State) for 32 years. Over the years, I sang at numerous funerals and enjoyed singing with different groups. After my husband retired we managed a shoe store in Montpelier. Later we traveled around selling Singing Machines, worked as cooks in a hunting camp in Montana, sold headstones and worked as camp hosts. We finally decided to "just retire"! We enjoyed traveling to St. George and Arizona with our good friends, Helen and Odell Smith, pulling our trailer houses & enjoying the sun for several years. We sold our home in Montpelier and bought our first place in a retirement park in Washington, Ut. near St. George. I spent many years singing with the St. George Heritage Choir traveling to Armenia, The Czech Republic, Scotland and England, Northern Utah and Southern Idaho. We purchased our current home in 1995 in Canyon Cove retirement park in Washington, Utah. My husband passed away in 2010. He would be best remembered in Montpelier as the community's first mail carrier. We have 5 grandchildren and 19 great- grand children. The two oldest are currently serving missions for the LDS Church, one in Hong Kong and one in Oregon. I'll be turning 93 in November and still drive around the St. George area and sometimes beyond. I could probably drive to the reunion in Montpelier this summer, but my son and daughter-in-law say "NO!!" I currently enjoy fun times with friends and family and am looking forward to the reunion this summer.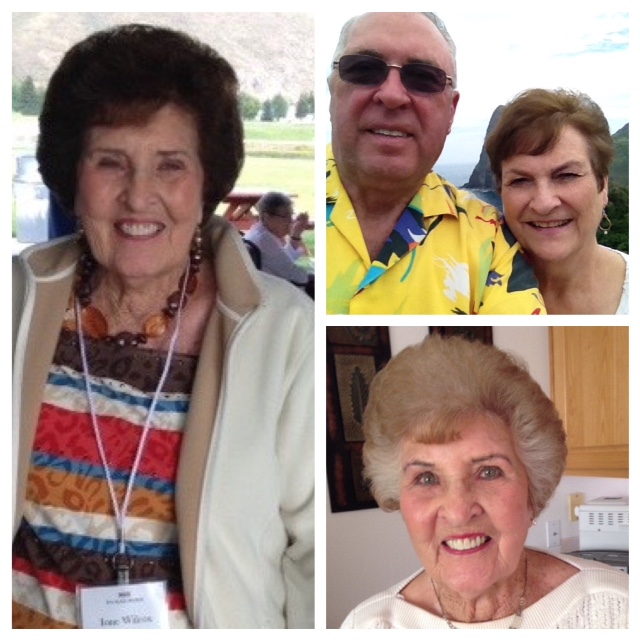 Update:
Many of you will remember Ione Wilcox from our reunion last summer. Several weeks ago, Ione had a bad fall resulting in a concussion, a broken finger, black eyes and bruises. Her son, Layne Wilcox, and daughter-in-law, Odetta, had just returned from a Hawaiian vacation and were grateful they were home when the accident occurred. They cared for her while she recuperated at their home in Salt Lake. At 92 yrs young, Ione is back on her feet and has returned to the St. George area. She is doing very well, as you can see, and we wish her the best!
Get well wishes to Layne, who is recovering from a knee replacement. We hope you feel better soon!
-------------------------------------------------------------------------------------------------------------------
Home Sweet Home

A look at Bear Lake from the south side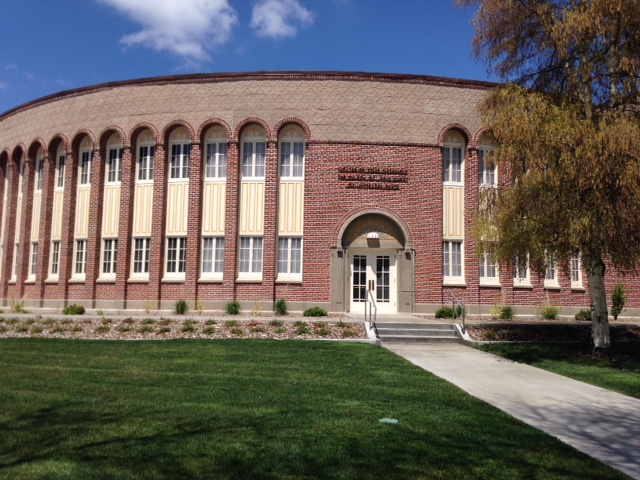 May of 2015
The renovation of the Tabernacle is complete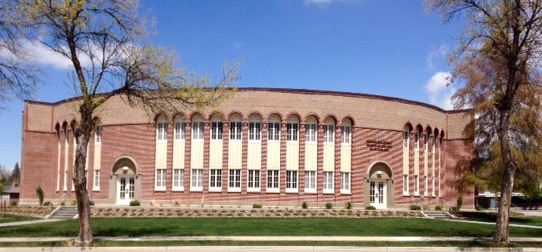 If my grandmother, Ella Perkins Parker, knew you or your parents and you were in the News-Examiner, then most likely you are in one of her many scrapbooks. Here are a few articles and photos for you to enjoy. Submitted by Bonnie Olsen Burch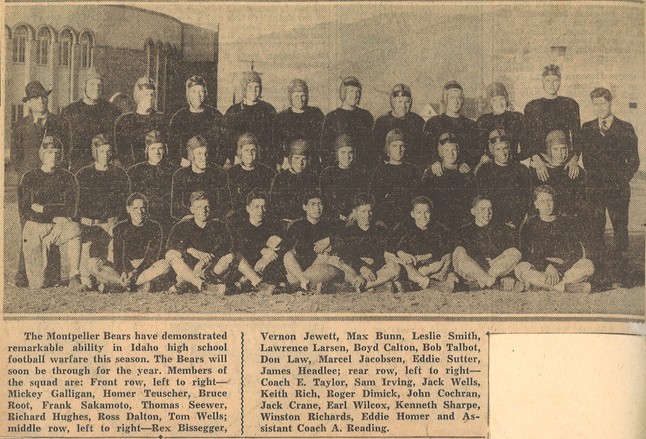 The MHS football picture above was taken about 1937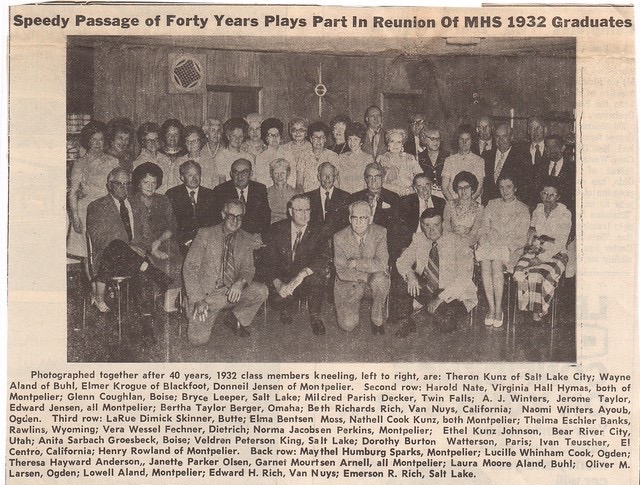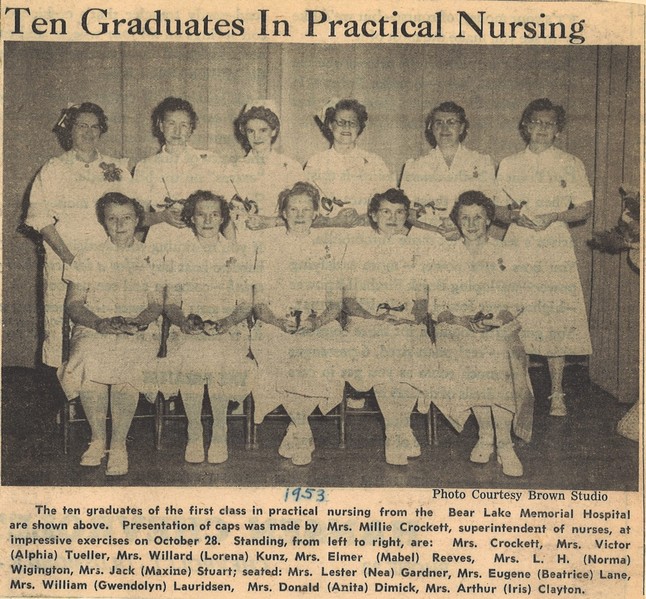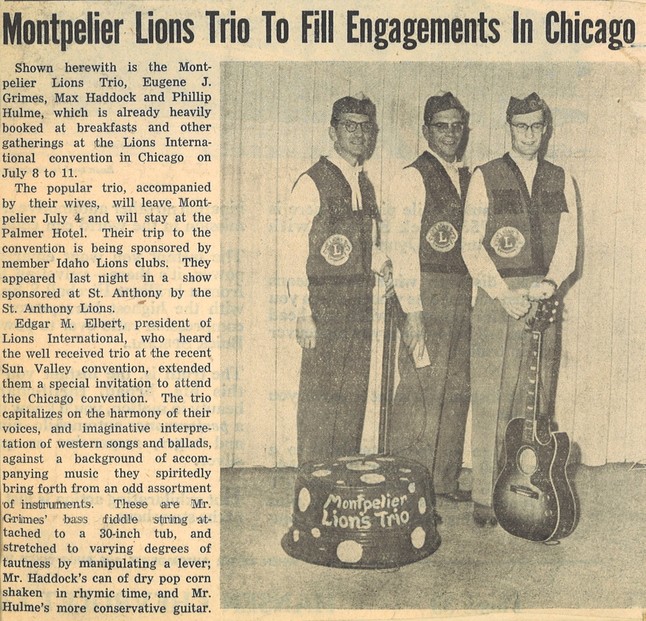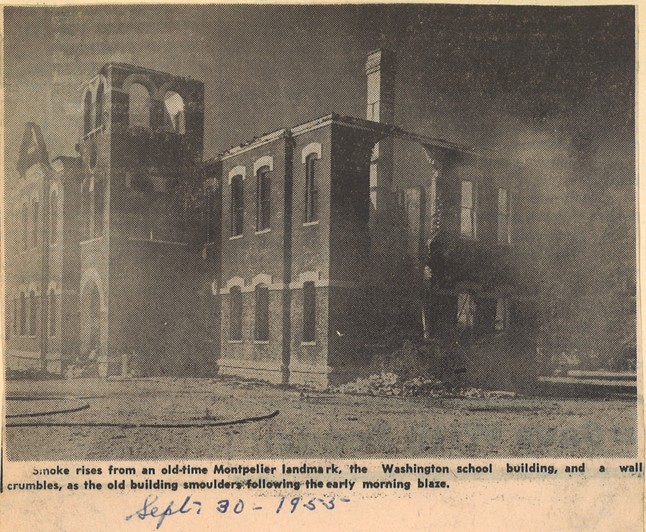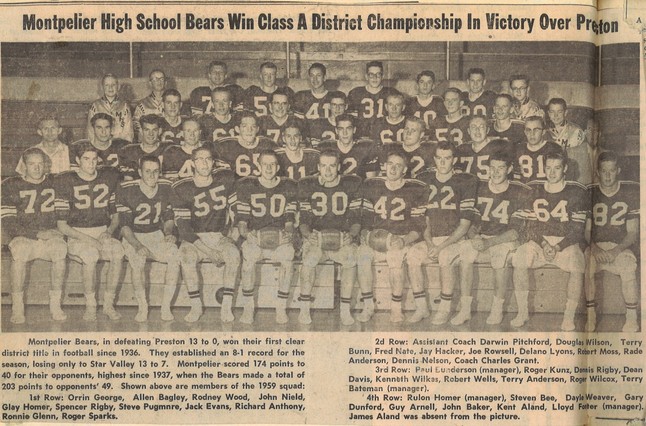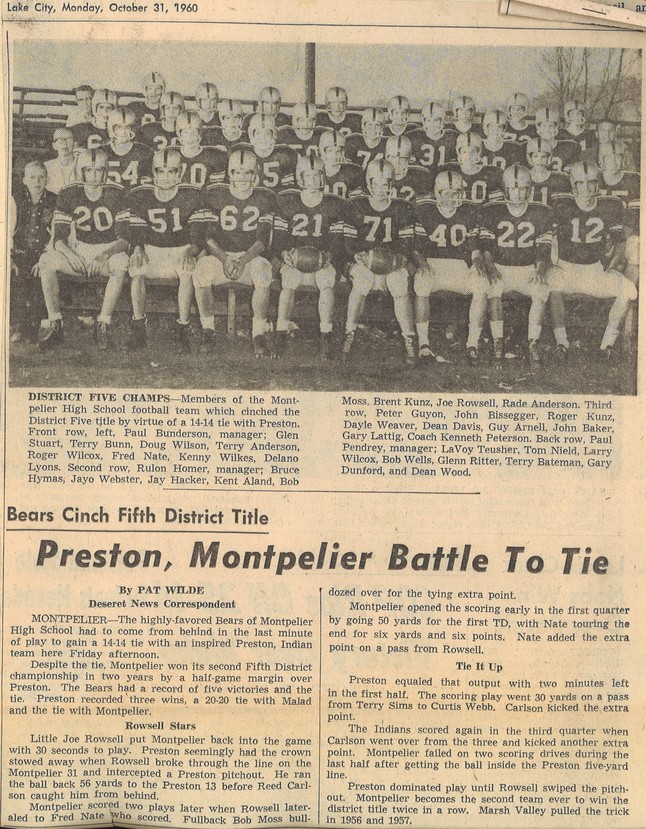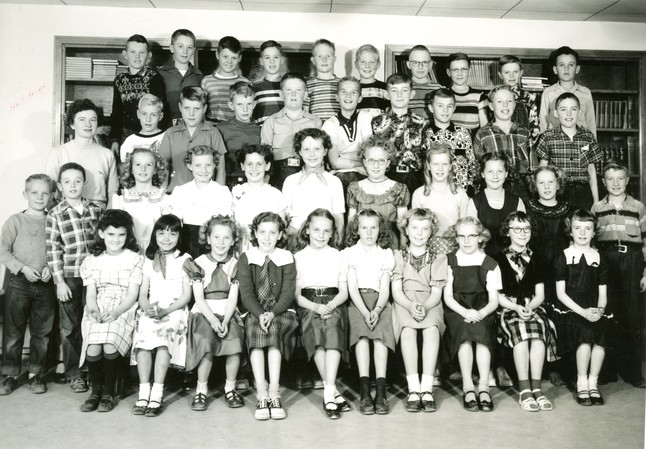 Class of 1961
Lincoln School, fourth grade, 1952-53
Thanks to Ron and Chris Jensen for identifying classmates and thanks to Carolyn Arnell Tufts for providing additional information.
Top Row: Larry Roberts, Bruce Hymas, Richard Trussell, Joe Rowsell, Fred Nate, Russell Hemmert, Paul Rohner, Eugene Hymas, Junior Bills, Larry Beckwith
Third Row: Teacher, Mrs. Reeves, Dale Wixom, Bob Moss, Terry Anderson, Nyle Stevens, Ron Peterson, Terry Bunn, Dennis Nelson, Rade Anderson, John Knutti
Second Row: Robert Dunn, Wynn Roderick, Jackie Mudd, Sandra Spidell, Shannon Layland, Kathleen Michelson, Tana Tueller, Ruth Jones, Nadine Aland, Mary Nield, Mickey Sparks
Front Row: ? , Tony Hill, Gwen Haddock, Ann Kunz, Michele Clayton, Ralene Roberts, Annalee Ashcroft, Carolyn Arnell, Janice Berger, Mary Kay Grimes

_________________________________________________________________________________________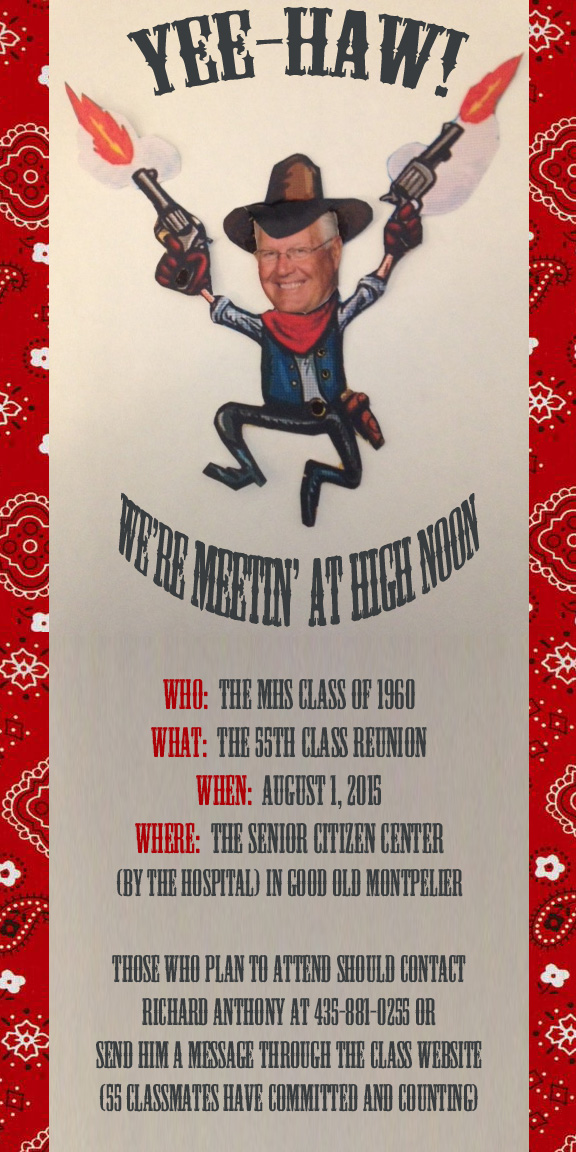 DINNER - $5.00 PERPLATE
MHS Class of 1960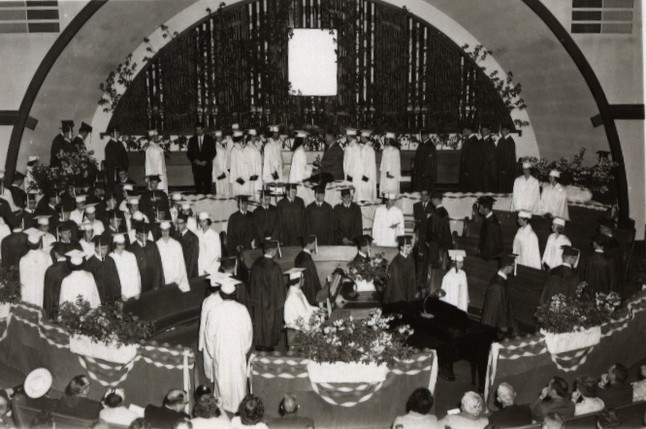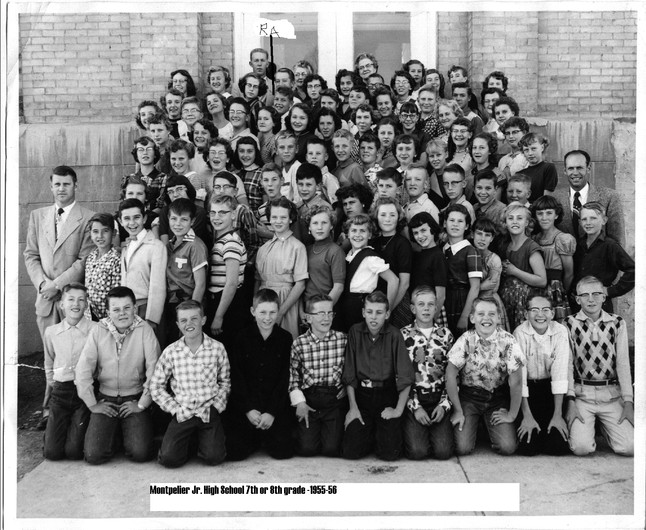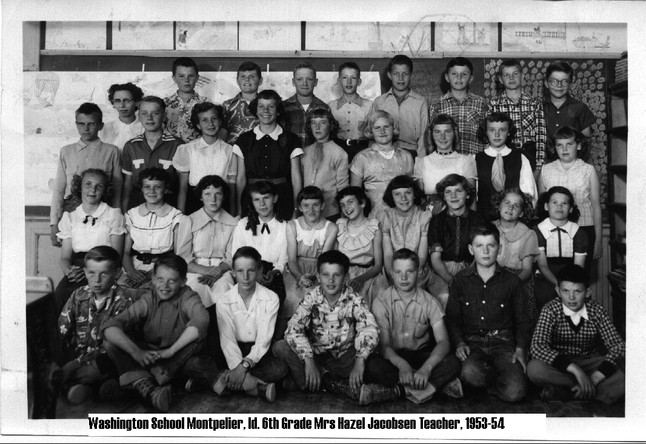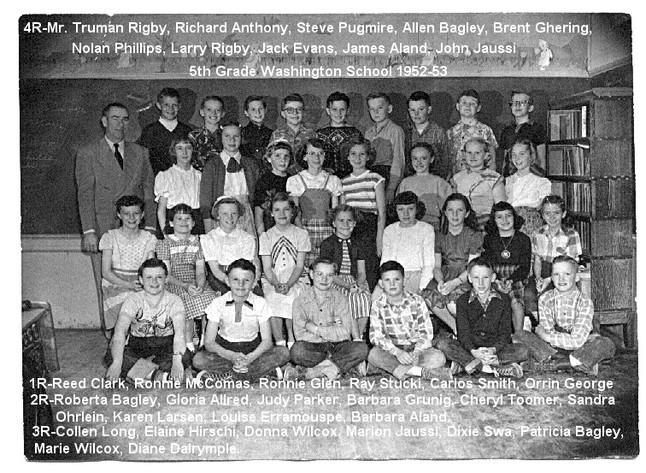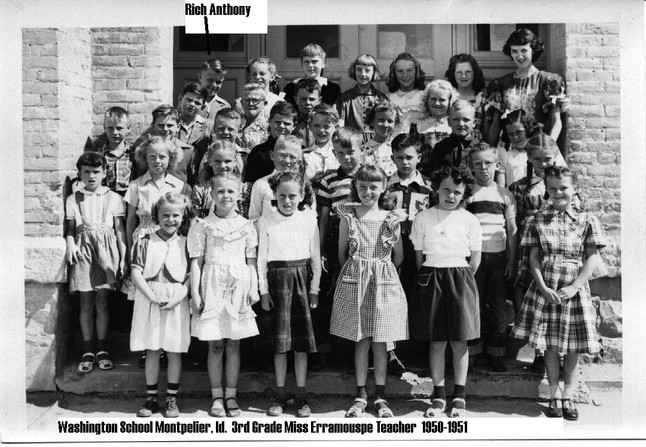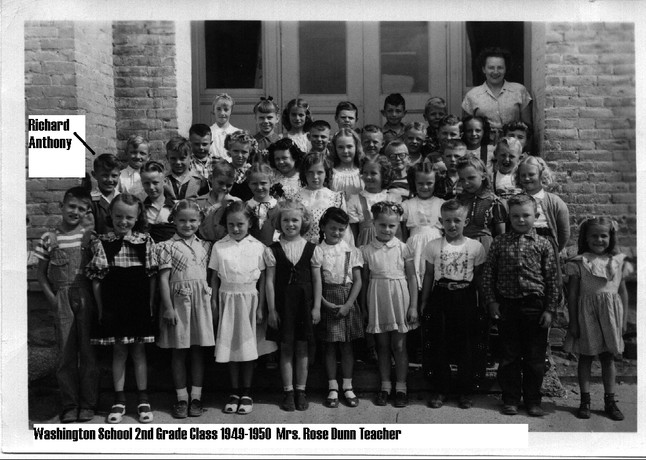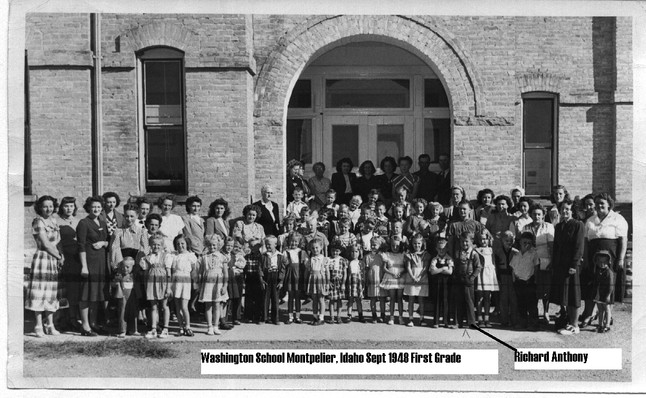 Thanks to Richard Anthony for sharing these photos, and his mother, Utahna, for labeling and saving them.
A new professional photo will be taken at the reunion, so we'll see ya all in August!
__________________________________________________________________________________________
Thank you, Leonard Matthews, for contacting Winnie Mae Wright Freeman, who identified all classmates in the MHS class of "53". The photos are located under Paul Rohner's collection.
___________________________________________________________________________________________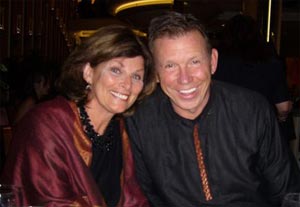 Linda Jacobson Eyre (MHS 65) and her husband, Richard, reside in Salt Lake City, UT. They have 9 children and travel the world public speaking. To learn more about what they do, visit http://theeyres.com and http://valuesparenting.com (Be sure to check out the Parenting Videos)
Profile:
Loved raising kids and now enjoying 26 grandkids at Bear Lake every summer. We've lived in New England, Washington D.C., England, Salt Lake and Park City with extended stays in Japan, the Oregon Wilderness, Mexico, Africa and India.

Writing, speaking and traveling all over the world with Richard has been a remarkable experience. Bear Lake is still the best!
_________________________________________________________________________________________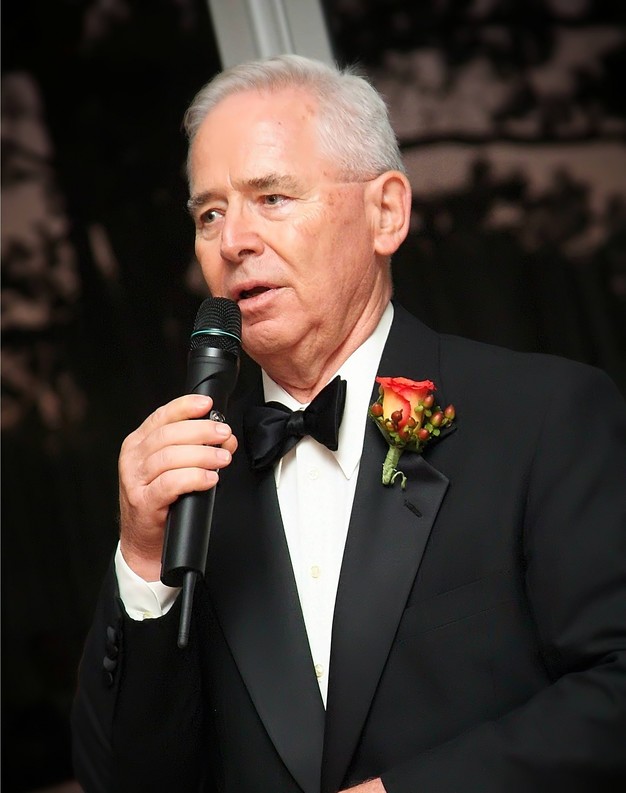 Glenn Clark (MHS 52) and his wife, Cynthia Zang Facer Clark, reside in McLean, VA USA. Glenn is a retired law professor, and he and his wife have six children.
Profile:
M.I.T; Harvard College; LDS mission in Berlin, Germany; Harvard again; Fulbright Scholar in Vienna, Austria; Fellow, Salzburg Global Seminar; Yale Law School. Lawyer, law professor, and public official in Denver, Colorado; Des Moines, Iowa; Washington, D.C. Now fifteen grandchildren. In May 2014, Cynthia, a proud Ph.D. from Iowa State, retired from her immensely consequential stint as head of the U.S.D.A.'s National Agricultural Statistics Service (having received an award in April, in Ames, Iowa, as one of the 200 most significant Iowa State alumni in recent memory). We are now LDS missionaries in Nauvoo -- and thus, regrettably, were not able to be in Bear Lake Valley in August.
___________________________________________________________________________________________
Class of 1951 senior girls with their Lane cedar chests in front of the Nielsen Furniture company Montpelier, Idaho. Submitted by Dorothy Grimes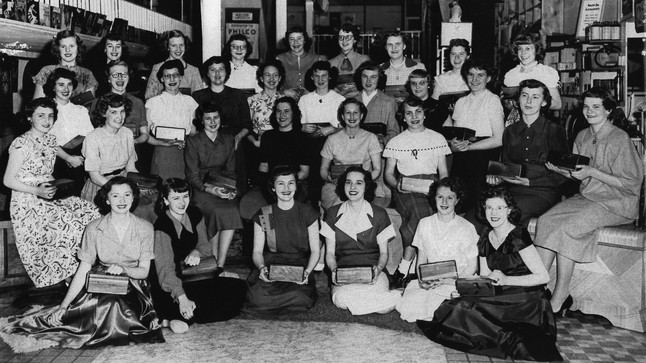 Class of Female Graduates holding Lane Cedar chests in Nielsen Furniture Company 1951
Back Row (left to right): Marilyn Teuscher-Barbara Dayton-Ann Nelson-Lynetta Kunz-Maxine Wood- Patricia Cook-Bonnie Kunz-Jenny Beth Murdock-Joan Keetch
Third Row (left to right): Yvonne Thomas-Marlene Solum-Georgia Blechert-Verna Rae Nelson-Anita Crane-Dorothy Miller-Audrey Sparks-Patricia Koeven-Annabell Jenson
Second Row (left to right): Marilyn Rich-Donna Nate-Marian Lindsay-Renee Thorf-Jeannine Smith-Gayle Tueller-Jean Price-Sidney Reading
Front Row (left to right): Betty Rae Pugmire-Ruth Kay Whittle-Dorothy Grimes-Rosalie Walton-Betty Rose Portella-Lorraine Hayes
___________________________________________________________________________________________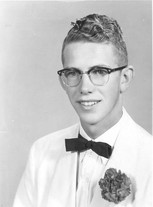 Paul Allen Jensen (MHS 54) and his wfe, Sharon, are retired and reside in Fullerton, CA USA.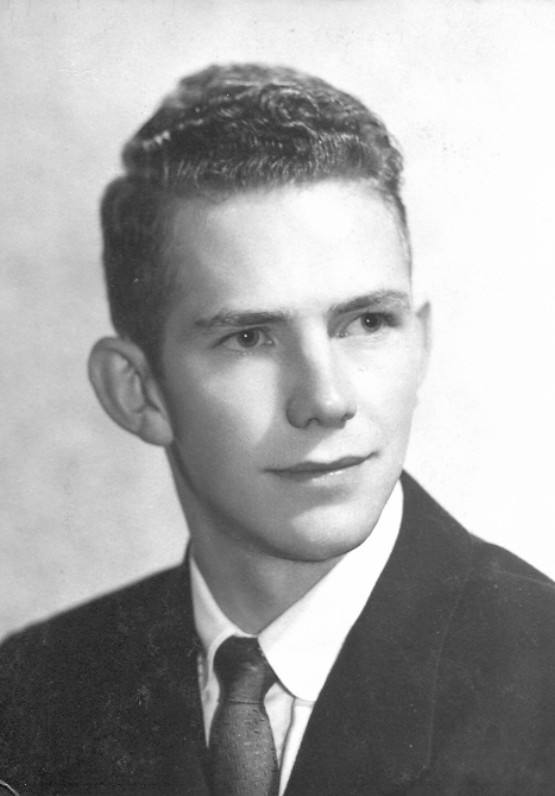 University of Idaho 1957
Profile:
Married Carolyn Harris Aug 1957, BS(EE) University of Idaho 1958, MS(EE) University of Southern California 1960, Additional graduate work toward PhD at UCLA, 1960-1963. Employed at Hughes Aircraft, Fullerton, CA 1958-1973, designing radar system antennas and ground terminals for satellite communications. Directory of Engineering, Info Systems, Inc, San Diego, CA 1973-1975. Hughes Aircraft Co. Fullerton, CA 1975-1994, Satellite antenna systems design. Hughes Aircraft Co, Space Systems Division, El Segundo, CA, Contract Employee 1994-2011, designing spacecraft antennas and R.F. Subsystems for new satellite communication systems business.

Carolyn passed away from cancer in 2006. We had four children. I married Sharon Ogden in 2008.
Between the two of us we now have 29 grandchildren, so spend a lot of time going to their activities.

Have traveled to Hawaii several times, Ethiopia, Switzerland, Denmark, Canada, and widely in the United states most recently to Orlando Florida and Tampa area.

Served in many church positions including Elders Quorum President, High Priests group leader, Scoutmaster, Explorer Leader, Bishops counselor, several Stake positions, and now a Family History consultant, teacher, and Temple Ordinance worker along with Sharon. Spend a lot of time doing original research in the Danish Parish registers in the 1600's & 1700's.
Thanks to P. Allen Jensen for providing photos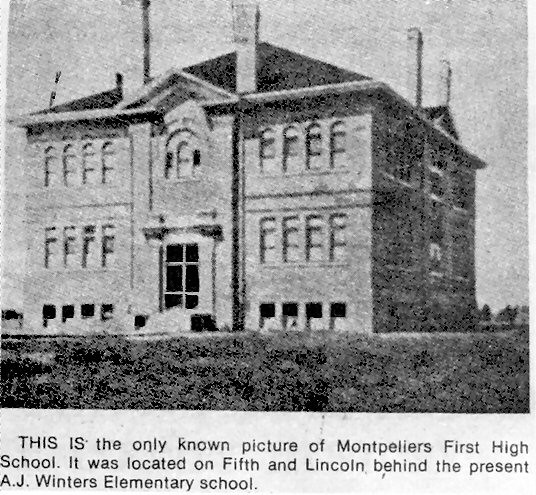 Original Montpelier High School, later became Lincoln Junior High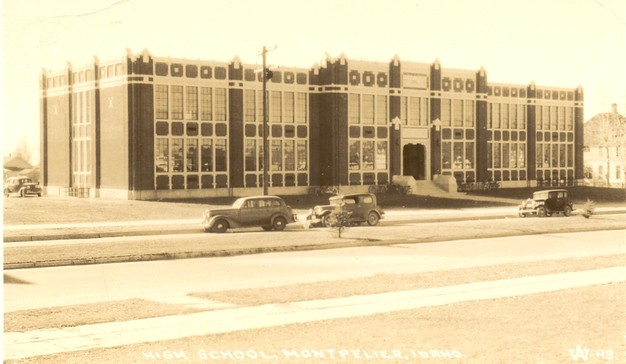 Montpelier High School when it opened in 1937
School Pictures - MHS Class of 1954
LINCOLN SCHOOL

Inline Image Not Displayed
1944-45
Third Grade
Back row: Allen Jensen, James Bartlome, Jimmy Smith,?, ?, teacher - Edla Whitehead
3rd row: Darrel Bohi, ? ? Roy Thornock, ? , Carol Nield,
2nd row: Gary Rasmussen, Carolyn Bunderson, ? , Melvin White, Mickey Stephens, Carol Danks, ?, Lanette Nield, ?, ?
Front row: ?, Jone Armatage, Roger Mouritsen, Gayle Stephens, LaRae Rich, Shannon Dunn, Darrel Whitehead, Janis Nielsen, Jean Helmondollar
Teachers:
1st Grade: Loy Christensen
2nd Grade: Amy Kelsey
3rd Grade: Edla Whitehead
4th Grade: Maurita Clayton
5th Grade: Helen Bartschi
6th Grade: Maurita Clayton

Inline Image Not Displayed
1945-46
Fourth Grade
Back Row: Gary Rasmussen, ?, ?, ?, Nadine Gardner, Allen Jensen, Carol Nield, Roy Thornock, LaNette Nield, Jimmy Smith
2nd Row: ?, Carolyn Bunderson, Jimmy Smith, ?, Darrell Whitehead?, Carol Danks, ?, Max Berger, Janis Nielsen, ?
Front Row: Nadine Gardner?, Jone Armatage, ?, LaRae Rich, Shannon Dunn, Jean Helmondollar, Darrell Bohi, Gayle Stephens, Mickey Stephens, Melvin White

Inline Image Not Displayed
1946-47
Fifth Grade
Back Row: Carol Nield, ?, ?, Roger Mouritsen, Allen Jensen, Helen Bartschi-teacher 3rd Row: Carol Danks, ? , ? LaNette Nield, Jimmy Smith, Roy Thornock, Max Berger, Marvin Wixom
2nd Row: Carolyn Bunderson, Nadine Gardner?, ?, ?, Darrell Whitehead?, Mickey Stephens, Gary Rasmussen
Front Row: ?, Shannon Dunn, Jone Armatage, Janis Nielsen, Melvin White, Darrell Bohi, Gayle Stephens, Jean Helmondoller?, LaRae Rich

Inline Image Not Displayed
1947-48
Sixth Grade
Back Row: ?, Carol Danks, Cleora Ann Hayes? ,Dorothy Swenson?, Carol Nield?, ?, Mickey Stevens, Jimmy Smith, Roger Mouritsen
2nd Row: Janis Nielsen, ? , LaNette Nield, Carolyn Bunderson, Nadine Gardner, Allen Jensen, Roy Thornock, Max Berger, ?, ?, teacher - Maurita Clayton
Front Row: Jone Armatage, Shannon Dunn, Gayle Stephens, Marvin Wixom?, Darrel Bohi, Gary Rasmussen, Melvin White, LaRae Rich
Names on back of photo:
LaRae Rich*Darrell Bohi*Mrs. Clayton*Max Berger*Billy Meyers*Mickey C. Stephens*Gayle Stephens*Jimmy Smith*Shannon Dunn*Carolyn Bunderson*Carol NieldRoger*Mouritsen*Marvin Wixom*Roy Thornock*Melvin White*Cleora Hayes*Gordon Smart*JoAnne Hansen*Janis Nielsen*Nadine Gardner*Dorothy Swenson*Jone Armatage*Margen Hoge*Carol Danks*LaNette Nield*Gary Rasmussen*Afton Booth
___________________________________________________________________________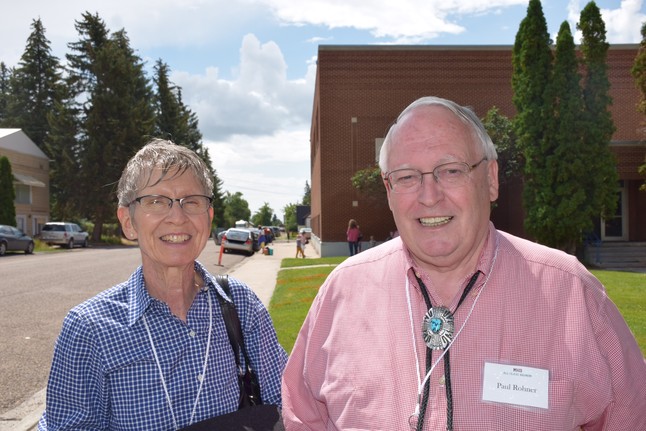 Paul Rohner (MHS 61) and his wife, Eloise, reside in Phoenix, Arizona.
Info from Profile:
After graduation from Montpelier High School in 1961, I earned a BS Degree with a major in molecular biology from the University of Utah in 1965. I earned a DDS Degree from the School of Dentistry at Case-Western Reserve University in Cleveland, Ohio, in 1969. While I was in Cleveland I fell in love with Eloise Lindsay, a chemistry graduate student from Charleston, WV. We were married in 1969, a few days before Dental School graduation. Eloise left her Ph.D. program with a Masters' Degree in Chemistry and a Mrs. Degree. The next stop was Rochester, NY, for me to complete a one-year rotating dental internship at Eastman Dental Center. Soon I was accepted into a two-year specialty certification program in pediatric dentistry at the Eastman Dental Center. Eloise worked in the Chemistry Department at the University of Rochester and earned a second Masters' Degree in Education.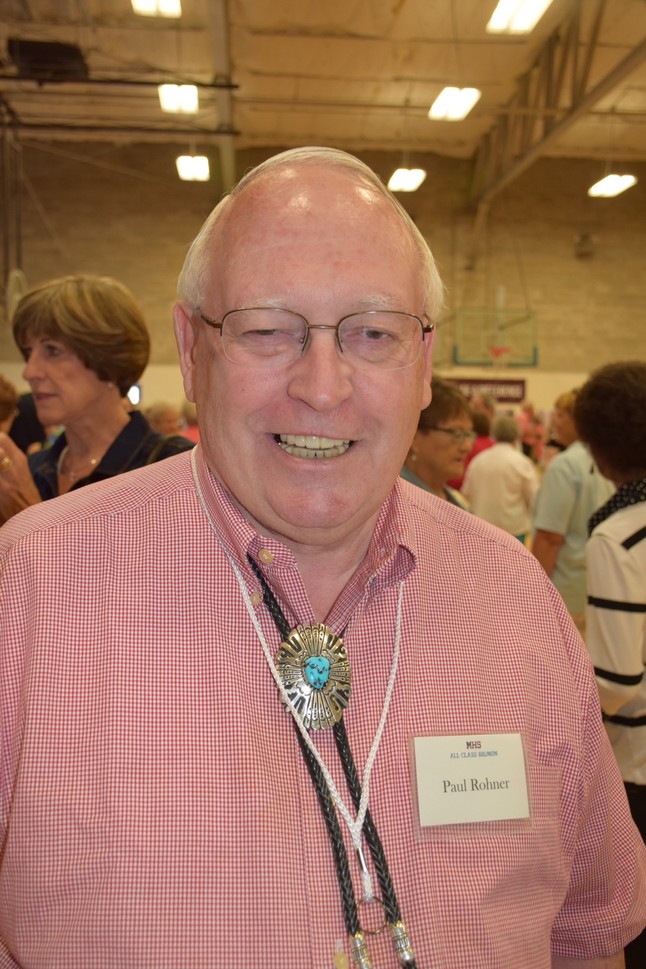 In 1972, I was "called to serve" in the US Air Force at Loring AFB in Maine. I served as Chief of Hospital Dental Services treating the Air Force children on this remote base. I was discharged in 1974 with the rank of Major. I immediately left the Land of Eternal Snow for the Valley of the Sun (Phoenix, AZ). After practicing pediatric dentistry for 36 years at the Maricopa Medical Center, I retired in July 2010. Upon retirement I was made Emeritus Member of the Staff of Maricopa Medical Center. Eloise retired after teaching high school chemistry for 30 years. We have two sons, Otto, who has a Masters' Degree in Education, and Walter, who is practicing dentistry in Raleigh, NC.
Thank you, Paul Rohner, for providing the following ten photos: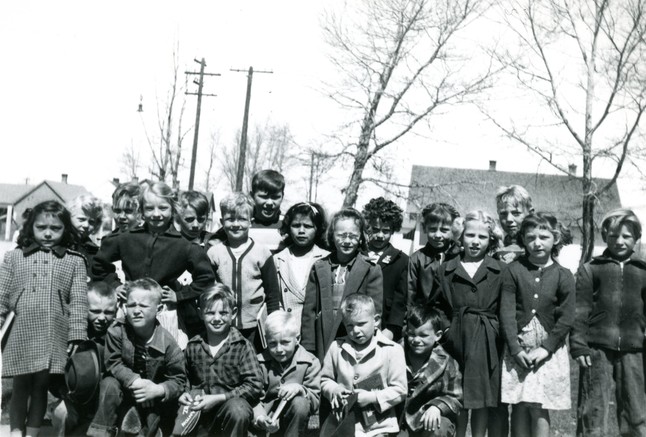 Lincoln School
Paul's class (First Grade, 1949 -1950)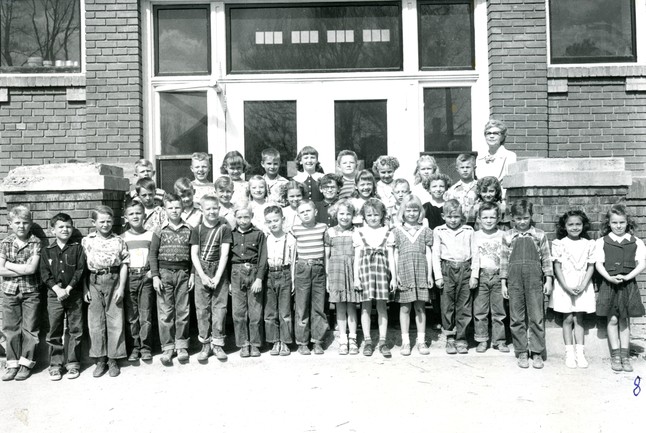 Lincoln School
Paul's class (Second Grade, 1950 - 1951)
Teacher: Mrs. Bowers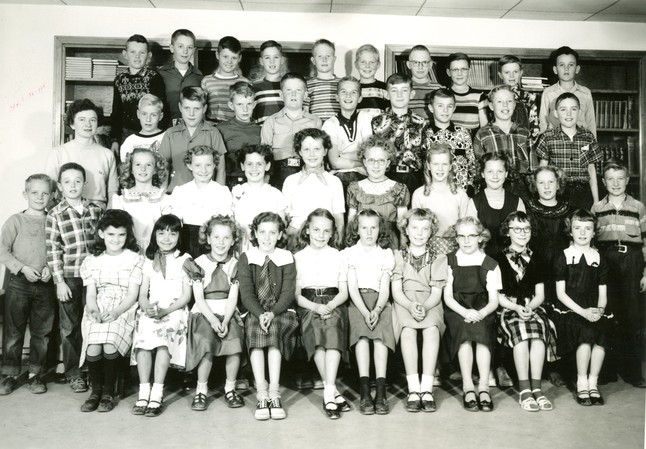 Lincoln School
Paul's class (Fourth Grade, 1952 - 1953)
Teacher: Mrs. Reeves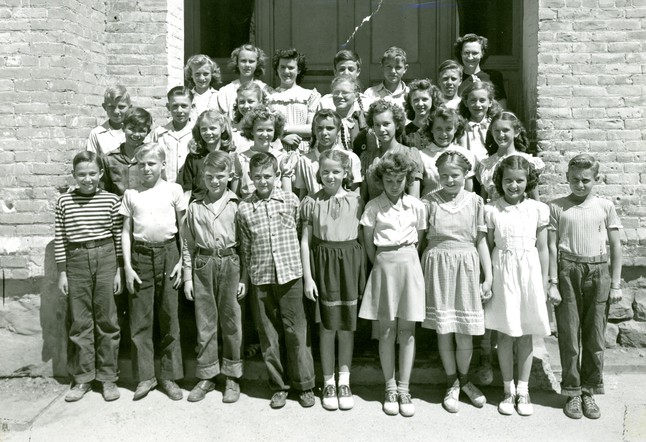 #4 My mother, Ruth Rohner, received a grade school teaching certificate in 1933. She first taught grade school in Dingle, then in Bern during WWII, and later at the Washington School in Montpelier. She served as principal of the Washington School for several years. I believe pictures #4, #5, #6, and #7 are of her classes that she taught at Washington School.
MHS Class of '53
Thank you, Winnie Mae Wright Freeman, for identifying classmates.
6th Grade Washington School 1946-47
Row 1, Richard Dunn, Sherwood Bridges, Don Phelps, Bob Quayle, Doris Teuscher, Marilyn Sparks, Beverly Swensen, Beth Nelson, Jimmy Wilson
Row 2: Jack Lewis, Lois Aland, Margaret Stephens, Lucille Trussel, Ruth Teuscher, Mary Lue Nield, Stella Kay Clay
Row 3: Billy Holmes, Larry Rasmussen, Barbara Swa. Edna Gerber, Joan Michaelson, Beverly Barrett
Row 4: Donna Lee Peterson, Patricia Hirschi, Winnie Mae Wright, DeVon Hunzeker, Dick Day, Robert Messerly, Mrs. Rohner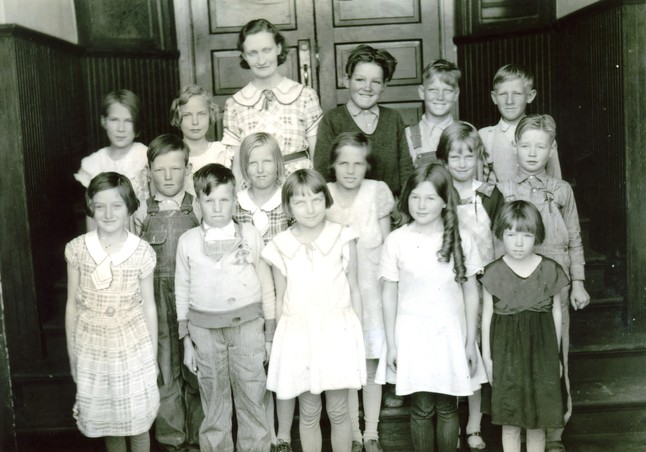 #5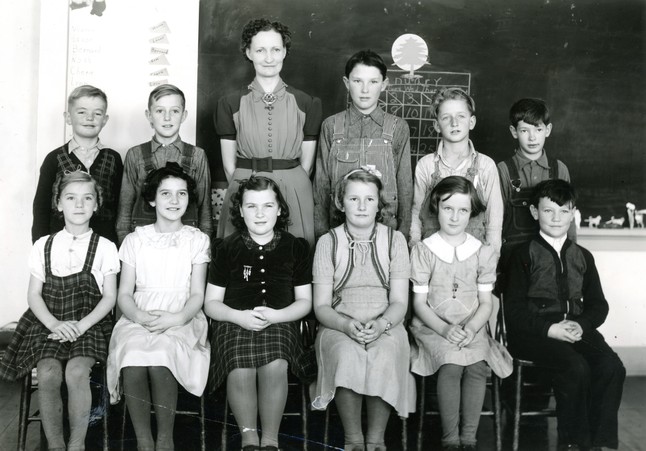 #6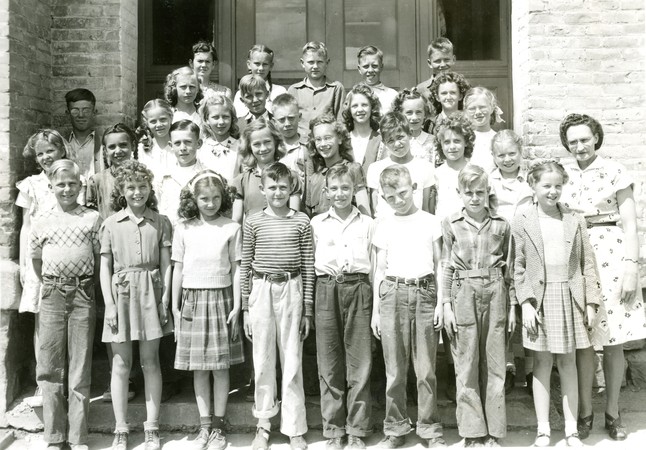 #7 5th Grade Washington School 1945-46
Thank you, Winnie Mae Wright Freeman, for identifying classsmates.
Row 1: Sherwood Bridges, Marilyn Sparks, Beth Nelson, Bob Quayle, Richard Dunn, Don Phelps, Jimmy Wilson, Doris Teuscher, Mrs.Ruth Rohner
Row 2: Margaret Stephens, Lucille Trussel, Larry Rasmussen, Kathryn Stephens,Ruth Teuscher, Jack Lewis, Mary Lue Nield, Beverly Swensen
Row 3: DeVon Hunzeker, Lois Aland, Barbara Swa, DuRell Hoge, Joan Michaelson, Beverly Barrett, Edna Gerber
Row 4: Donna Lee Peterson, Billy Holmes, Stella Kay Clay
Row 5: Winnie Mae Wright, Patricia Hirschi, Dick Day, Robert Messerly, Darrell Taylor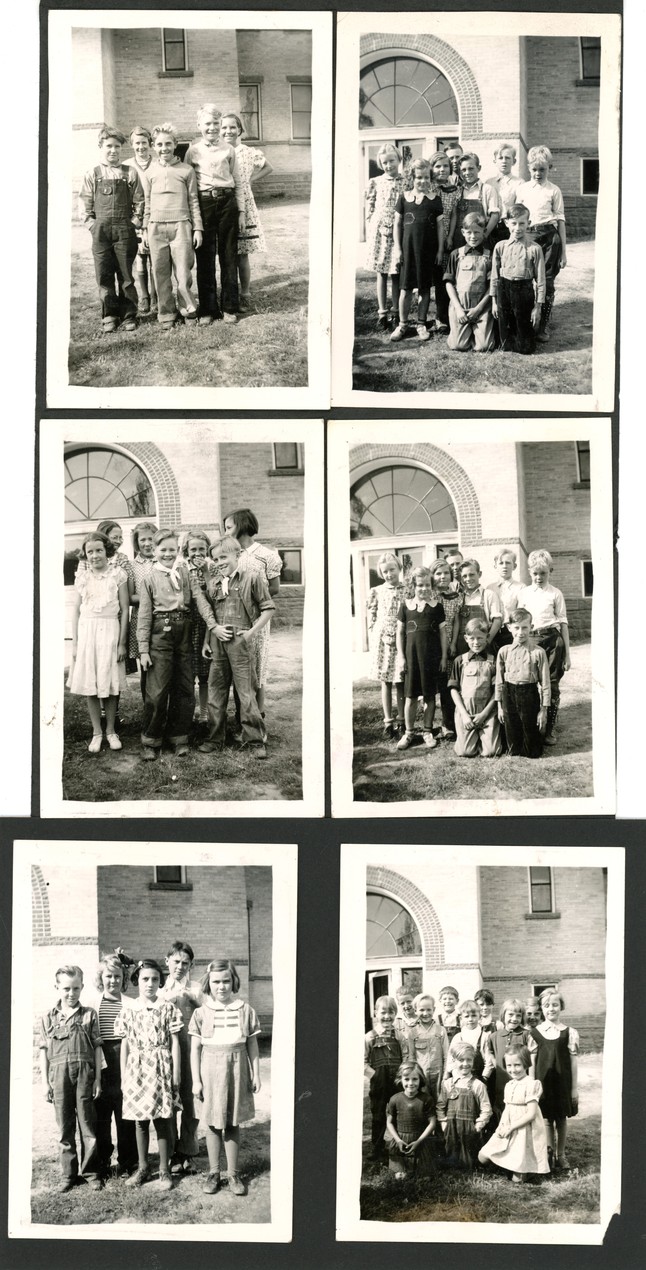 #8 Picture shows students on the playground at the Washington School.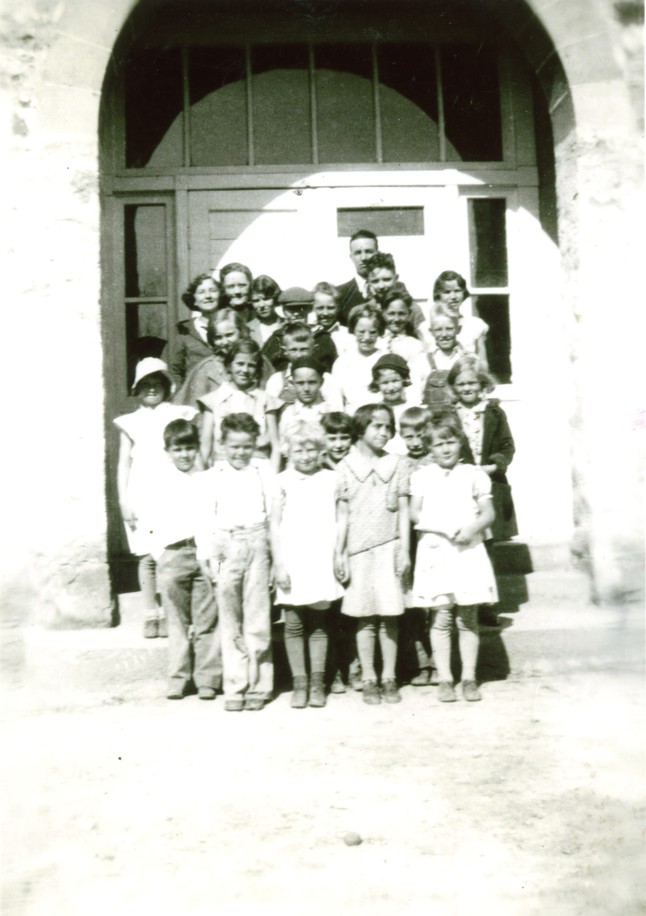 #9 Nounan Students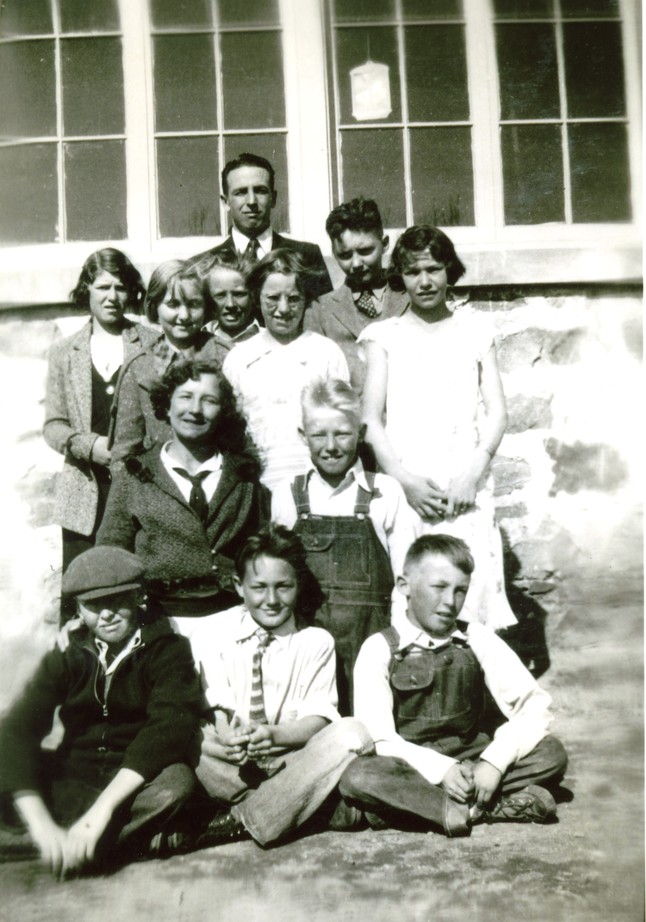 #10 My father, Walter P Rohner, also received a teaching certificate in 1933. He taught grade school in Driggs, Idaho, in 1933-1934. In 1935-1936, he taught school in Nounan, Idaho. Zula Cole taught grades 1,2,3,and 4. Walter taught grades 5,6,7,and 8. Pictures #9 and #10 are probably of the Nounan students. In 1936 my father changed careers and went to work for Bear Lake Motor Company.
___________________________________________________________________________________________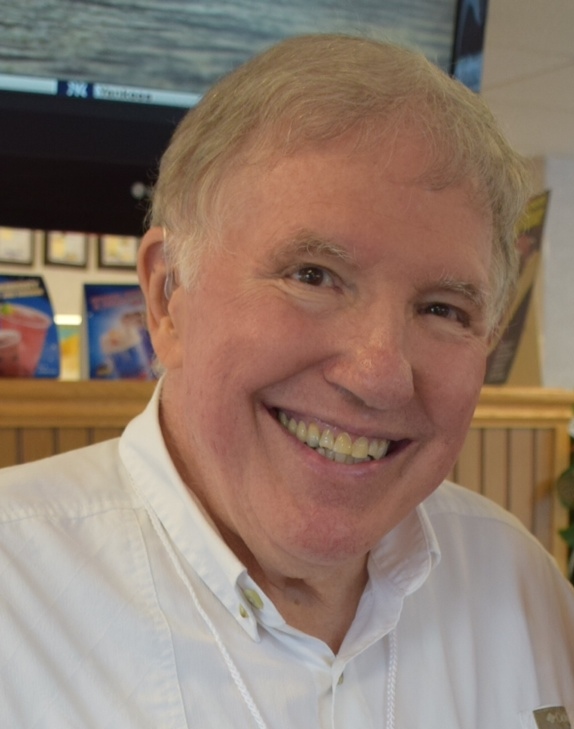 Thank you, Brent Kunz, for sharing your pictures taken at the MHS All-Class Reunion.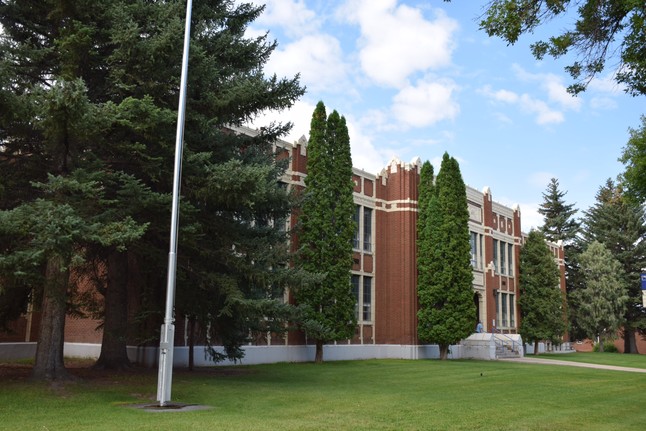 Montpelier High School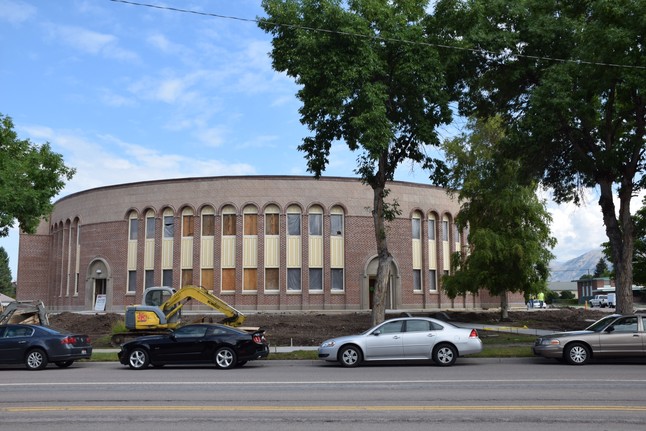 Tabernacle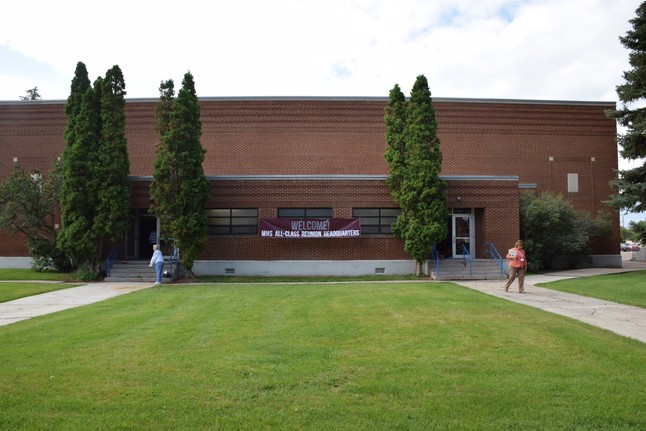 Gym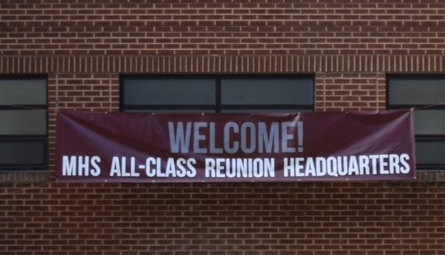 Welcome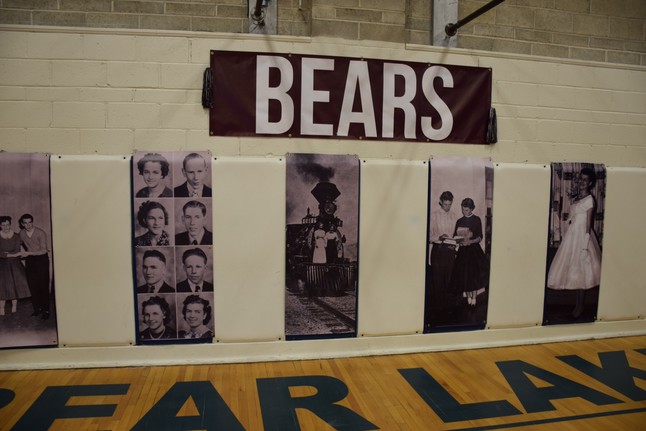 Registration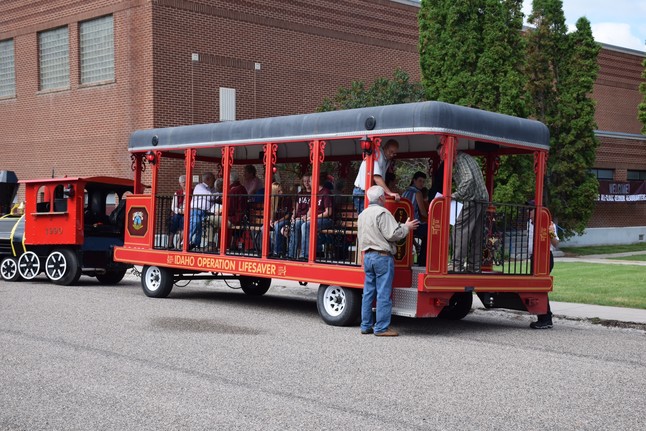 Idaho Operation Lifesaver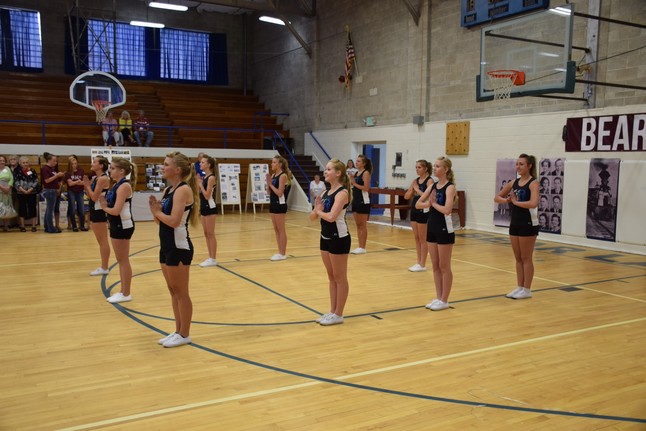 Bear Lake Drill Team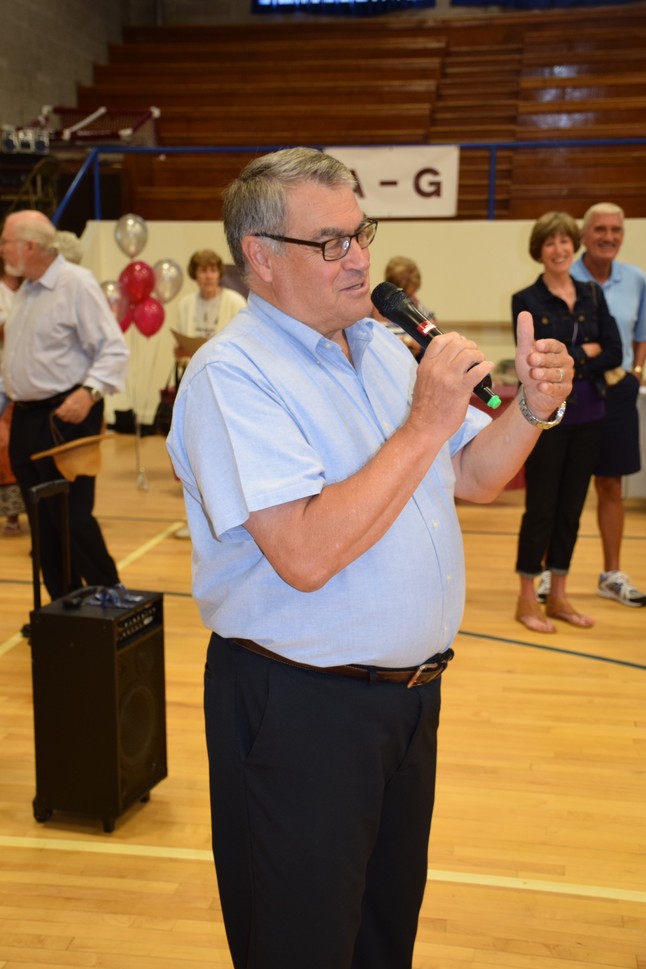 Ross Peterson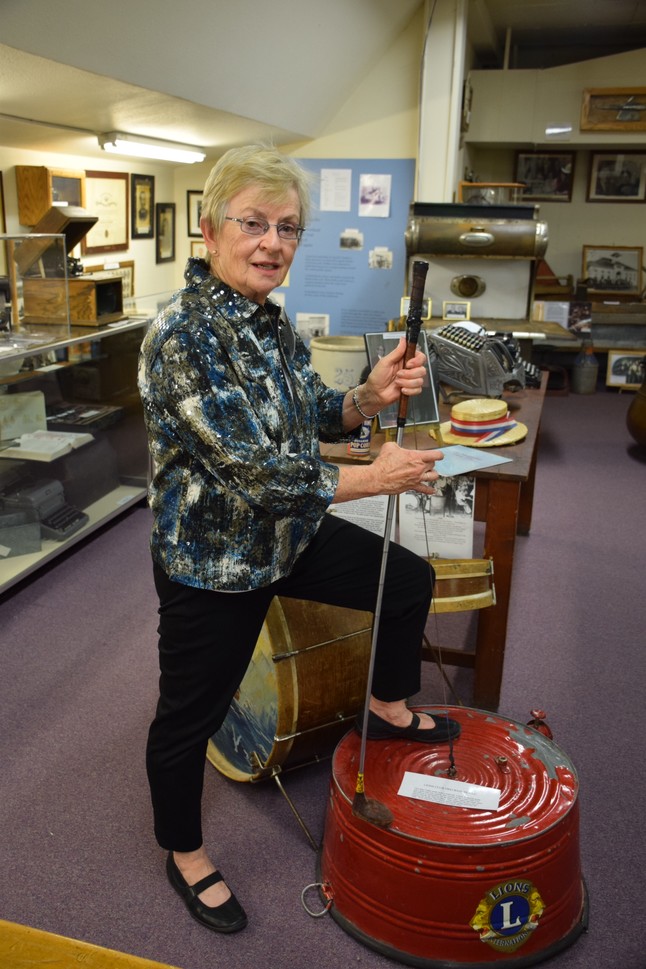 Mary Kay Grimes Peterson playing her father's bass fiddle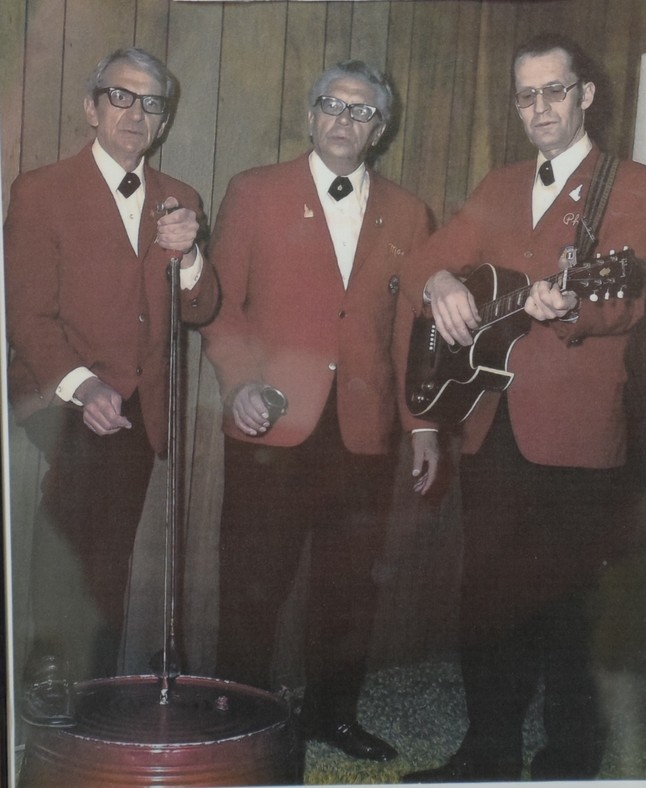 Photo displayed at the reunion of Abe Grimes--Bass Fiddle, Max Haddock--Popcorn Shaker
and Phil Hulme--Guitar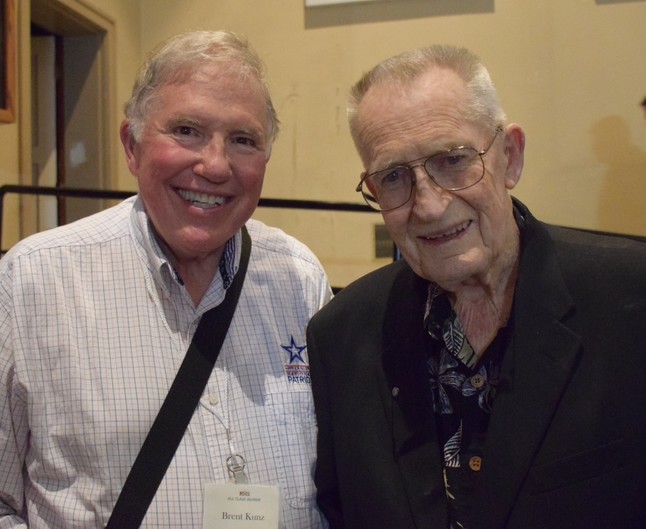 Brent Kunz and Phil Hulme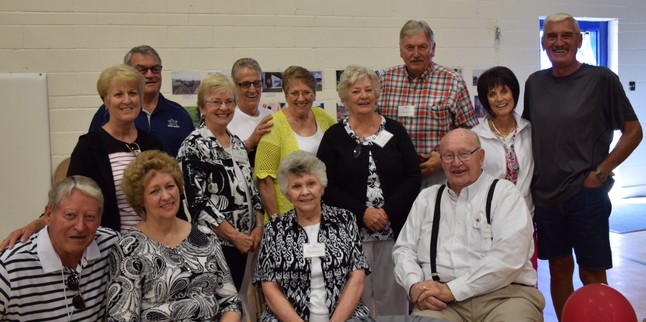 Front Row (left to right): Steve and Nina Pugmire, Mrs. Grant and Coach Grant
Back Row (left to right): JoAnn Bauman Davis, Ross Peterson and Mary Kay Grimes Peterson, Brent Neeley and Barbara Aland Neeley, Lyn Ann Williamson Arnell and Guy Arnell, Betty Gail Kunz Lyons and Delano Lyons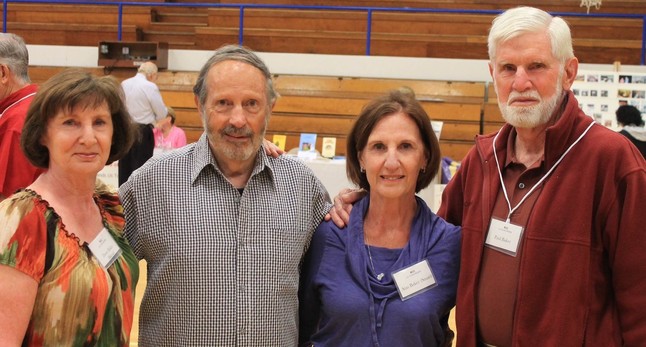 Doris Baker Bienz (MHS 58), Doran Baker (cousin), Ann Baker Smart (MHS 64), Paul Baker (MHS 55)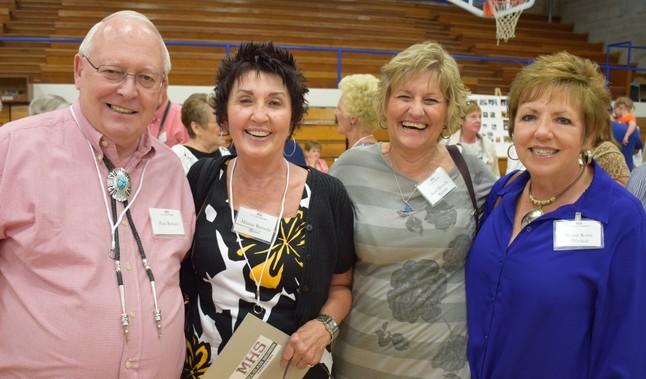 Paul Rohner, Maxine Bartschi Ross, Janet Bartschi Keetch and Renee Kunz Wuska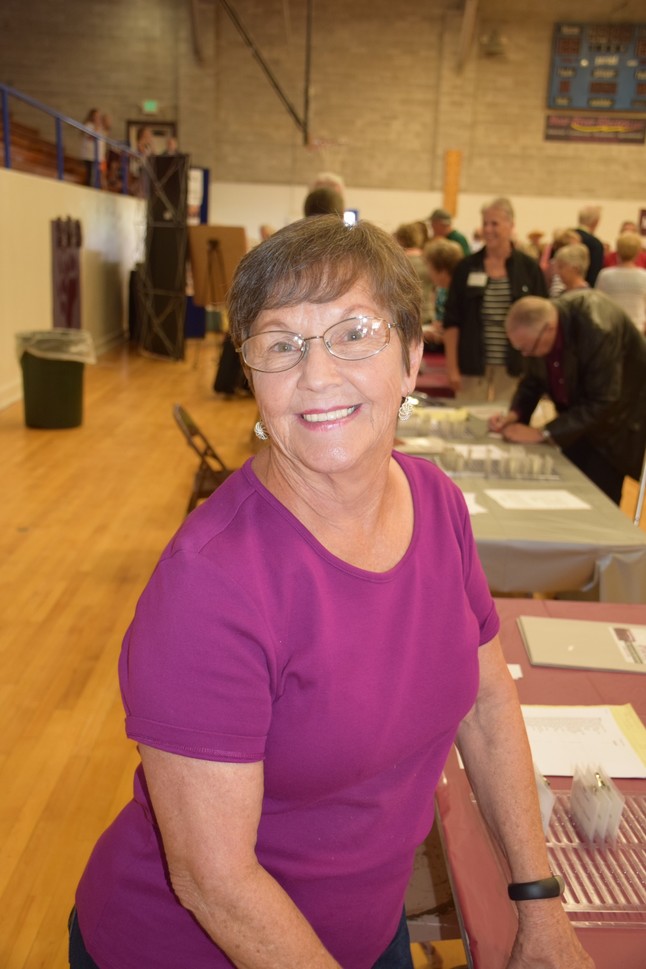 Jolene Dunn Law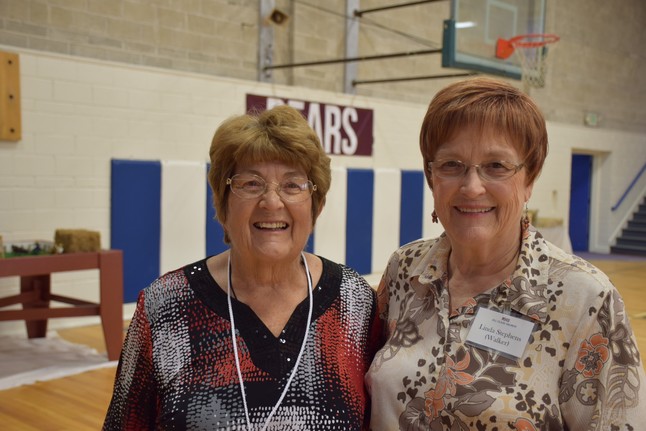 JoAnn Stephens Farnsworth and Linda Stephens Walker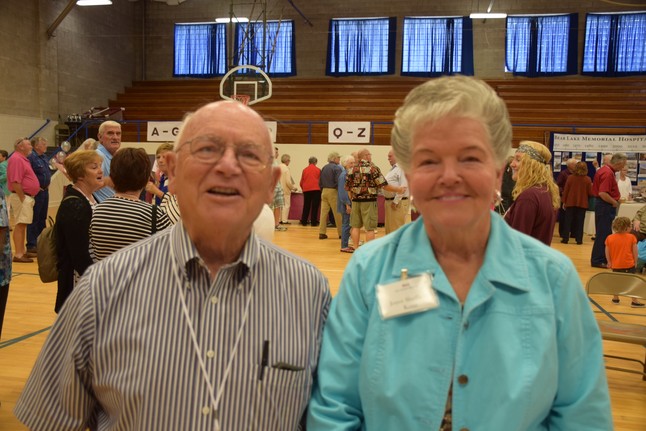 Phil and Joyce Kunz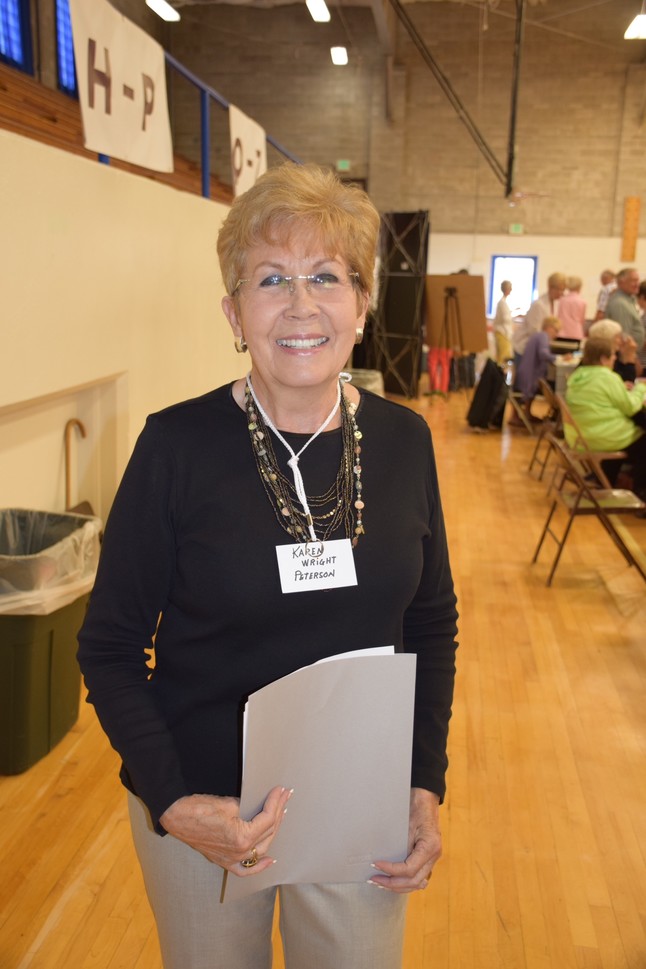 Karen Wright Peterson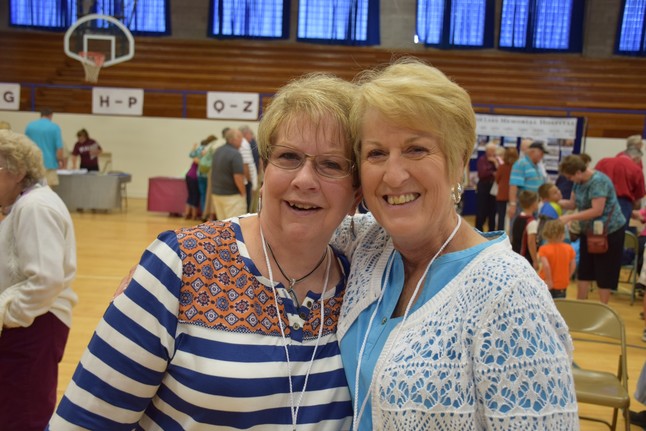 Karen Stephens Cox and JoAnn Bauman Davis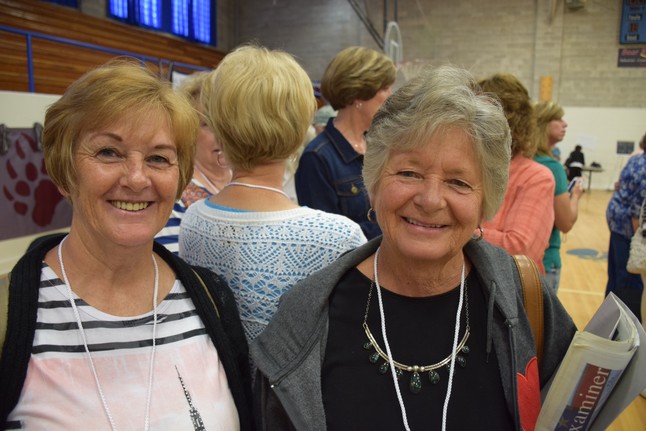 Gwen Haddock Nicholls and Sandy Haddock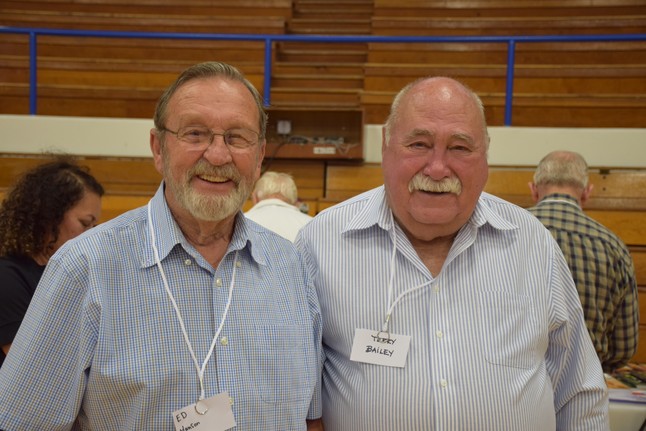 Ed Hanson and Terry Bailey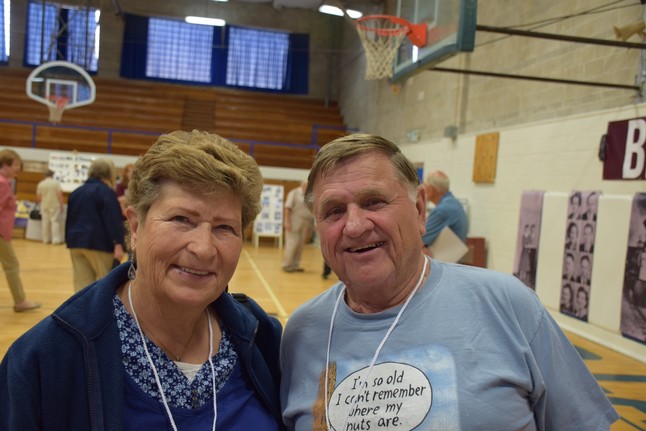 Marilyn Mark Perkins and Kent (Ozzie) Perkins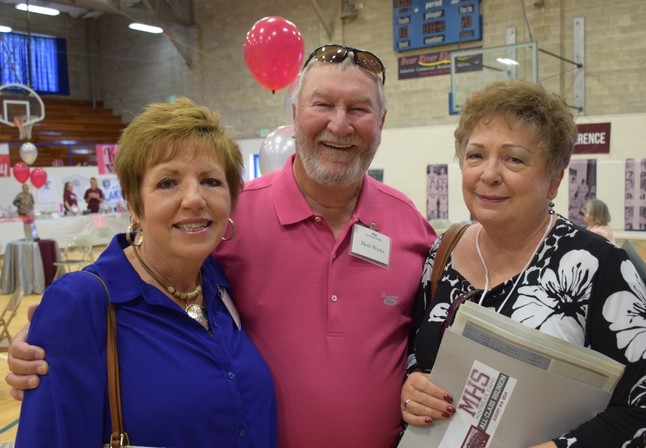 Renee Kunz Wuska and husband, Herb, DeeAnne Hanson Horsley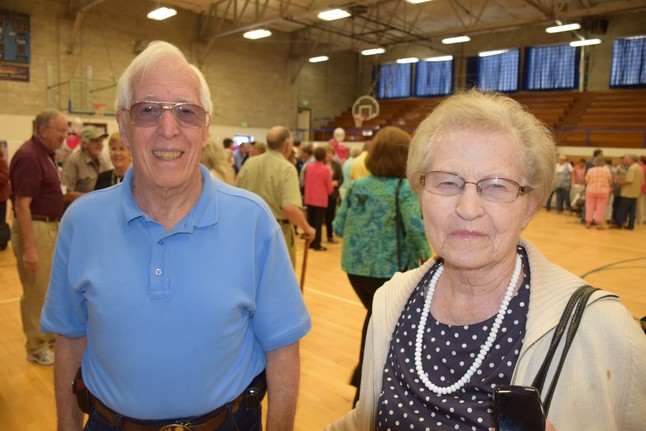 Need help identifying_______________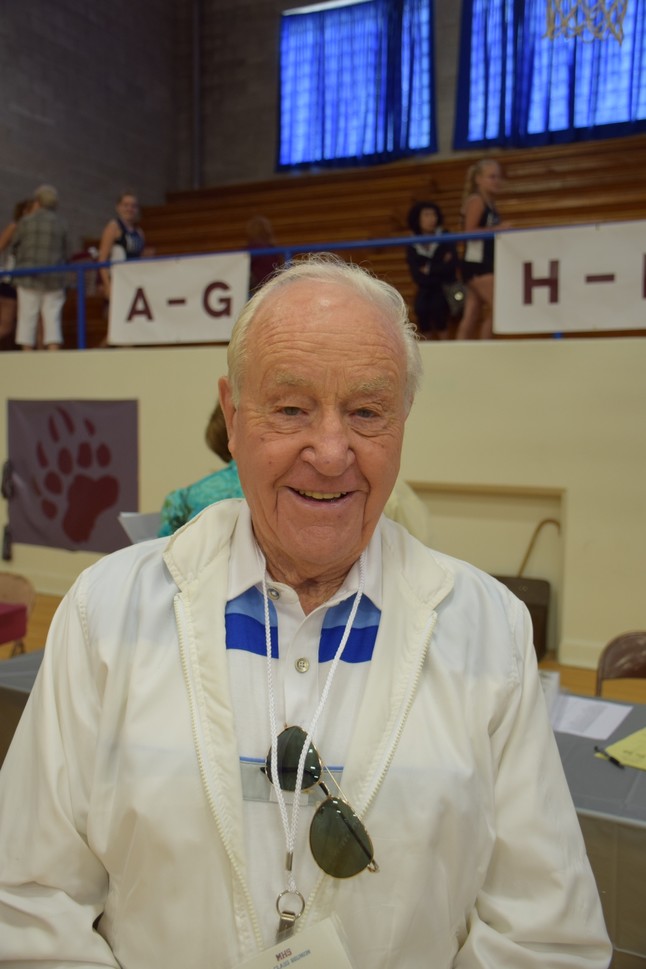 Don Nate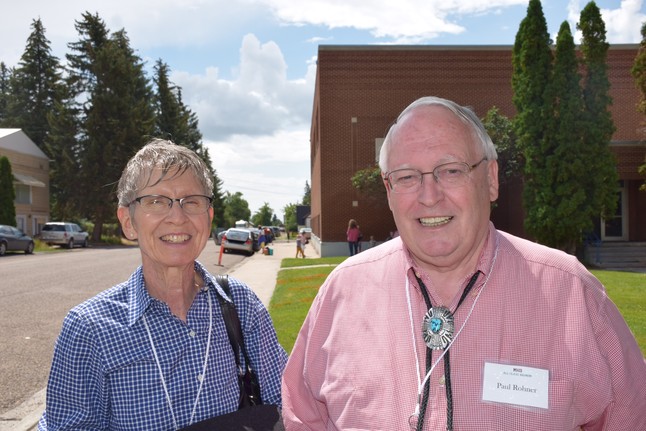 Eloise and Paul Rohner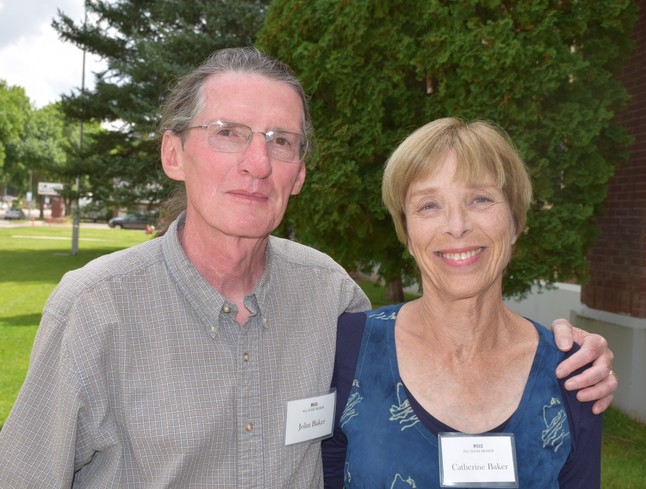 John and Catherine Baker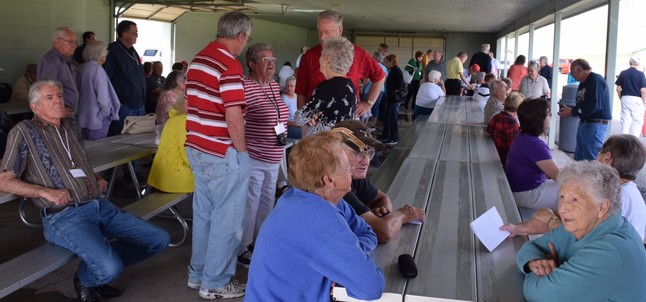 Pavilion
Left (sitting): Ed Guyon
Center: Mr. and Mrs. Davenport
Right: (blue sweater) Jeannine Smith Hymas and (green sweater) Nadine Hymas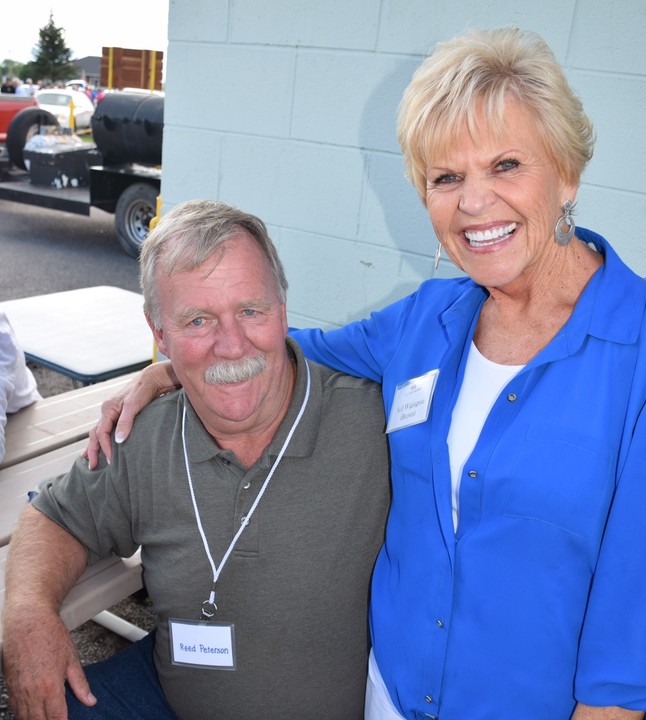 Reed Peterson and Nell Wigington Brown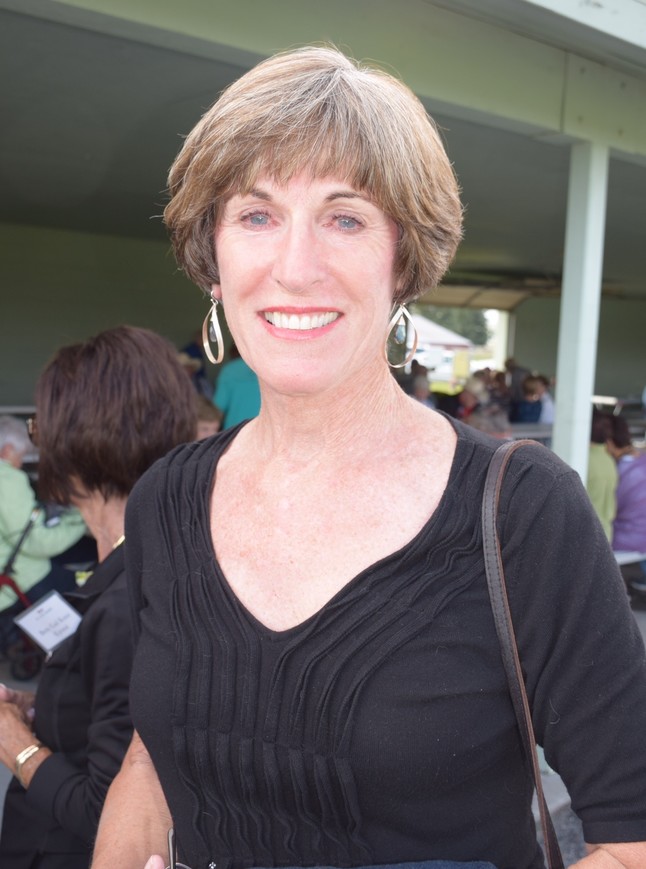 Janet Collipriest Peterson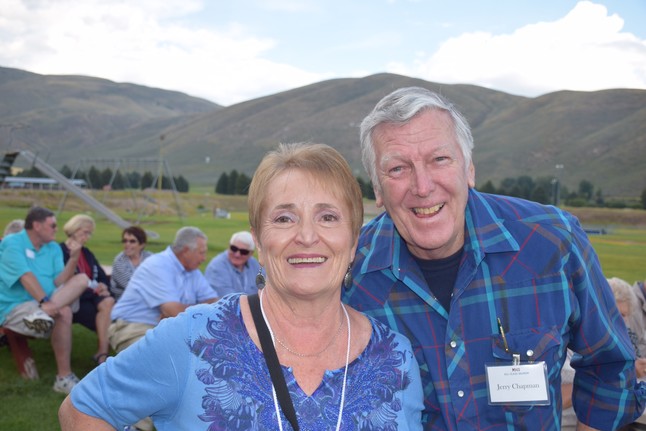 Diane Price Bateman and Jerry Chapman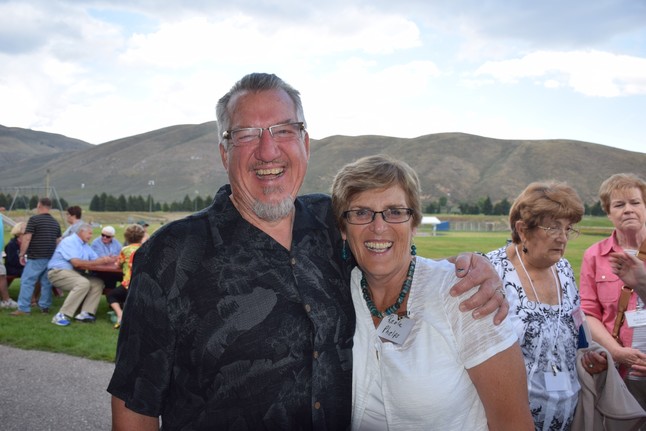 Reola Phelps and husband, Kent
Right: JoAnn Stephens and Ruth Jones Hillam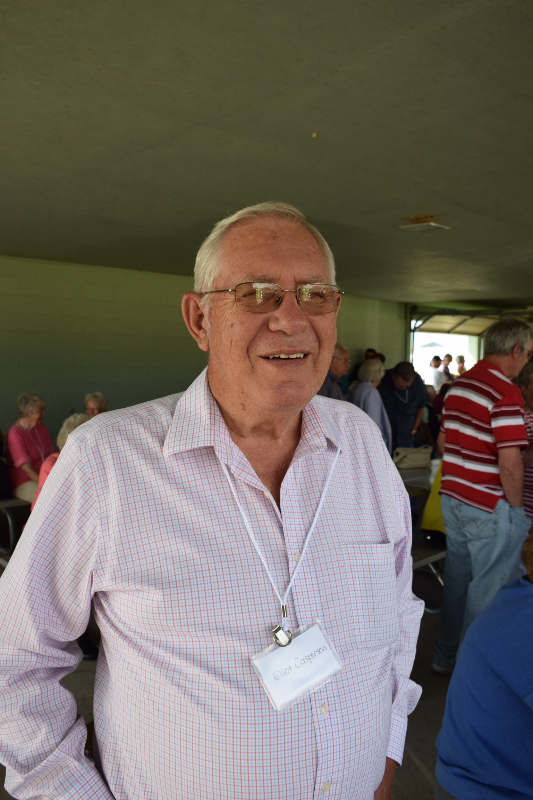 Eliot Casperson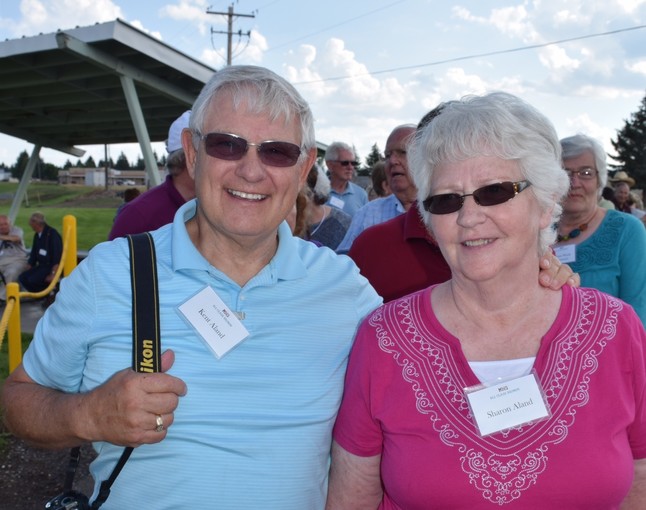 Kent and Sharon Aland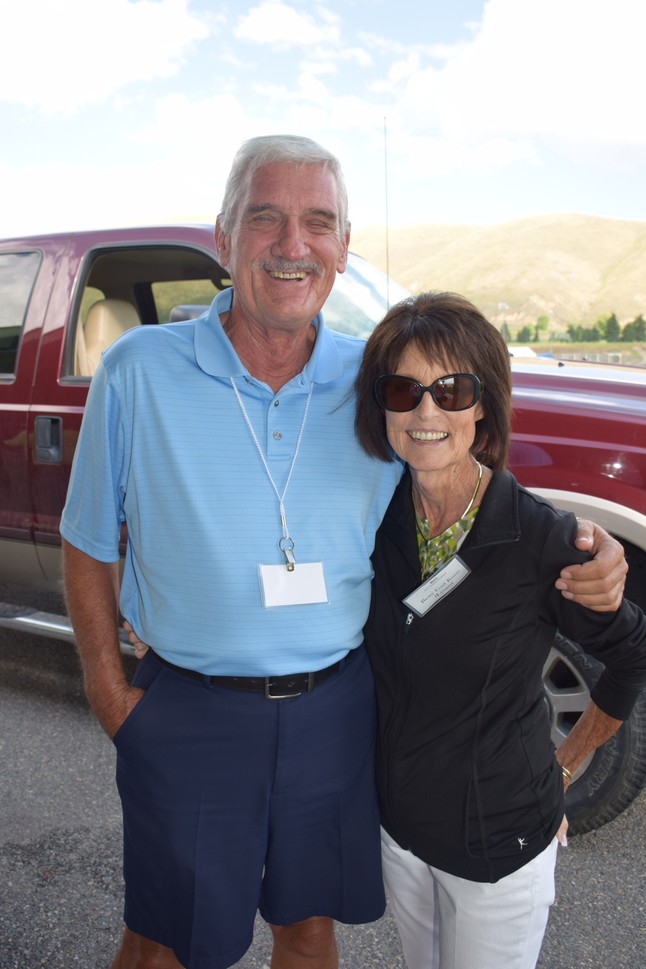 Del and Betty Gail Kunz Lyons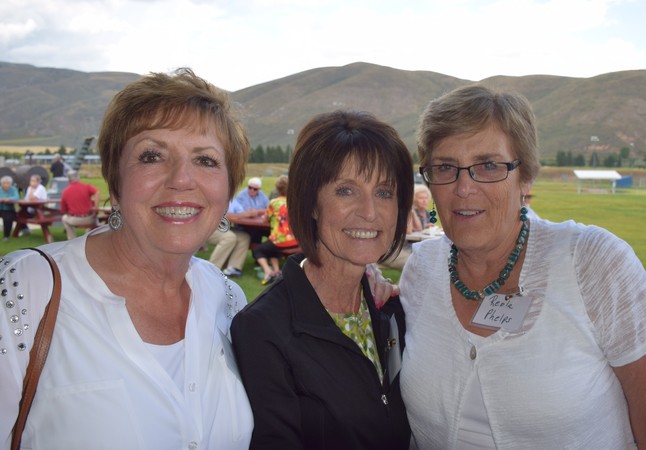 Renee, Betty Gail and Reola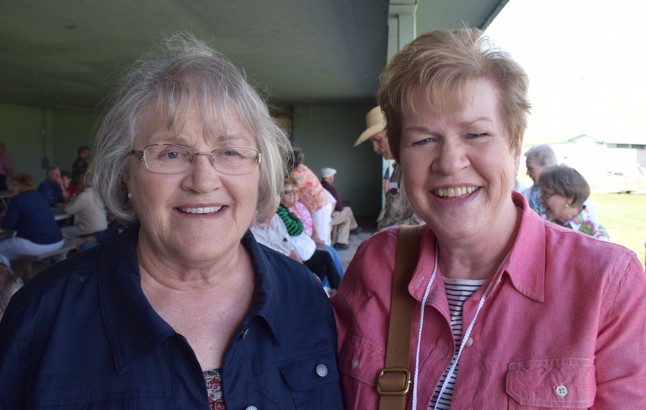 Mary Ann Jorgenson and sister, Ruth Jones Hillam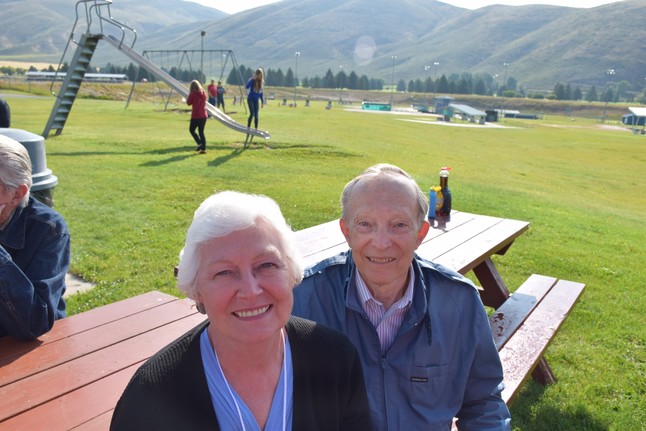 Sherry Telford Schmid and husband, Richard Schmid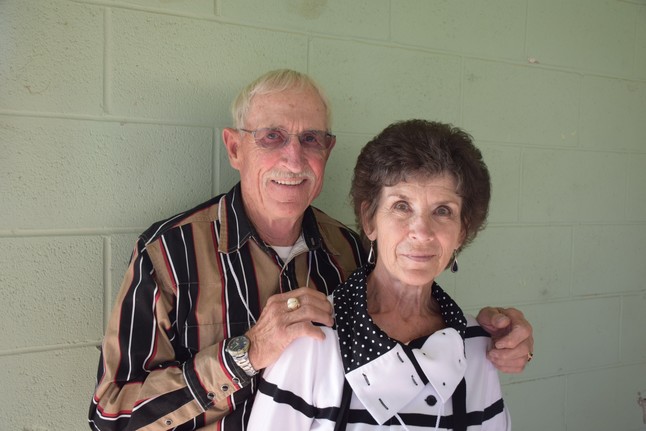 Fred and Dianne Dayton Nate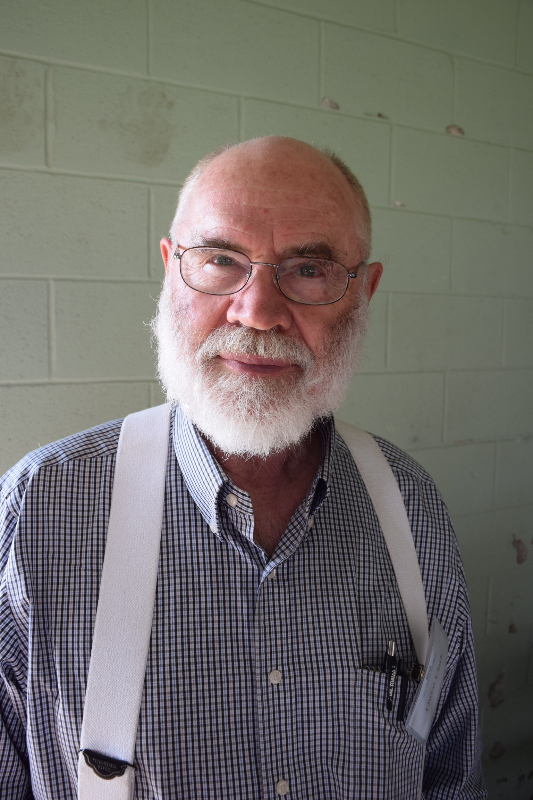 Owen Clark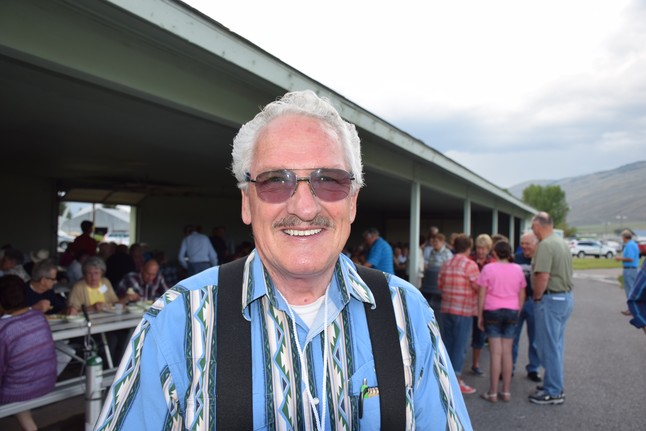 Orrin George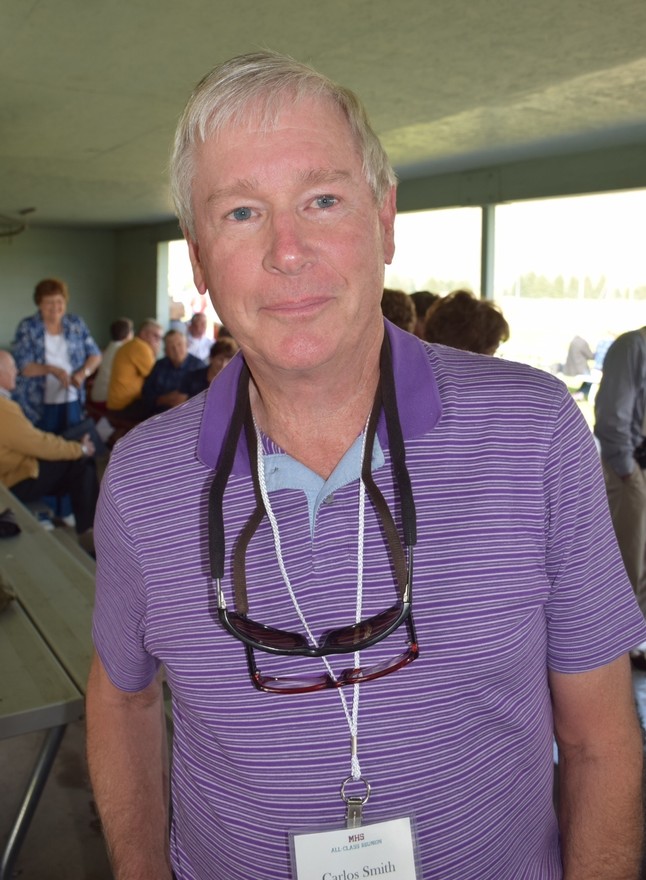 Carlos Smith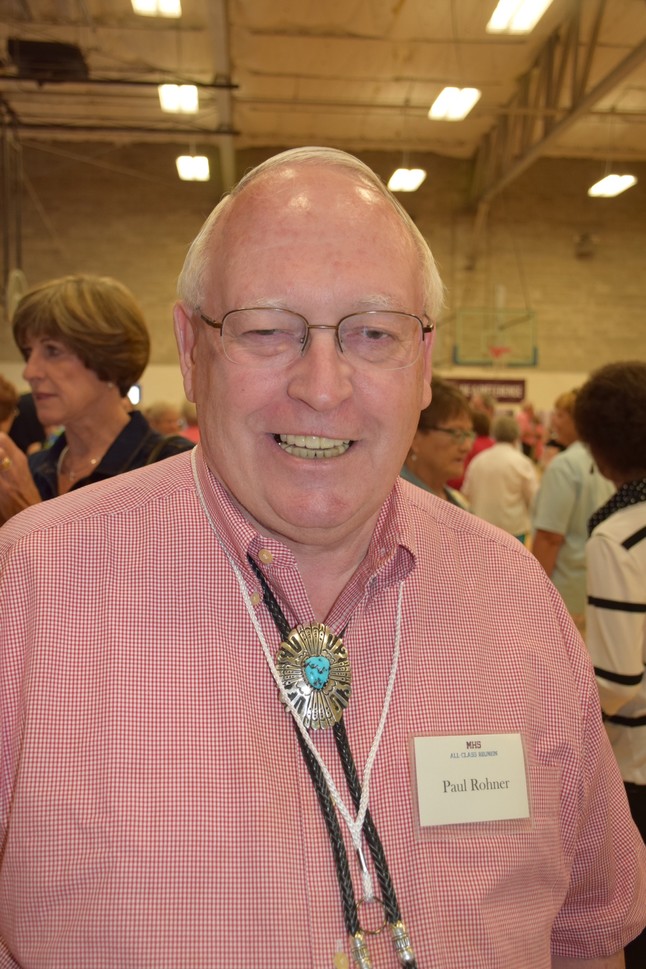 Paul Rohner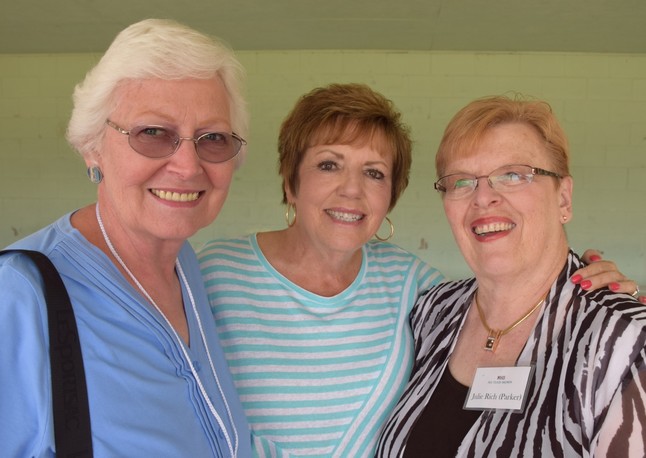 Sherry Telford Schmid, Renee Kunz Wuska and Julie Rich Parker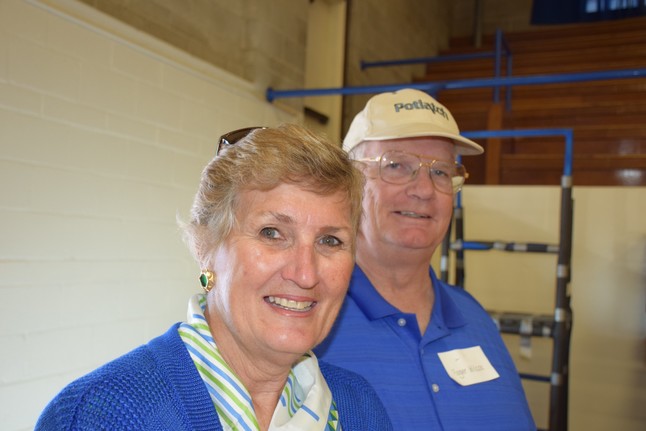 Mary Ann and Roger Wilcox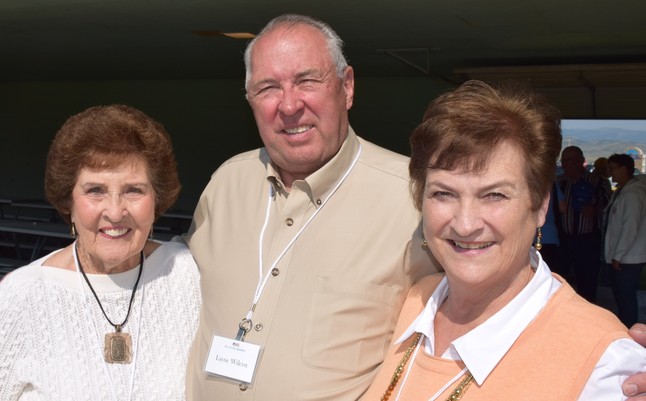 Ione Wilcox, Layne and Odetta Jones Wilcox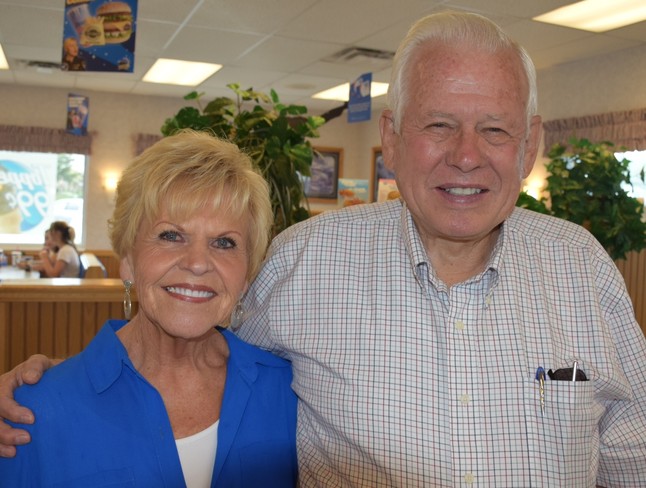 Nell Wigington Brown and husband, Reid Brown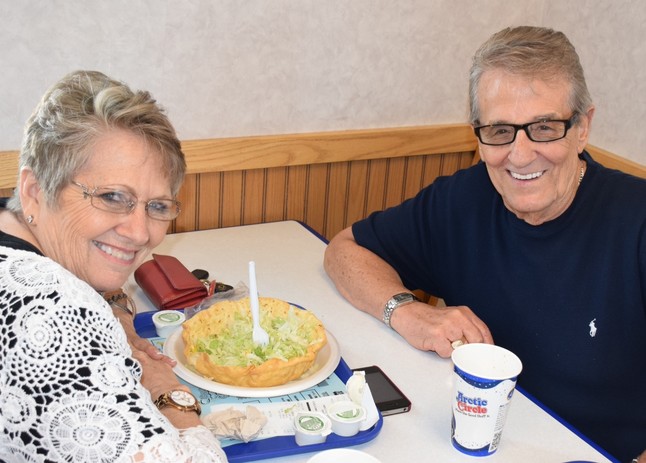 Barbara Aland Neeley and husband, Brent Neeley, at the Arctic Circle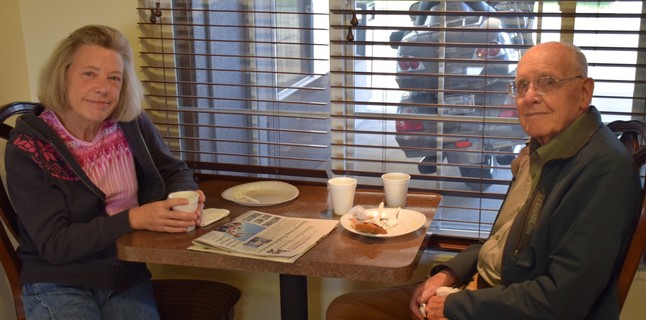 Mr. A. M. Rich and his daughter, Margaret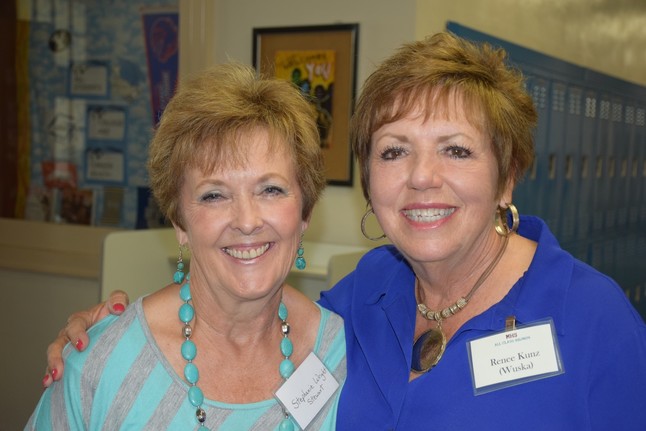 Stephanie Wright Stewart and Renee Kunz Wuska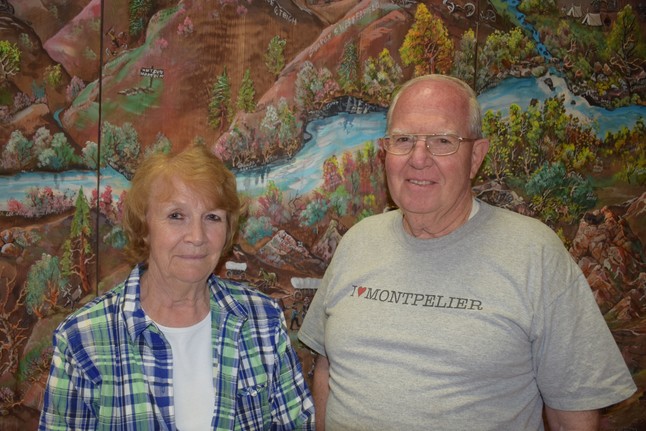 Janell Munk Dayton and brother-in-law, Dick Yeoman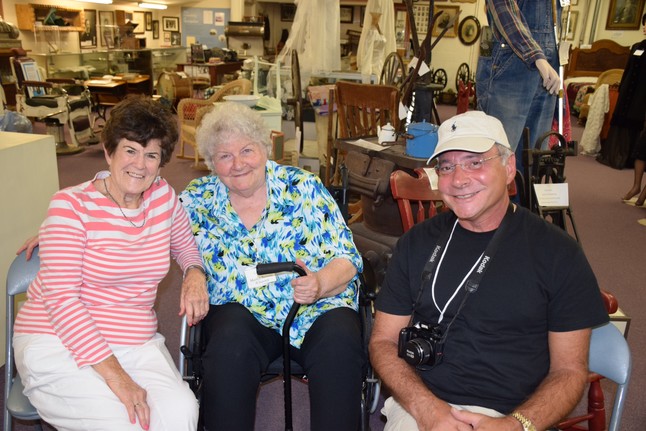 Winnie Mae Wright, Marilyn Bartschi Uharriet and her son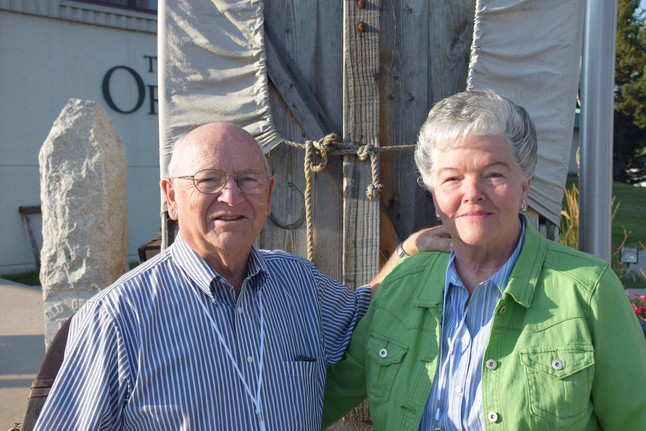 Phil and Joyce Kunz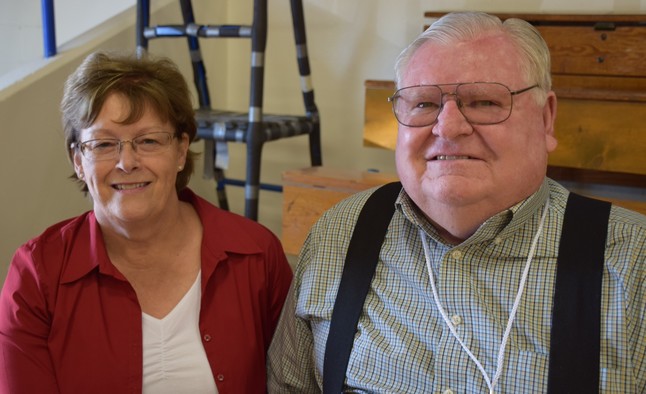 Marian Hart Aland and husband, Jim Aland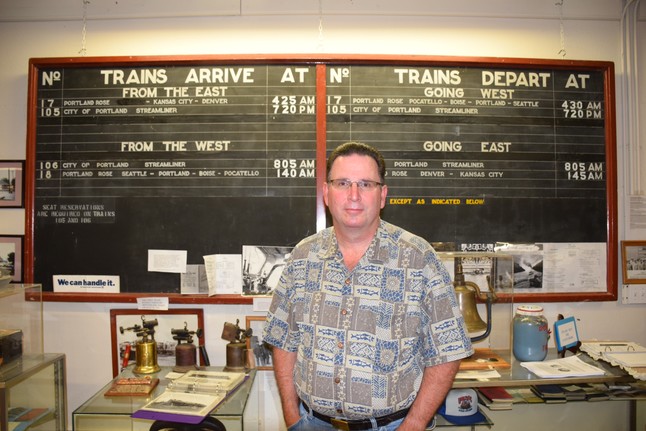 Greg Knutti, son of Ted Knutti (MHS 55)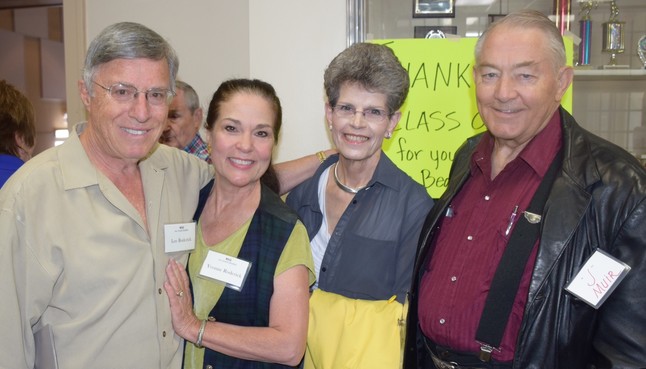 Lee and Yvonne Roderick, Carolyn and "J" Muir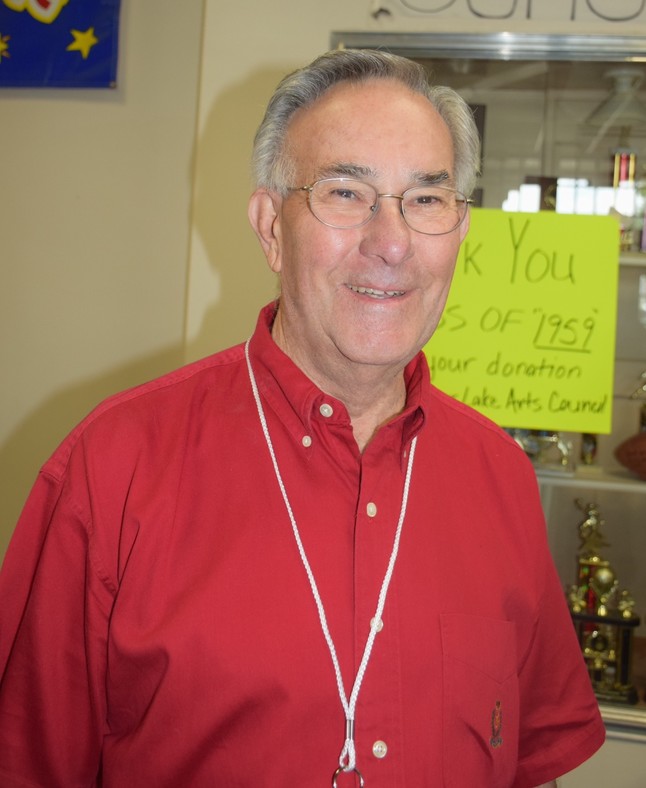 Leonard Matthews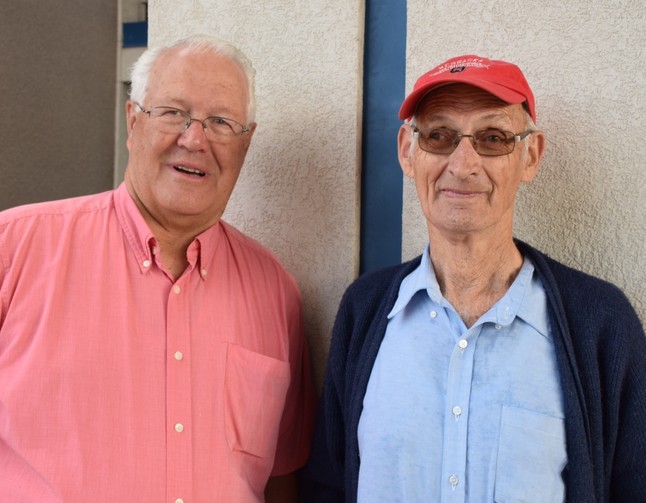 Richard Anthony and Lynn Jones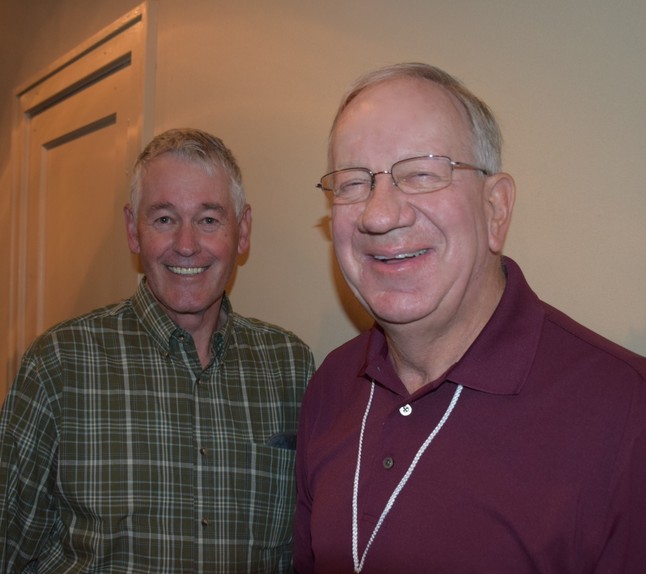 Marden Phelps and Glay Homer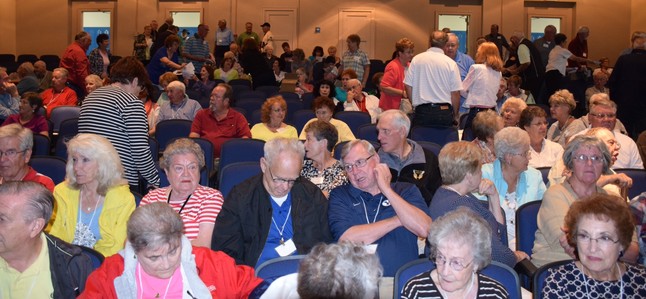 Closing Assembly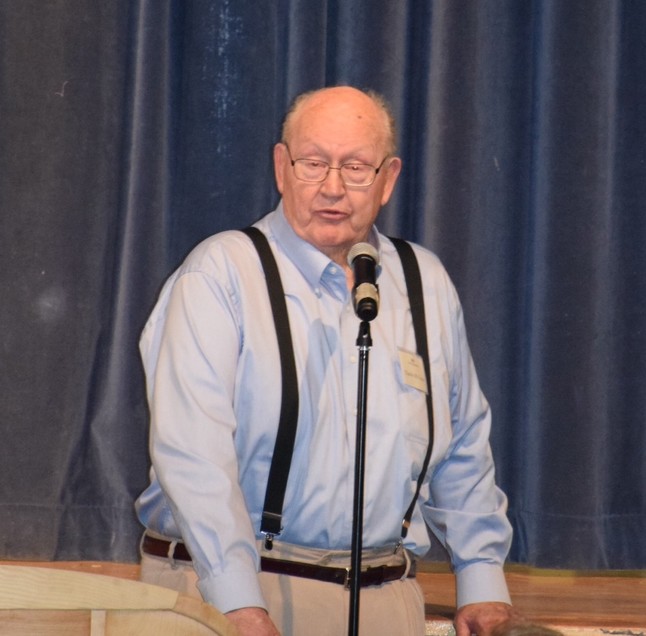 Coach Grant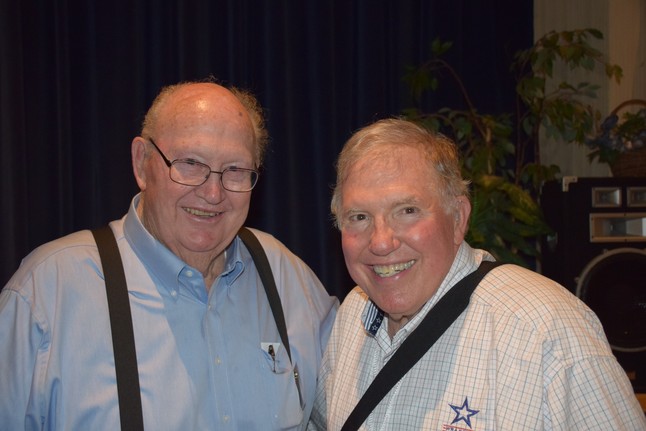 Coach Grant and Brent Kunz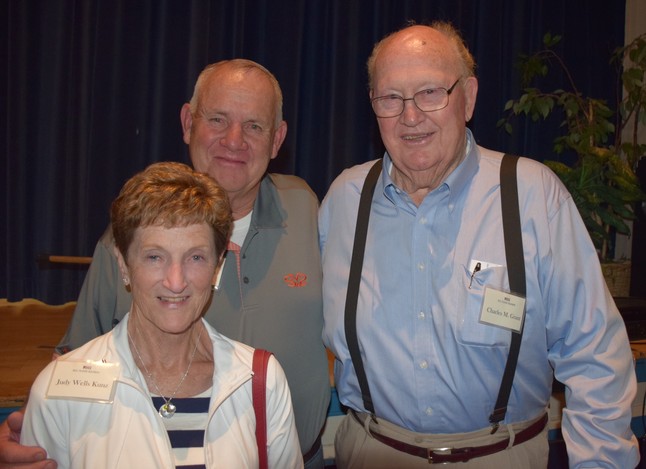 Roger and Judy Wells Kunz with Coach Grant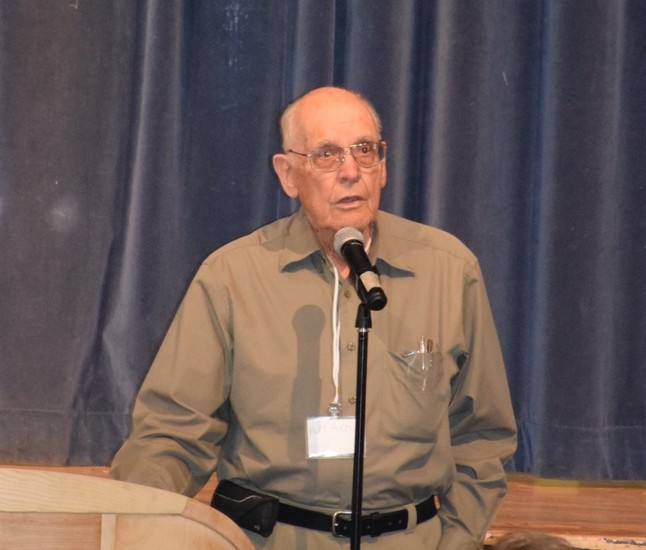 A. M. Rich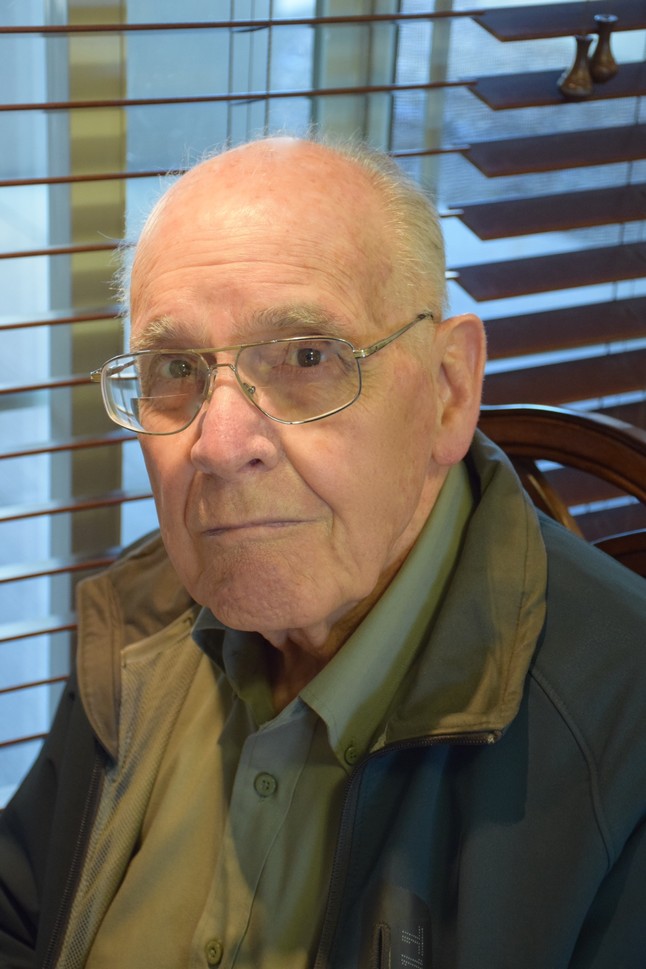 A.M. Rich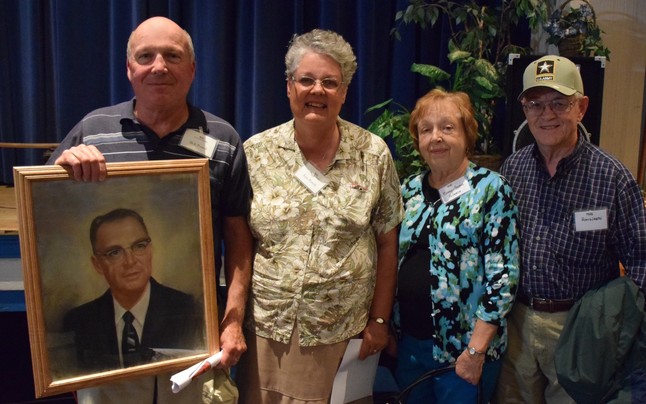 Bob and Lois Powell, Carolyn Powell Warth and Ron Warth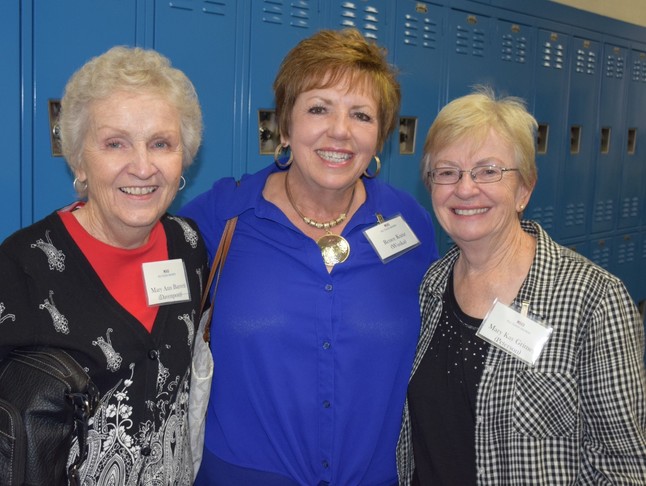 Mary Ann Barrett Davenport, Renee Kunz Wuska, and Mary Kay Grimes Peterson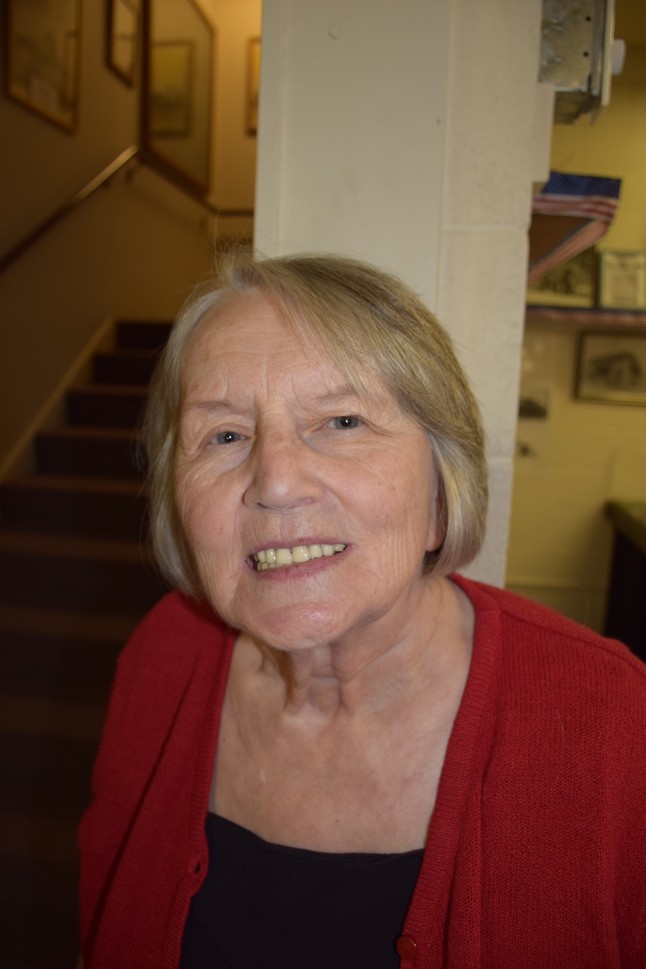 Cheryl Evans Burgoyne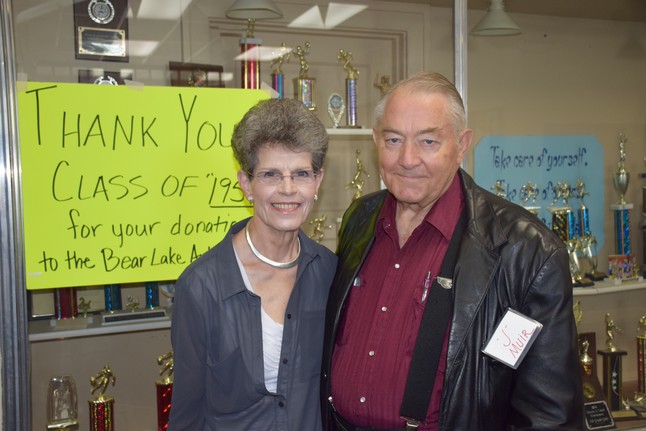 Carolyn and "J" Muir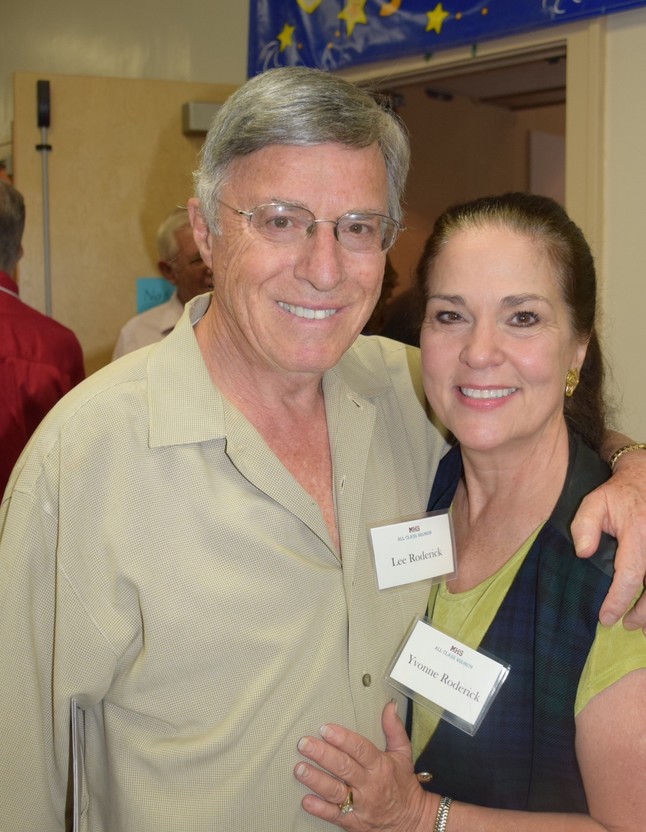 Lee and Yvonne Roderick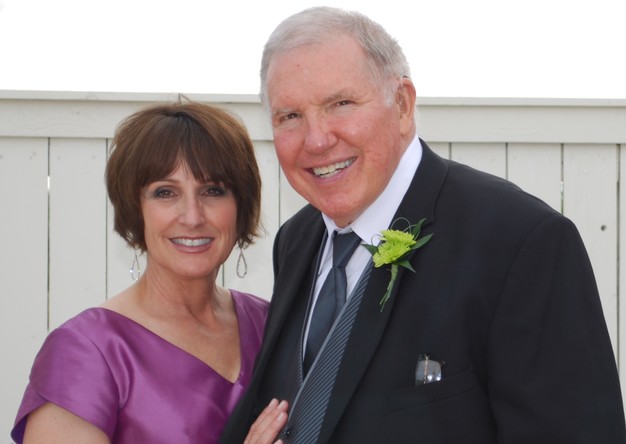 Brent Kunz (MHS 61) and his wife, Melanie Lasater Kunz, live in Cheyenne, Wyoming. They have two daughers, one son and one grandchild.
Info from Profile:
After graduation from Montpelier High School, I attended the University of Utah. I served a two and one half year Mission in Berlin, Germany. I obtained a BA from the University of Utah in 1968, and a JD from the University of Wyoming in 1971. I am admitted to the Bar in Wyoming and Colorado. I specialize in the practice of natural resource and pubic land law.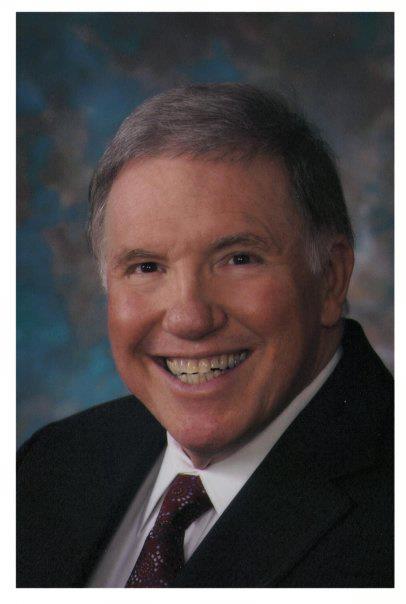 I lived and worked in Washington DC until 1975. Positions held included: Attorney in the Office of Hearings and Appeals, Department of the Interior; Legislative Counsel for US Senator Clifford P. Hansen and Interior Committee, U.S. Senate; Solicitor's Office Department of Interior, Land and Water Resources; Special Assistant to Stanley K. Hathaway, Cabinet Member and Secretary of the Department of Interior.

In 1975, I returned to Wyoming and formed a law partnership with Governor Stan Hathaway. I am a semi retired partner in the firm Hathaway & Kunz.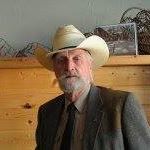 Russell Stuart (MHS 61)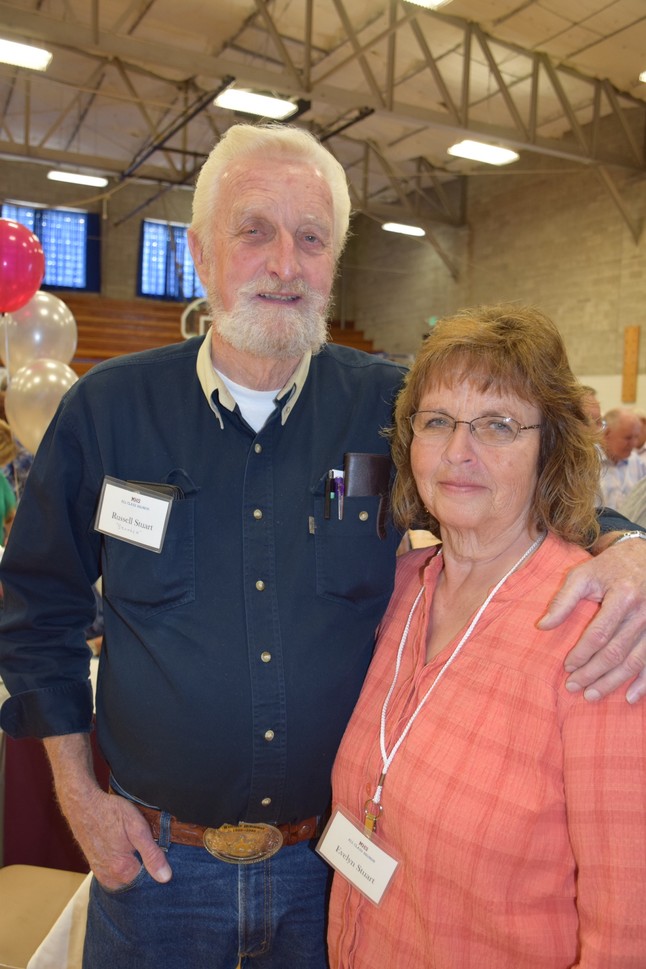 Russ and his wife, Evelyn, at the Sesquicentennial reunion in August. (Picture was taken by Brent Kunz)
Info from Profile:
Well, here goes a little about Russ Stuart. First off, to many people I'm better known as "Stretch". I got that nick name in the fifth grade when I first started to play basketball. That's what I was known as the four years I played basketball at Montpelier High School. I often joke about going to school in Montpelier. The grade school I went to, the Washington school, burned down. They tore down the junior high I went to, and they renamed the high school I attended. Not much of a track record!
I retired in 2001 after 35 years in the nuclear industry. We had purchased a ranch in the south end of Star Valley, Wyoming in the 1970's, so we sold our place west of Blackfoot, Idaho and built a new home about 5 miles south of Smoot, Wyoming. I've been married to Evelyn for 50 years this year, and it's been great! We have one son and three daughters. I love living in the mountains!!! I think I've lived in the best of times. Smile and have a great day.
Photos provided by Russell Stuart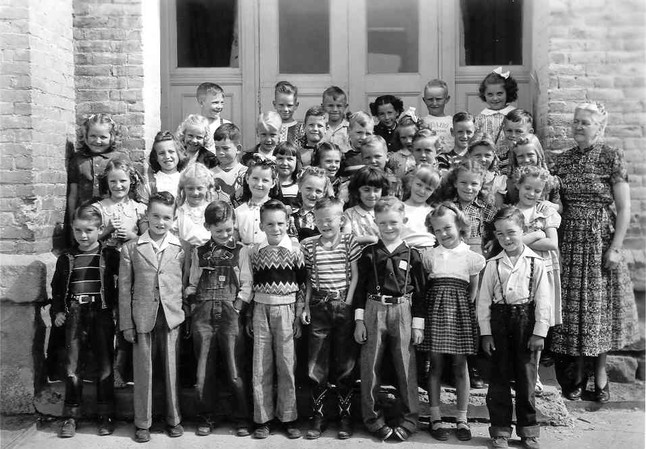 Washington School - 1st grade The Class of 1961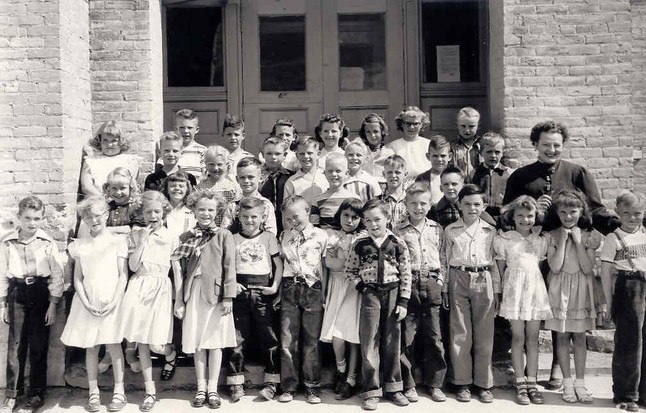 Washington School - 2nd grade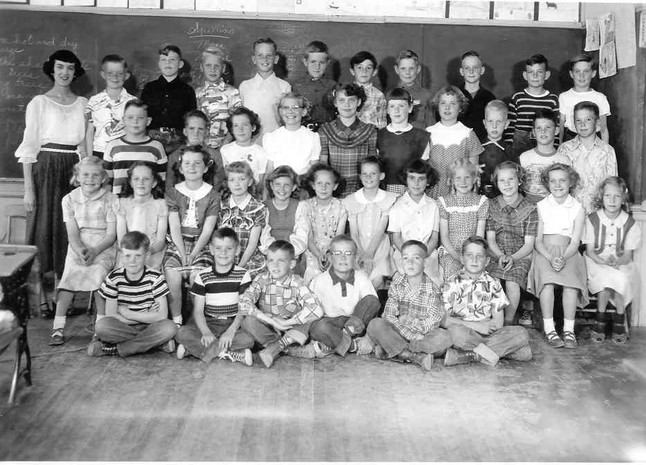 Washington School - 3rd grade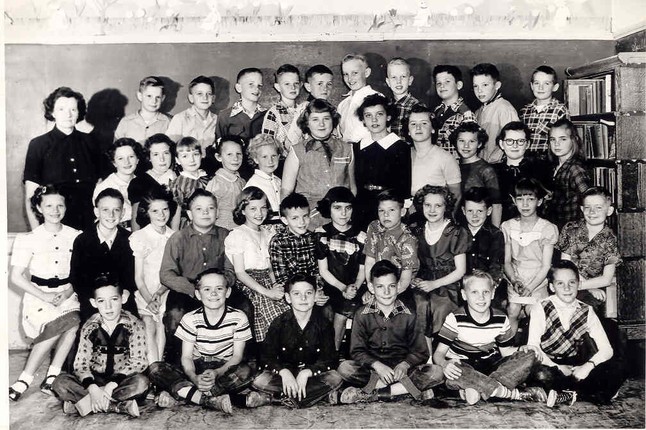 Washington School - 4th grade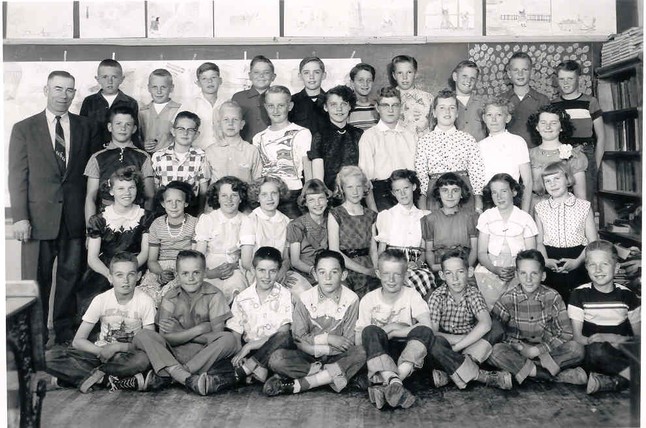 Washington School - 5th grade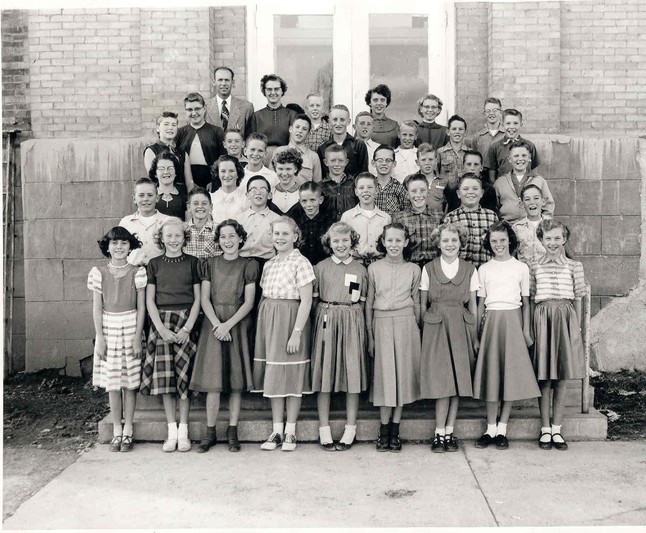 Washington School - 6th grade
Top Row: Mr. J.L. Jaussi, Mrs. Maylock, Jim Adams, Judy Rasmussen, Sherry Telford, David Reese
Fouth Row: Janet Collipriest, Barbara Sharpe, Dennis Wilcox, Roger Wilcox, Jim Simmons, Russell Stuart, Glen Stuart, Ron Jensen, Larry Roberts, Brent Kunz
Third Row: Lola Kunz, Judy Wells, Jean Rasmussen, Kent Lewis, John Legerski, N. Burbidge, Joe Rowsell, Kent Aland
Second Row: Glen Casperson, Kenny Wilkes, Gary Liessering, Wayne Tufts, G. Gehring,_?_, Raymond Williams, Danny Hunter
Front Row: Shirley Trussel, Karen Stephens, Dian Hoff, Nell Wigington, Nancy Phelps, Linda Christenson, Rhena Nield, Diane Scofield, Marilyn Swensen
Thank you Russ and Ruth Jones Hillam for helping to identify as many students as possible. Thank you, Russ, for providing photos.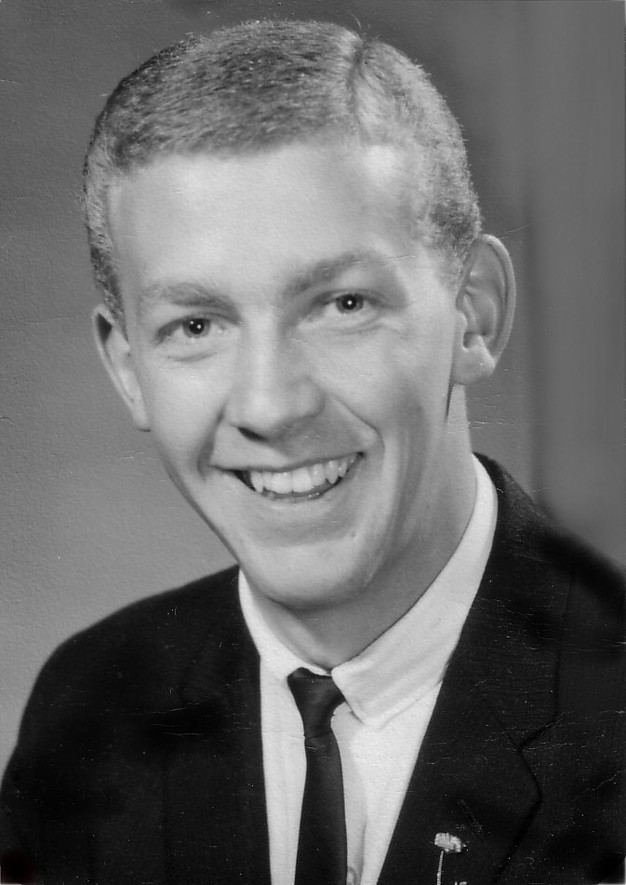 Alan Crane (MHS 62) received his BS degree in Secondary Education at Utah State University. He served a LDS mission to New Zealand.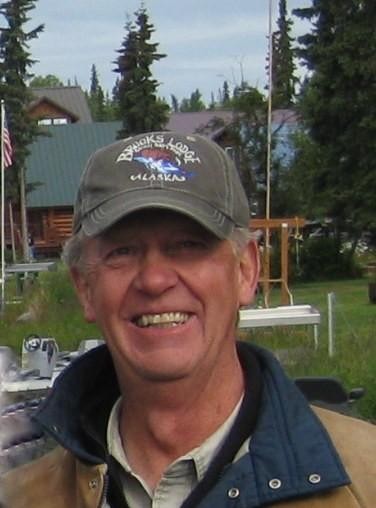 Al and his wife, Jo (Wangsgard) Crane, reside in Soldotna, Ak USA. They have two sons, four grandsons and one granddaughter. Al is a retired Pilot/Agent USFW, Alaska. He supervised the Northern half of Alaska and traveled as a US Gov't rep to foreign countries for his agency.
He volunteered for various non-profits including the Iditarod Trail Sled dog race (a celebration of Alaska's history). Acted as an administrator during its first years and ran the 1000 mile race in 1977. One of the authors of a new book, Iditarod The First Ten Years. Information: "Iditarod The First Ten Years is out now and we are having a book launch and signing in Alaska the first week in March, 2015."
Outdoor sports, including hunting and fishing, and international adventure and travel are his passion. Their home is on the Kenai River near Sterling, AK, and they have a winter home in Gold Canyon, Az.
Alan and his wife attended his 50th reunion, but they were unable to attend the MHS Sesquicentennial.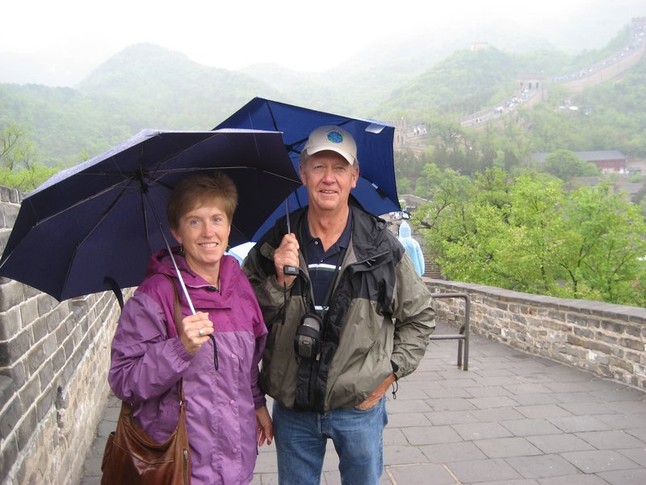 Jo and Al on the Great Wall not far from Beijing. They were on their way to a 3 week trip through the Gobi Desert and North through Mongolia to the lakes on the Russian Border.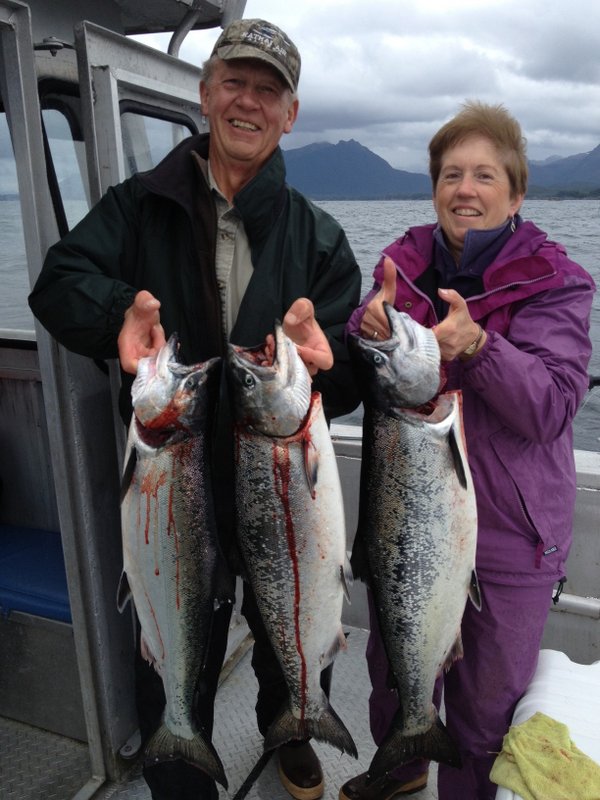 Jo and Al with "ocean fresh" King Salmon they caught recently near Pelican in Southeast Alaska. They enjoy fishing with their friend every year.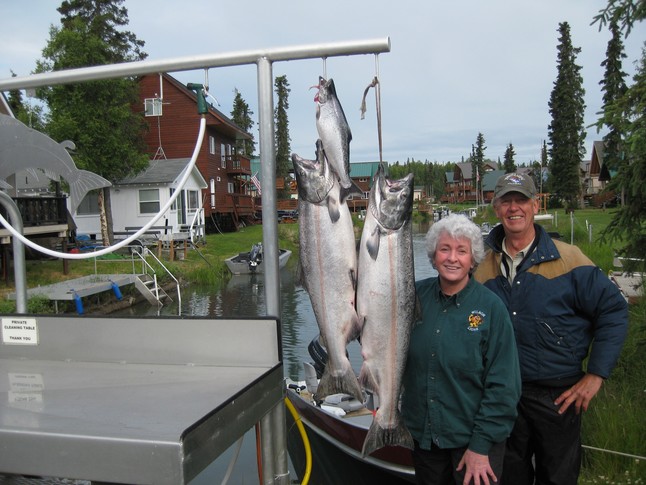 "This is such a great picture of one of my favorite cousins, Polly June Crane (Willardson), taken near our home on the Kenai River in Alaska. She introduced me to my wife, Jo, at Utah State. Jo and I were married in 1968."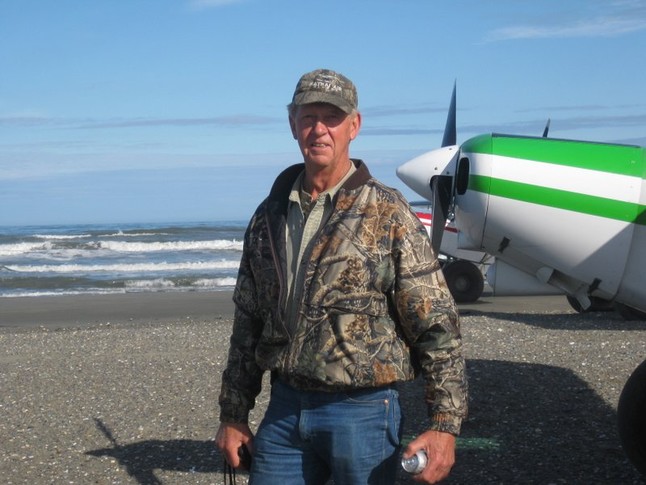 "This is my Super Cub (that I still fly) on the beach of the Arctic Ocean near Bering Straits in 2014. I was on an airplane fishing trip to Western Alaska with friends."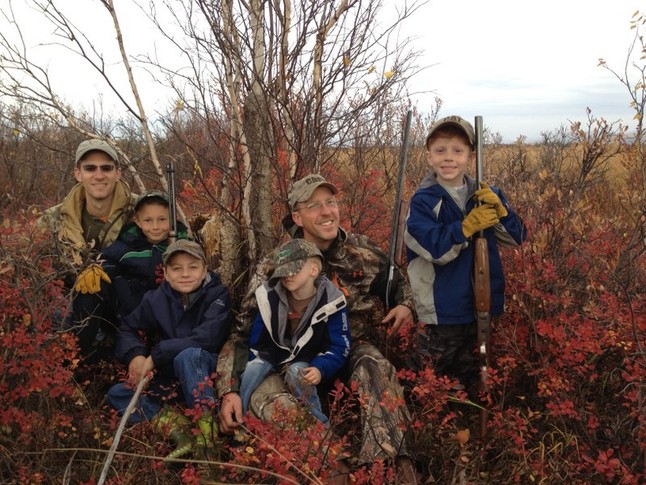 A recent photo (2013) of our sons, and our only grandsons, at a pond near Delta in Interior Alaska. It was in the fall and we were hunting sharp tail grouse, ducks and geese.
From left: Casey and son, Austin. Cody with sons, Garrett, Ty (on his Dad's lap) and Jesse, standing. We have one granddaughter who belongs to Casey, but was too young to hunt.
Casey and his wife are at Mayo Clinic in MN. Cody and his family live in Fairbanks, AK.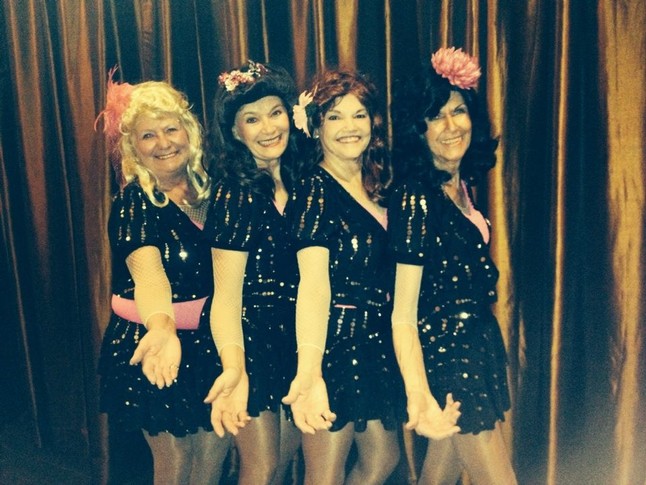 Christin Nielsen Jensen (MHS 64), second from the left, really knows how to have fun and stay in shape! She dances her way to fitness by performing with the Mesquite Toes Dance group from Mesquite, Nev.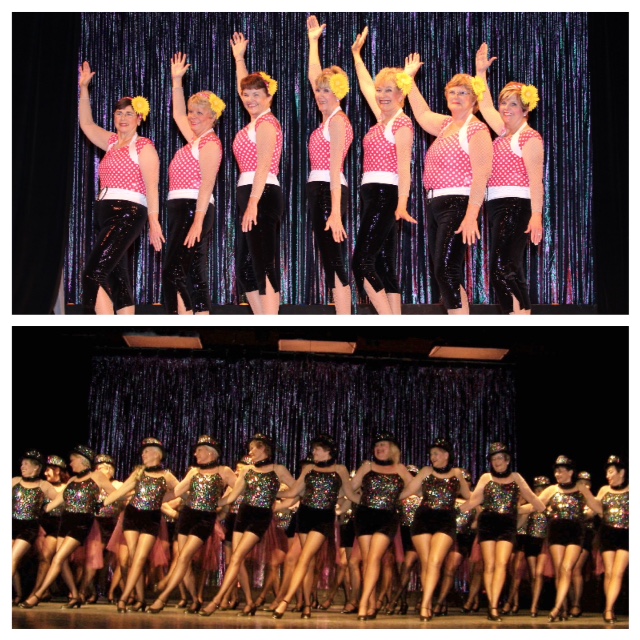 The group has entertained on cruise ships to Alaska, the Panama Canal, and the Greek Islands. They have performed in New York, Las Vegas, Knotts Berry Farm, and Branson, Mo. The average age is 69 1/2 years old.
Their three day "Spectacular," the middle of April, is the culmination of everythng they learn through the year.
Top photo: Chris is third from right
Bottom photo: Chris is 5th from left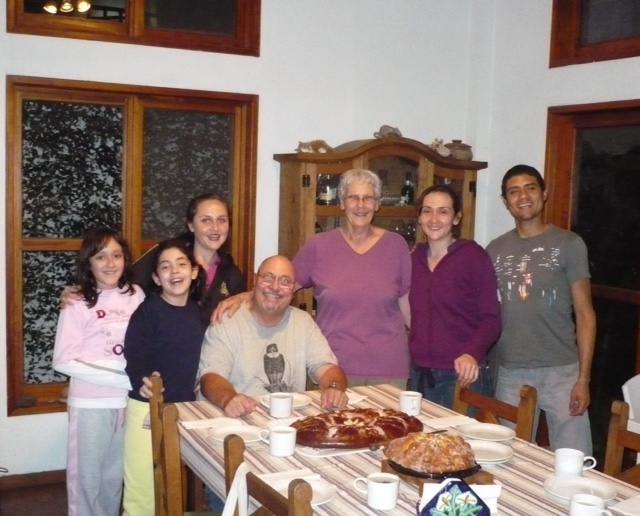 Julie Martineau Steffers (MHS 63) and her husband, Dave, send greetings from Xico, Veracruz Mexico, where they have loved living for the past seven and a half years. They enjoy spending time with their friends, who are more like family.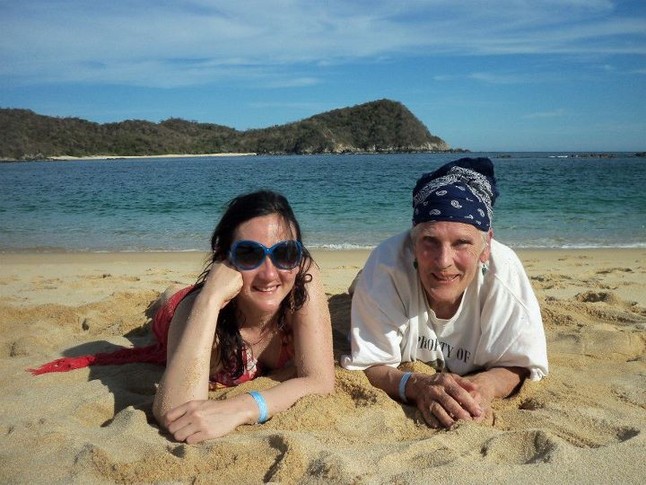 Here is Danae (who is like a daughter to Julie) and Julie taking a break after their Yoga exercise on the beach.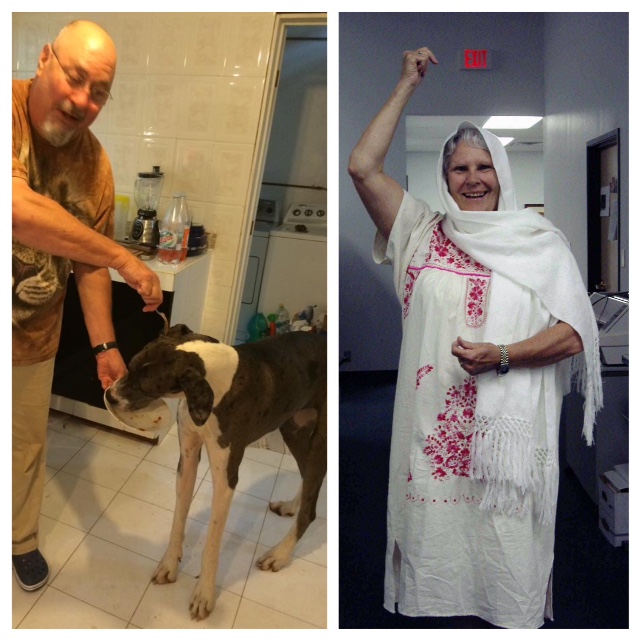 Here is Dave feeding, Gretel, one of their Great Danes. They have another three year old Great Dane named, Hansel.
Julie is playfully dancing the "Mexican Hat Dance".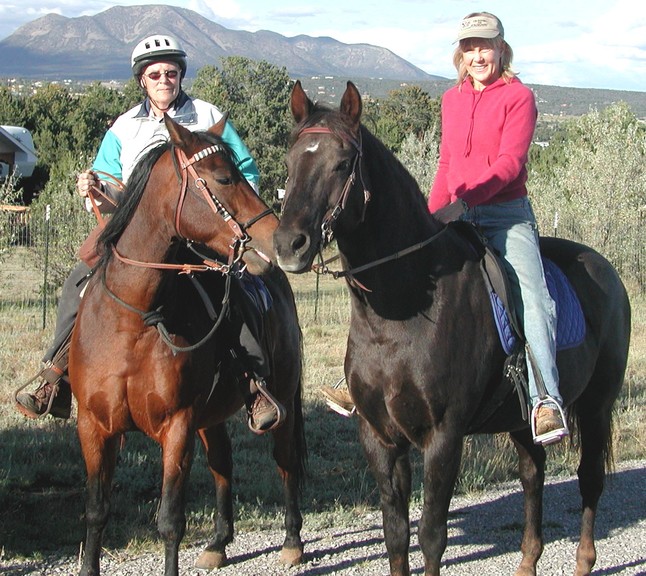 Julie, enjoying a ride on her horse, Fargo, with friend, Cindy. (Piicture was taken in New Mexico)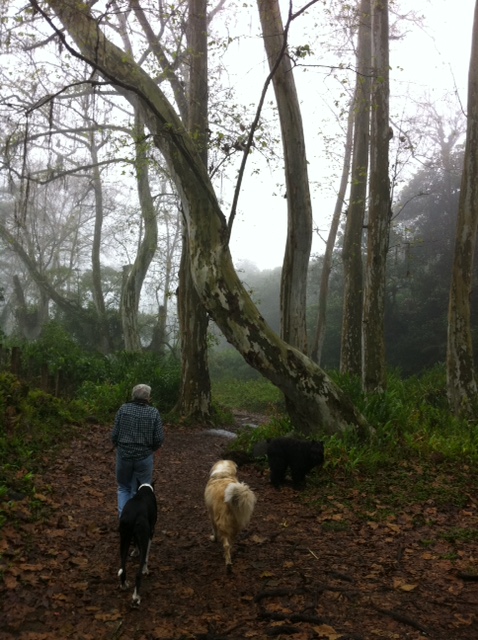 Julie taking the dogs for a brisk walk on a damp, rainy morning.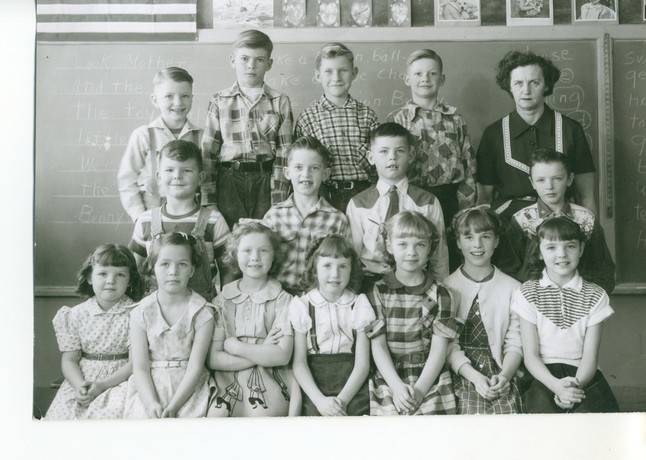 Thanks to Mont Evans for providing the photo and Sally Price for identifying everyone.
Front Row: Carol Teuscher, Michelle Hirschi, Ruthie Fueller, Mary Lou Price, Sally Price, Wenda Price, Gloria Hillier
Middle Row: Gary Teuscher, Brent Boehme, Keith Teuscher, Jimmy Hillier
Top Row: Monte Evans, Lee Edmond Preston, Billy Teuscher, Farris Boehme
Teacher: Mrs. Evans (Wife of Rosco Evans)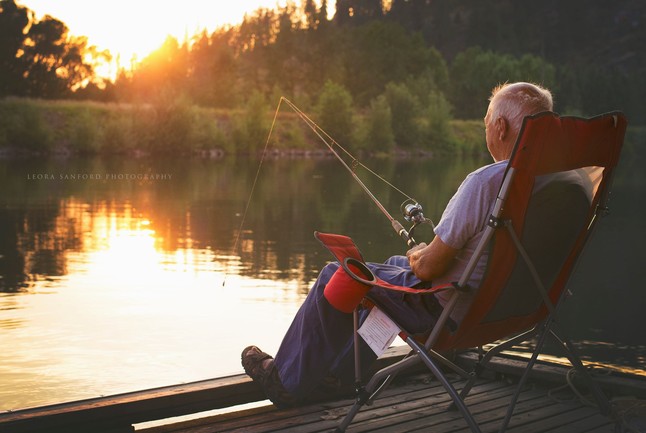 This is Sheryl Neeley Sanford's husband, Danny, fishing in Boisie, Idaho. He is recuperating after an illness, and this is just what the doctor ordered. Their daughter-in-law, Leora Sanford, shot the photo.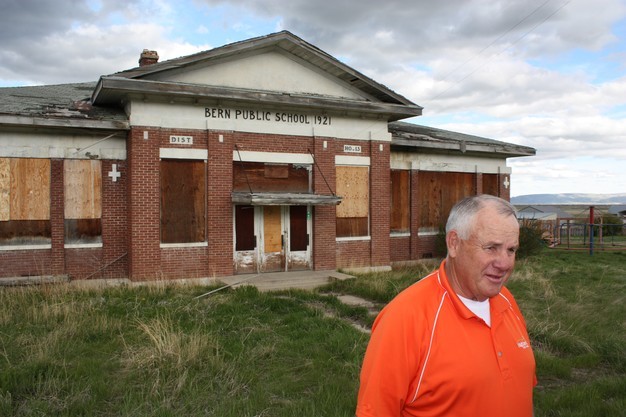 Roger Kunz (MHS 62) and his wife, Judy Wells Kunz, (MHS 61) live in Pocatello, Idaho. They have two daughters and one son. Their youngest son, Travis, passed away in 2013. They have twelve grandchildren and three great grandchildren.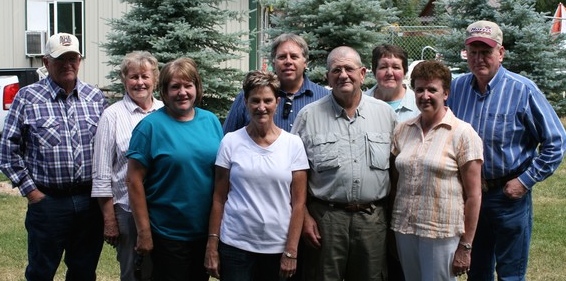 Family reunion picture
Left to Right: Bob Wells, Ruth Reeves Wells, Donna Wells Anderson, Judy Wells Kunz, Robert Anderson, Fred Wells, Lorna Skinner Wells, Mary Ellen Clark Wells and Lynn Wells.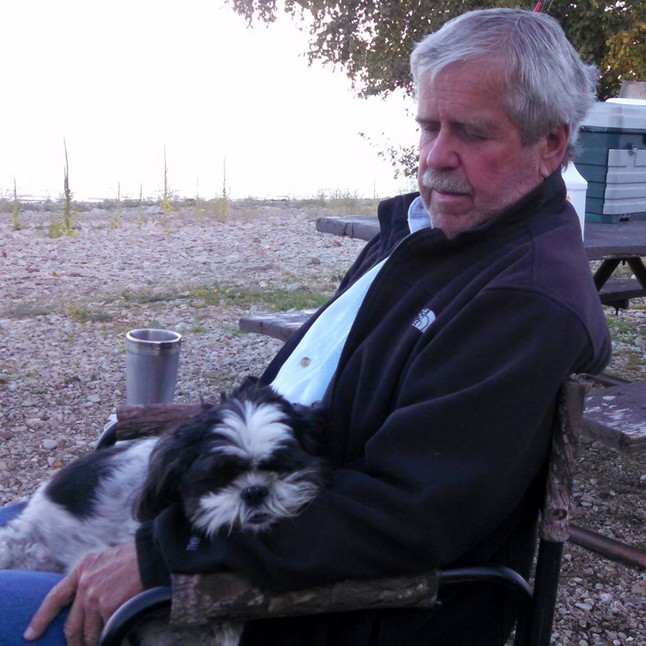 Roger Toomer (MHS 64) is retired and living in Montpelier.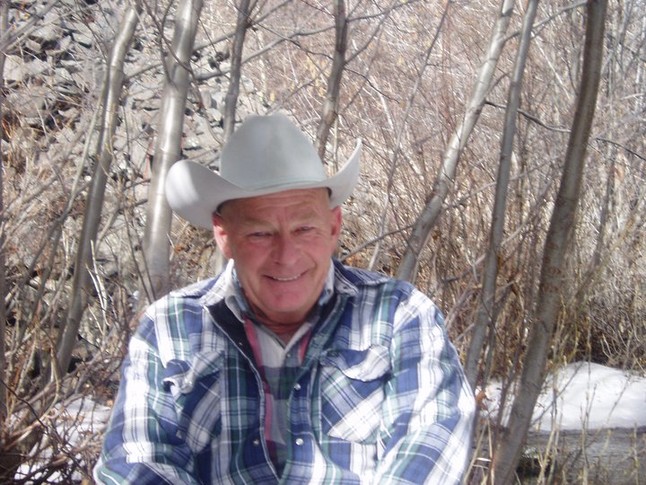 Tom Nelson (MHS 63) and his wife, Carol, live in Salmon, Idaho. They are retired and have two children.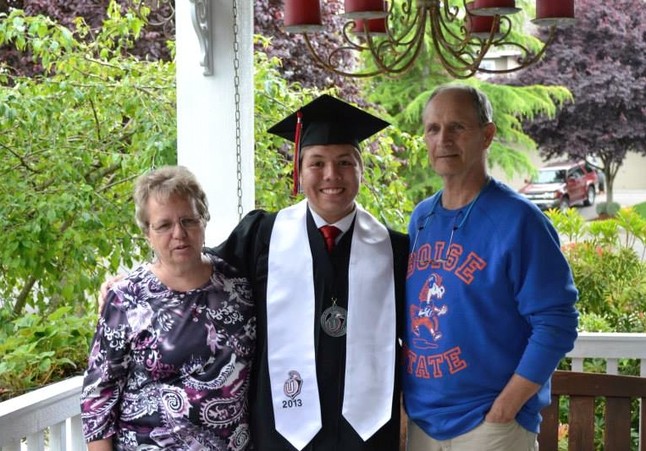 Vicky Crossley Tippetts (MHS 64) and her husband, Steve, with their grandson. They are retired and living in Boise, Idaho.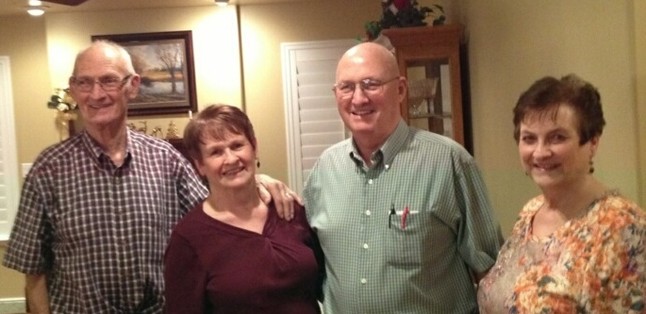 Lynn Jones (MHS 50), Gayle Jones Baxter (MHS 57), Cont Jones (MHS 58) and Odetta Jones Wilcox (MHS 64)

Candy Pederson Harold (MHS 64)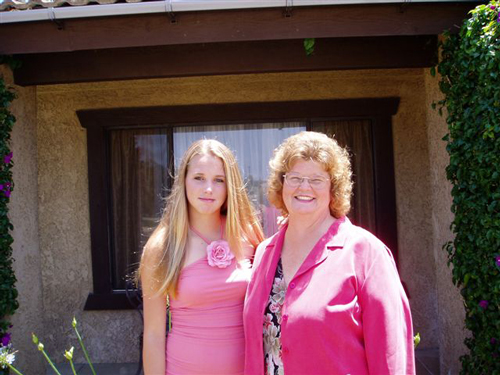 2009
Candy has two children and lives in Camarillo, California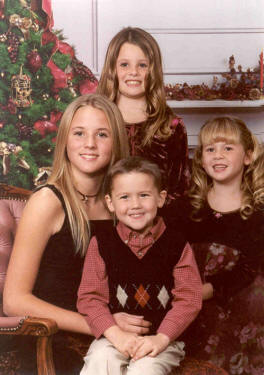 Candy's family

Terrell Bird (MHS 64)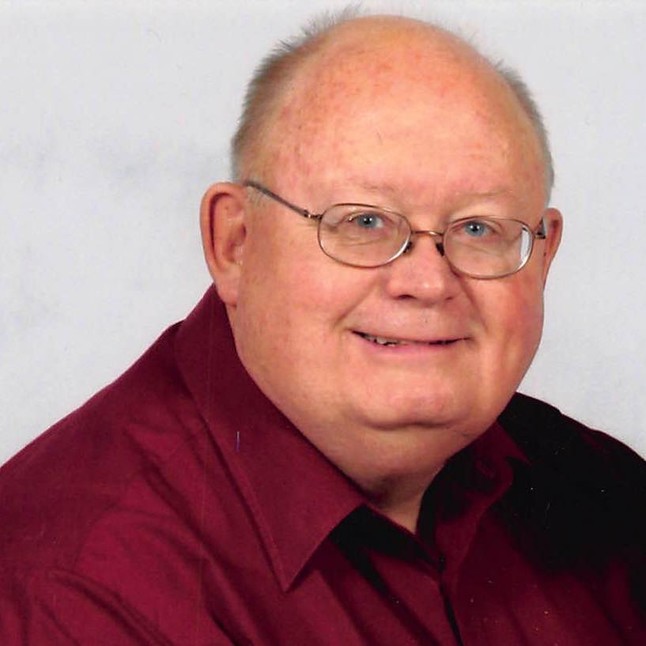 Terrell and his wife, Judy, are retired, reside in Woods Cross, Utah, and they have four children. More info can be found on Terrell's profile.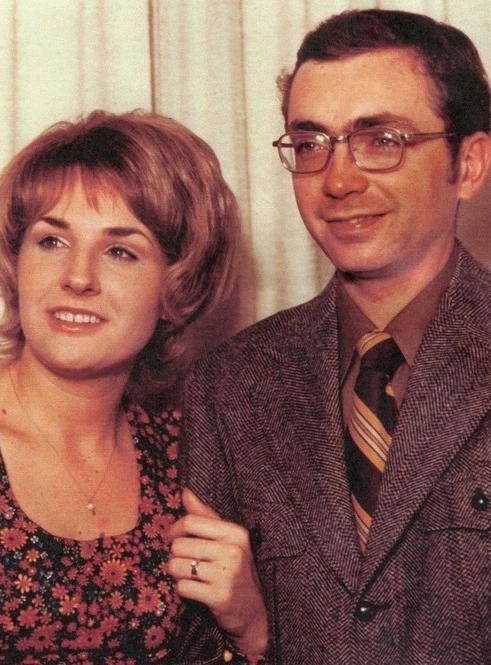 John Taggart (MHS 64) Engaged, spring, 1972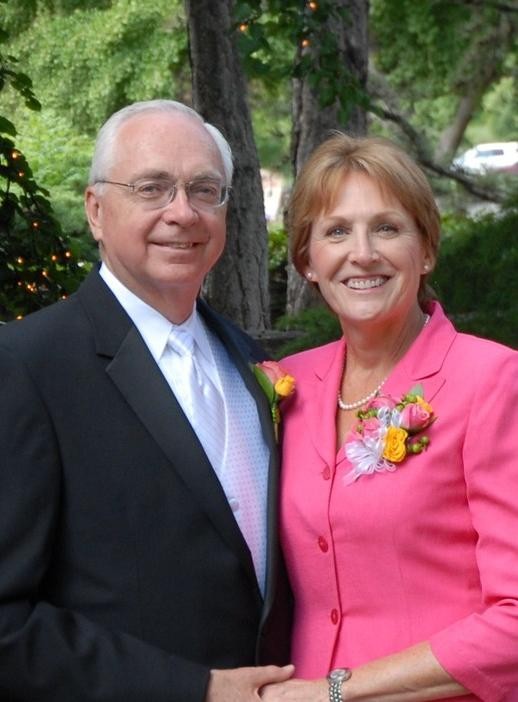 John and Marilyn, 2009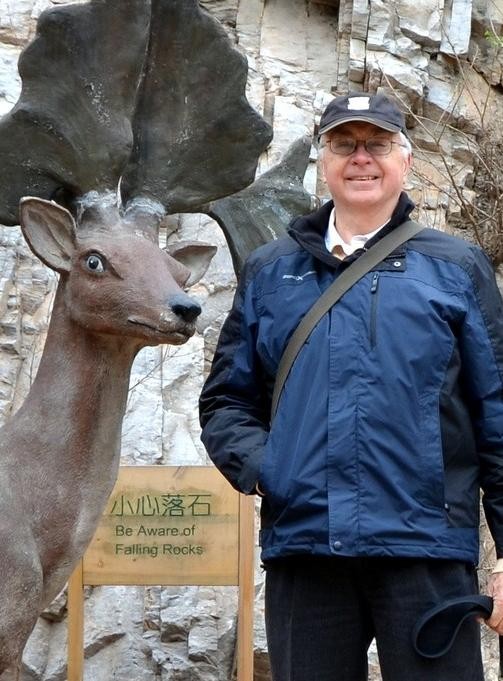 At the Peking Man excavation site south of Beijing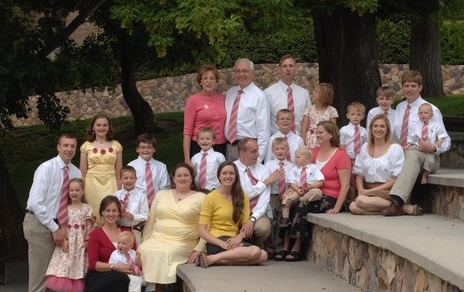 Jack Taggart marries Joanna Hawkins, June 2009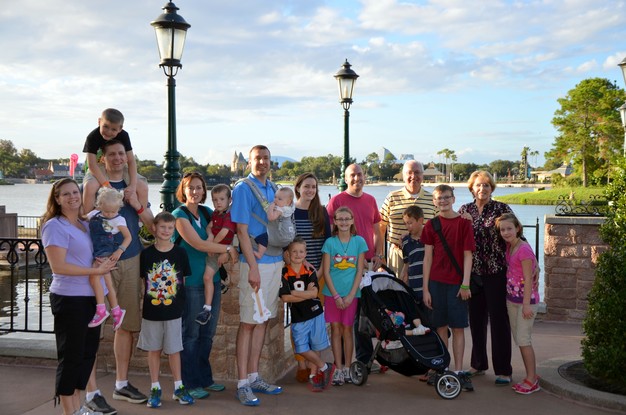 Some of the Taggart family at Disney in Florida, November 2013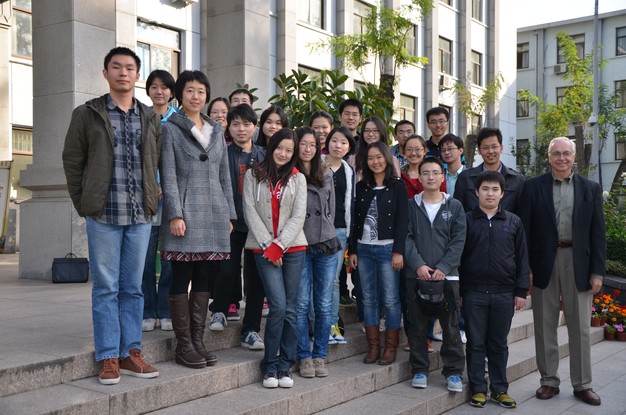 Senior International Law students at China Foreign Affairs University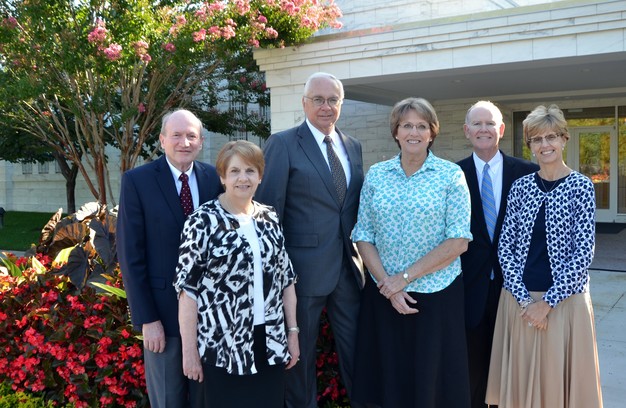 Currently serving in the Raleigh Temple Presidency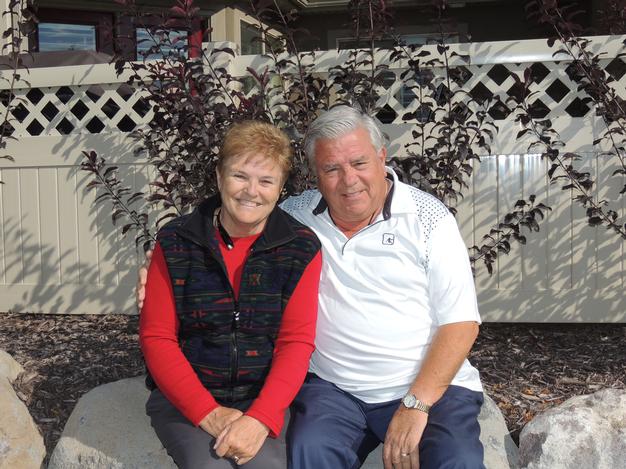 Judy Bradley Wimmer (MHS 64) and her husband, Charles, are retired, live in Syracuse, Utah and have thirteen grandchildren.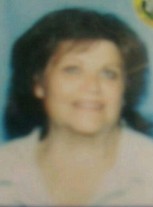 Diana Swa Pullman (MHS 64)
Diana and her husband, Cal Pullman, are retired and enjoying their life in Montpelier.

Connie Hayes San Pedro (MHS 64)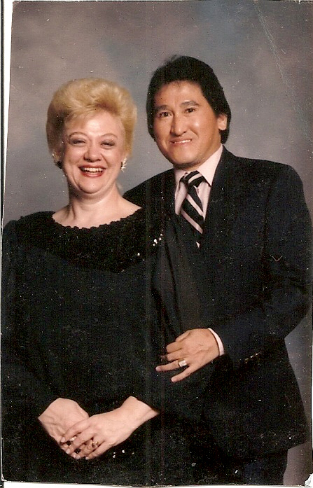 Connie and her husband, Dante San Pedro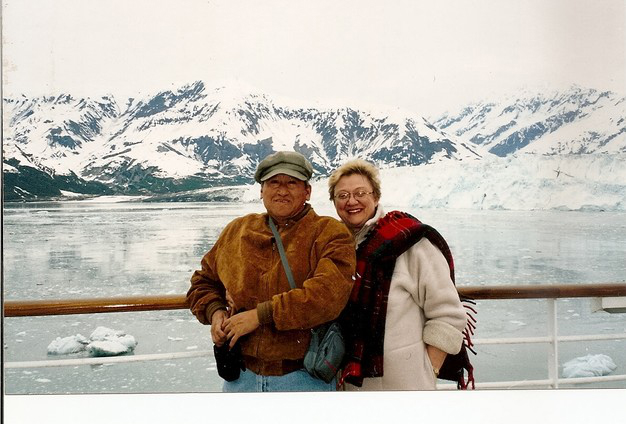 Connie and Dante are retired and enjoy traveling.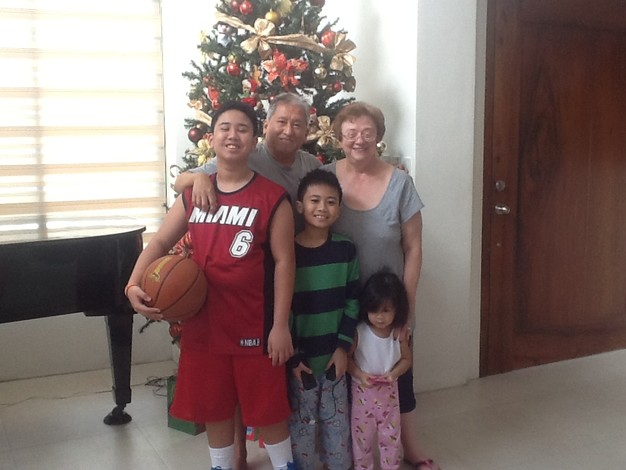 Connie and her family live in Harbor City, California.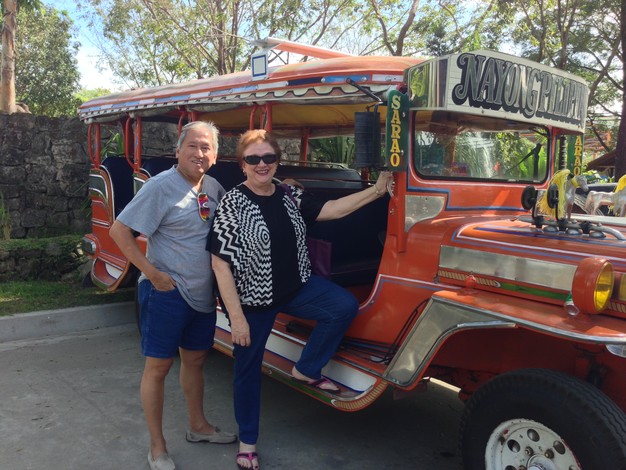 Connie and Dante

Ken Rigby (MHS 64)

Ken and his wife, Tamra, have three daughters and live in Burley, Idaho. Ken is retired, has a beautiful voice and enjoys performing. They hope to have a winter home in St. George soon.

Clinton Dunn (MHS 64) and his wife, Mary, are retired. They have two children and live in Idaho.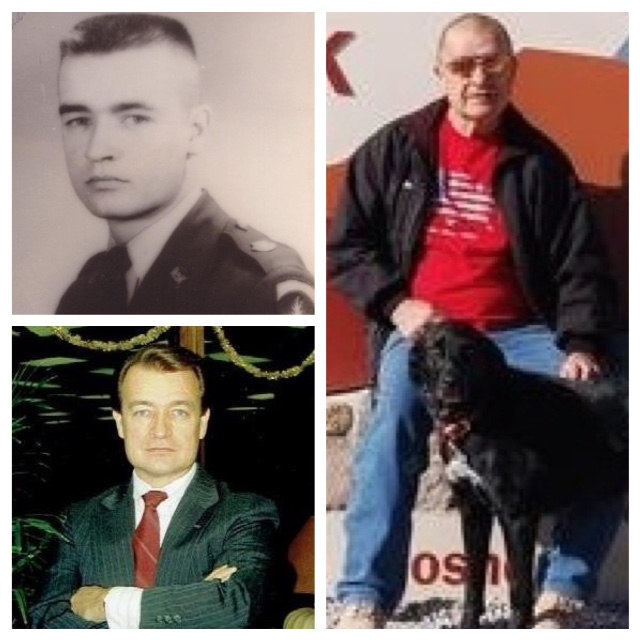 Joe Mack (MHS 64)
Then, the 80's, and recent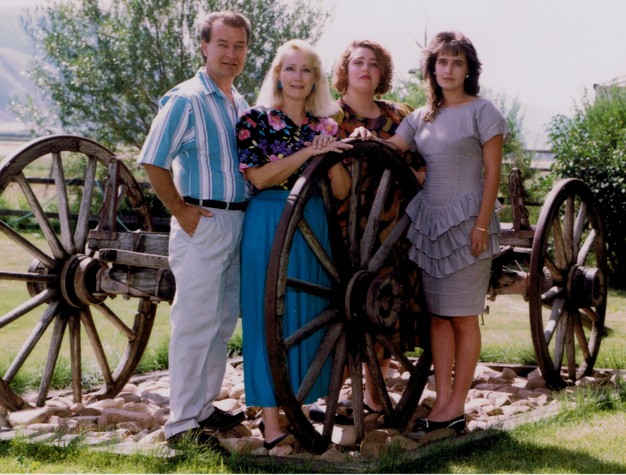 Joe and his wife, Slim, with their daughters, Brandi and Joddi, at the family ranch west of Afton, Wyoming.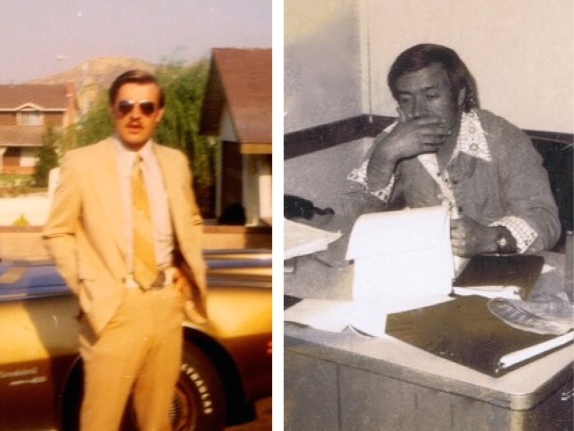 LAPD 1971 Detective, Hollywood Vice 1975

Joyce Smith (then)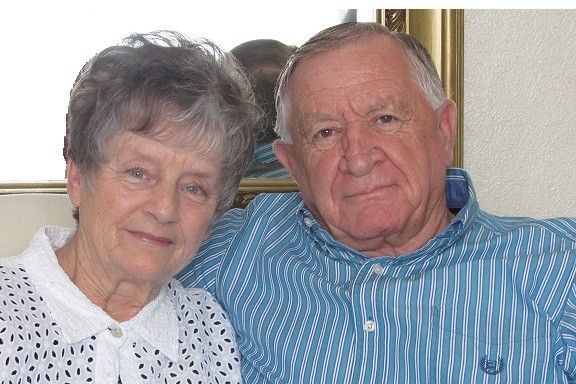 Joyce Smith Woolstenhulme (MHS 64) and her husband, Daryl Woolstenhulme (MHS 62). They have four children.
2004
Paul Pendry (MHS 64) and his wife, Linda and family reside in Sandy, Utah. Paul wasn't able to attend the reunion, but he sends his best to everyone. He will keep an eye on us through the website.
Tom Rich (MHS 64)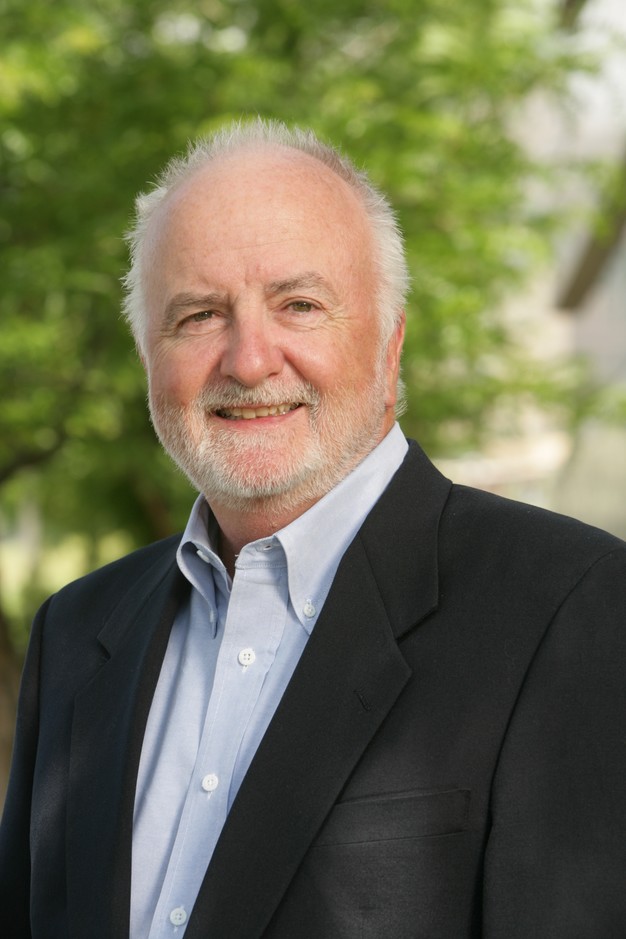 Tom is a CPA living in Mesquite, Nevada.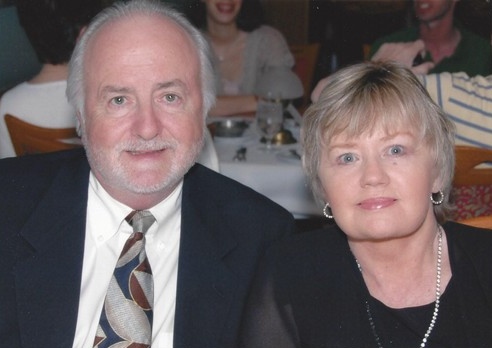 Tom and his wife, Linda, married a few years ago. They have one daughter, three sons and three grandchildren between them. They enjoy traveling and the warm weather in Mesquite.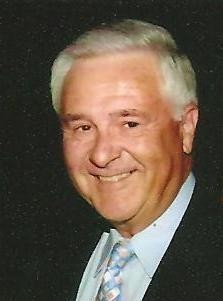 Don Olsen (MHS 64) and his wife, Lucille, live in Draper, Utah. He is Executive Director of the Utah Anti-Bullying Coalition. Don may seem familiar to many of you as he worked for KSL News several years ago.
Reola Phelps graduated from MHS in 1963.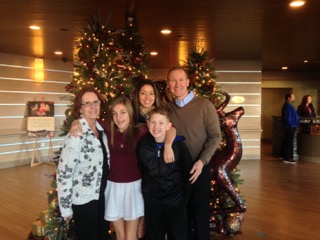 Ann Baker Smart (MHS 64)
Ann, Addie, Jen, Elliot, and Tom Pre-Christmas in Coeur d'Alene
From Ann: As I say good bye to 2014, I do so with a heart full of emotions, sad and happy. I miss Dick terribly, but the life we had together lives on through our family and friends. I have traveled with my siblings, spent precious time with our four adult children and their families, and have been surrounded by loving friends. For all of this, I am eternally grateful and blessed.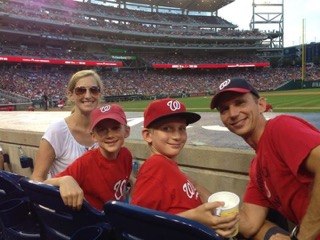 Kyler, Sydney, Ethan, and Mike Nationals baseball game, DC
Ben, Natalie, Caroline, Amy, and Jim Wintery Lolo Pass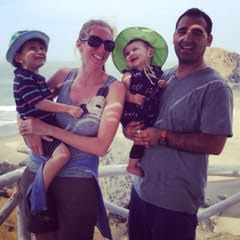 Leo, Jen, Gabby, and Claudio Peruvian Christmas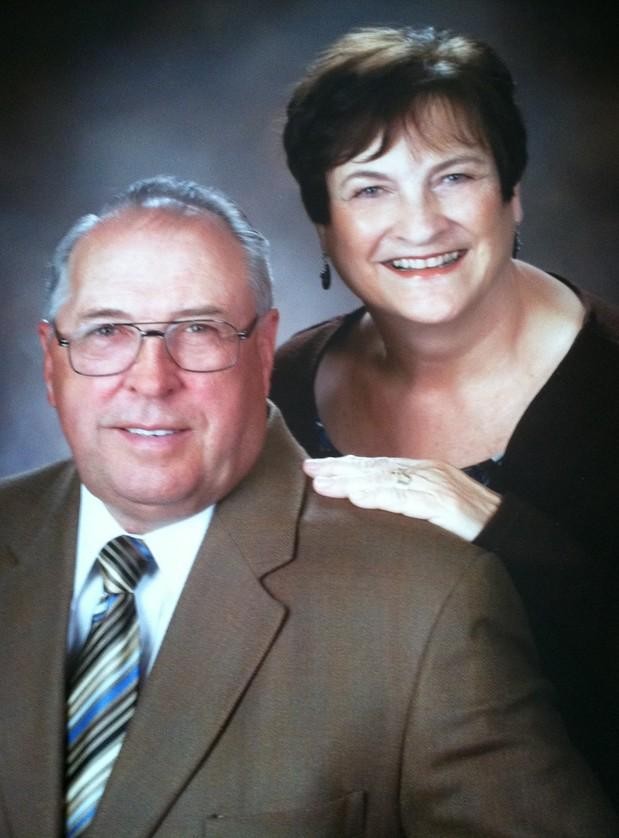 Layne Wilcox (MHS 60) and his wife, Odetta Jones Wilcox (MHS 64).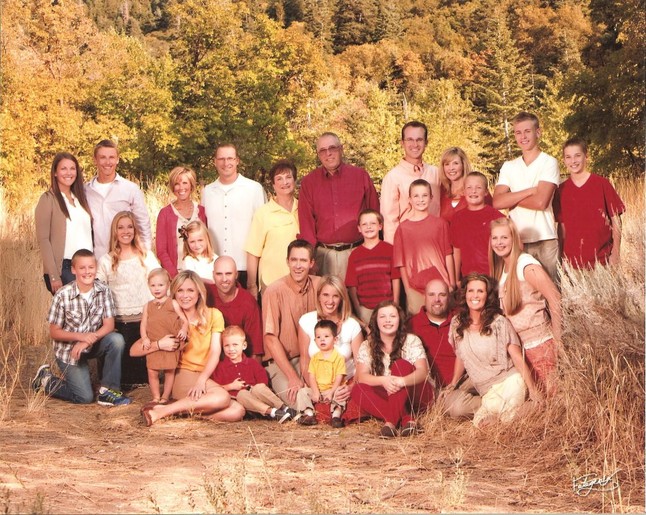 The Layne and Odetta Wilcox family.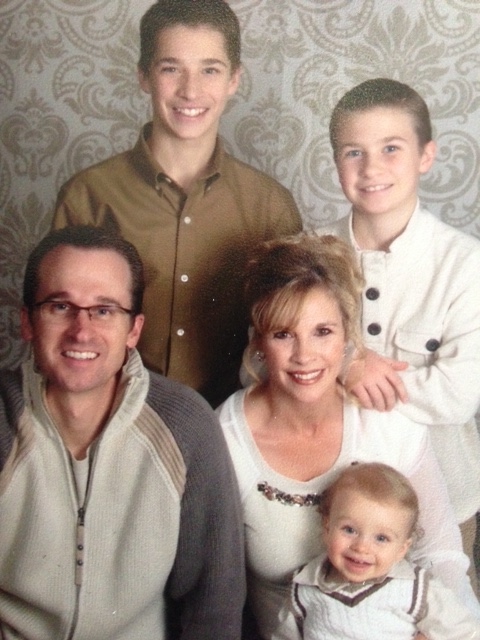 Layne & Odetta's oldest daughter, Marci, and her family.

Inline Image Not Displayed

Marci & Sam's son is serving a mission for the LDS Church.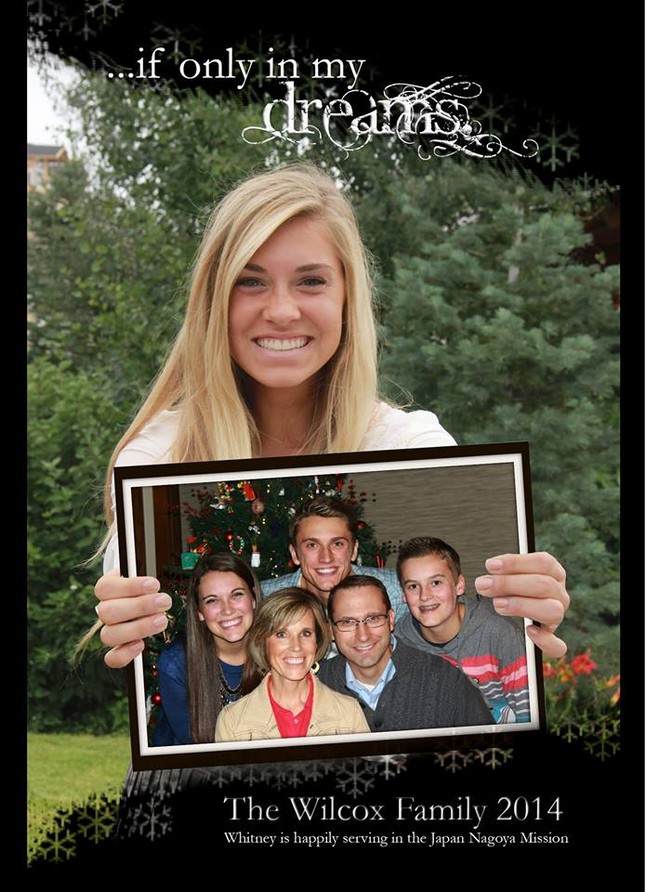 Layne & Odetta's oldest son, Travis, and his family.
Their granddaughter is serving a mission for the LDS Church.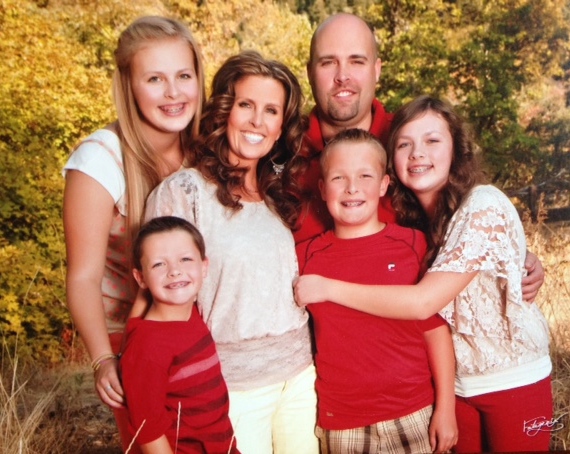 Layne & Odetta's middle son, Tyler, and family.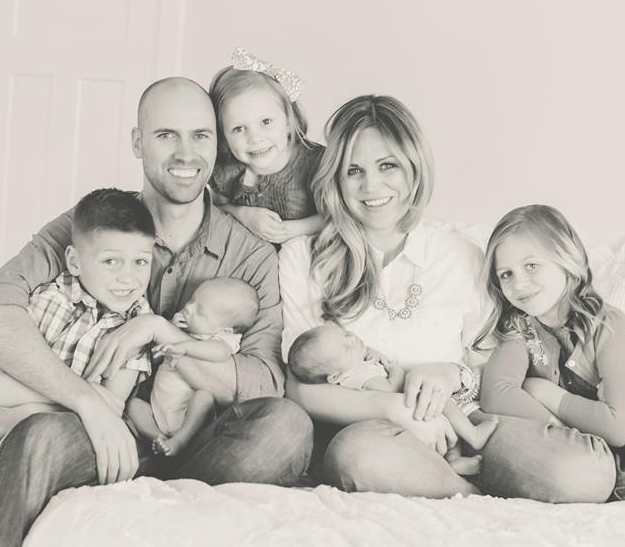 Layne & Odetta's youngest son, Torry, and his family.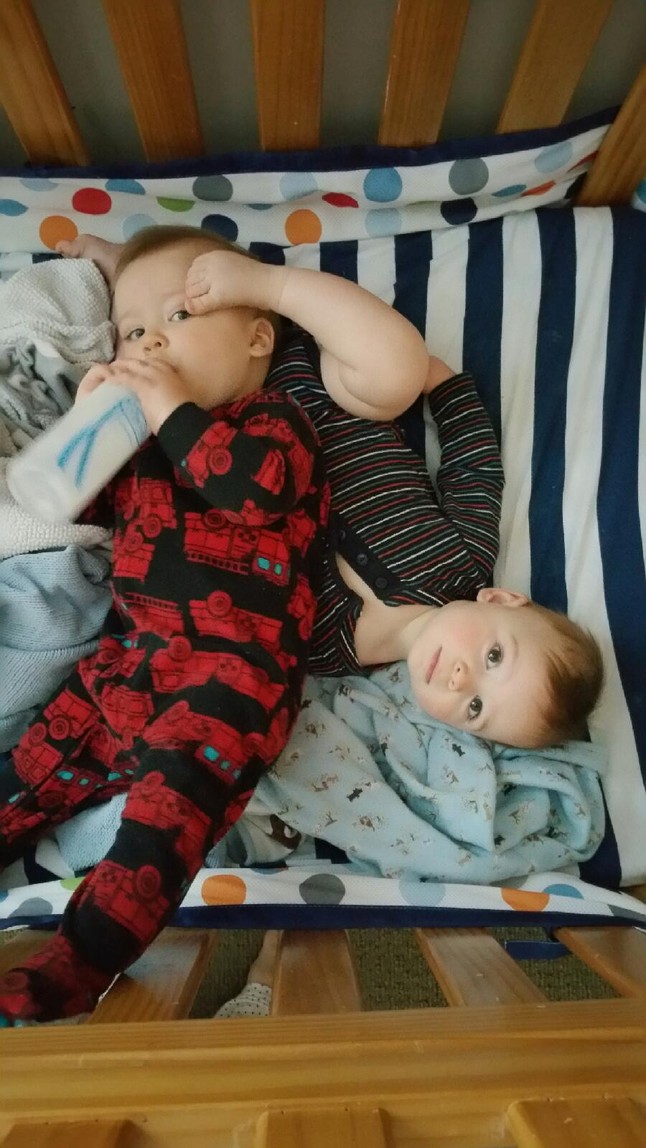 A recent pic of the twins.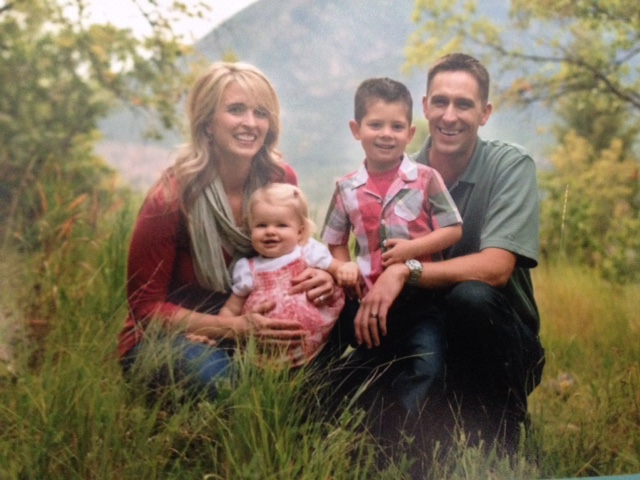 Layne and Odetta's youngest daughter, Misti, and her family.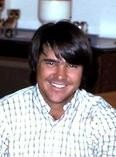 Then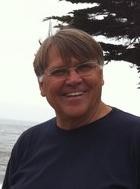 Now
Paul (Ish) Perkins (MHS 64)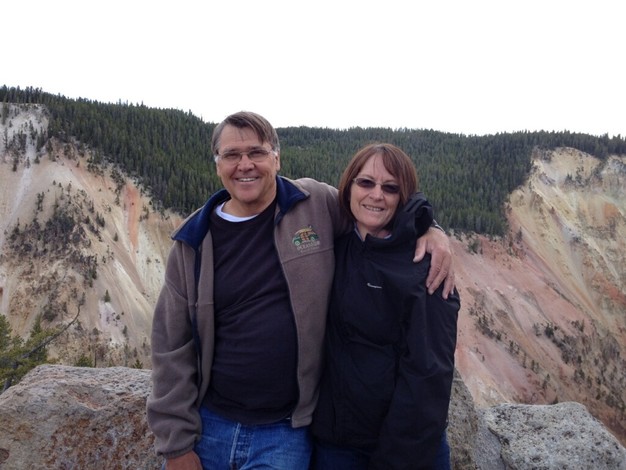 Paul and his wife, Edee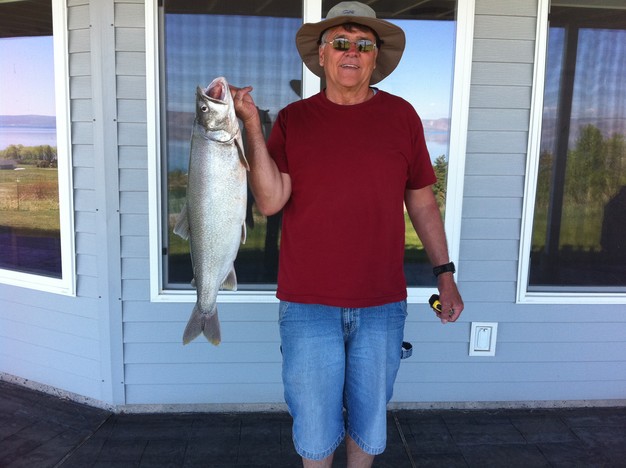 Paul caught this fish at Bear Lake. He and Edee have a beautiful view of the lake from their living room.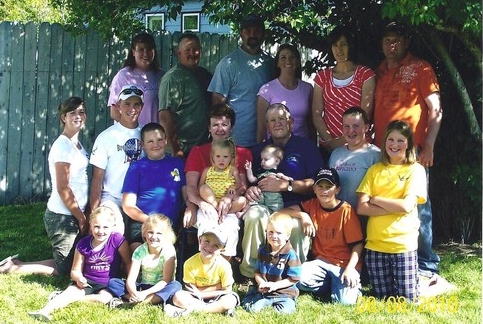 Fred Wells (MHS 64) and his wife, Mary Ellen and family.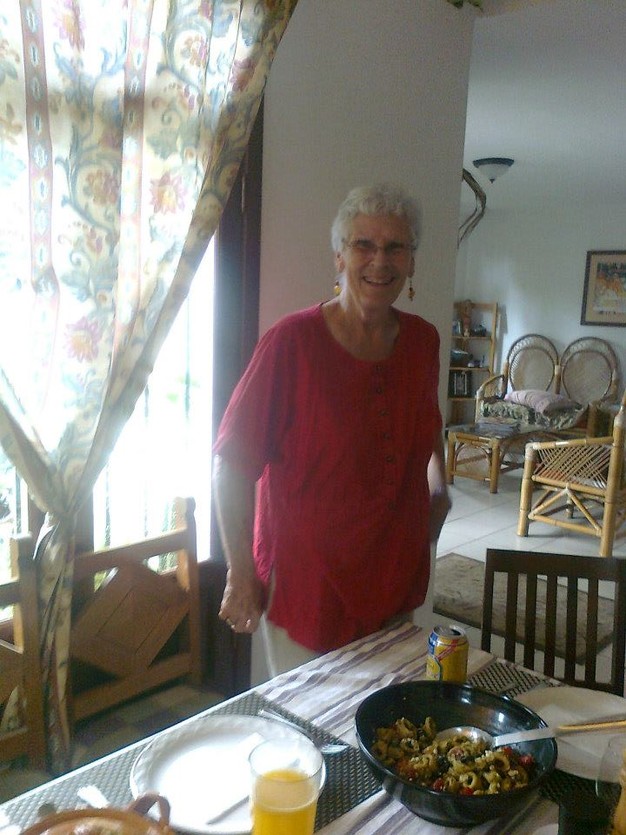 Julie Martineau (MHS 63)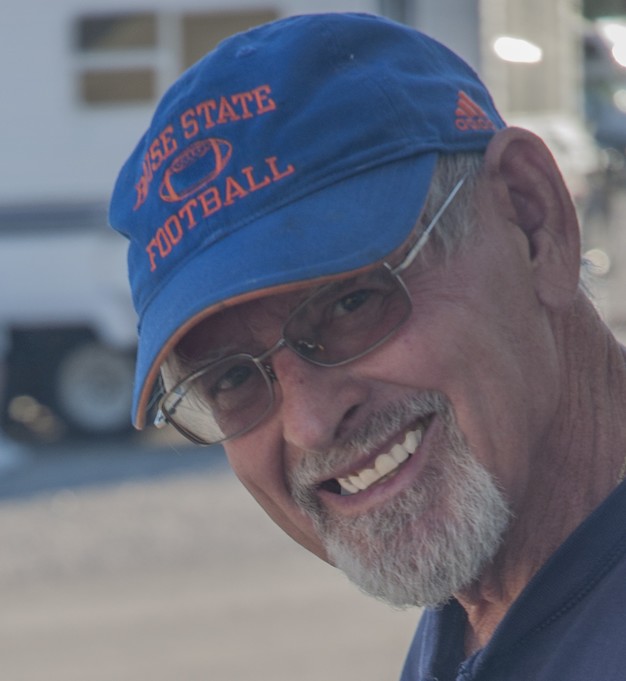 Ken Wilkes (MHS 61)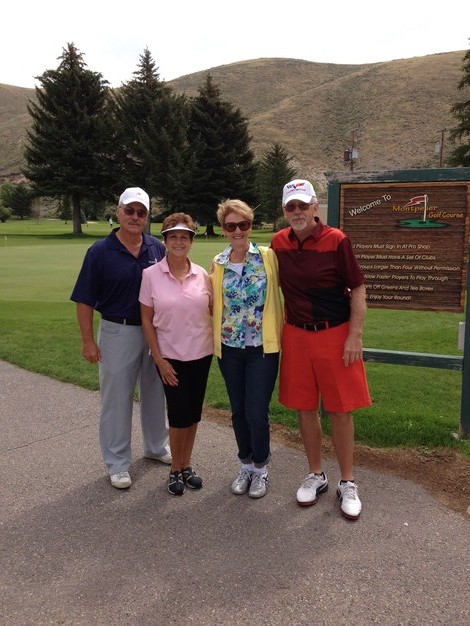 Rock and Judy Holbrook, Kris Williams and Rex Bergholm golfing at the 2014 (MHS 64) reunion.

Inline Image Not Displayed
Kristin Munk Williams (MHS 64) and her husband, Bruce Williams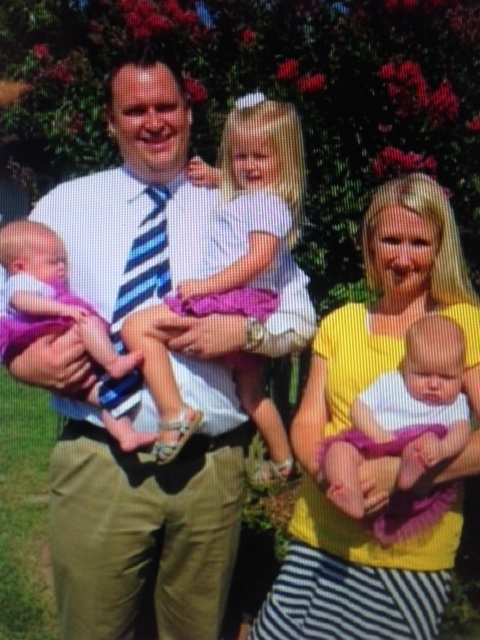 Kris' oldest daughter, Jamie and family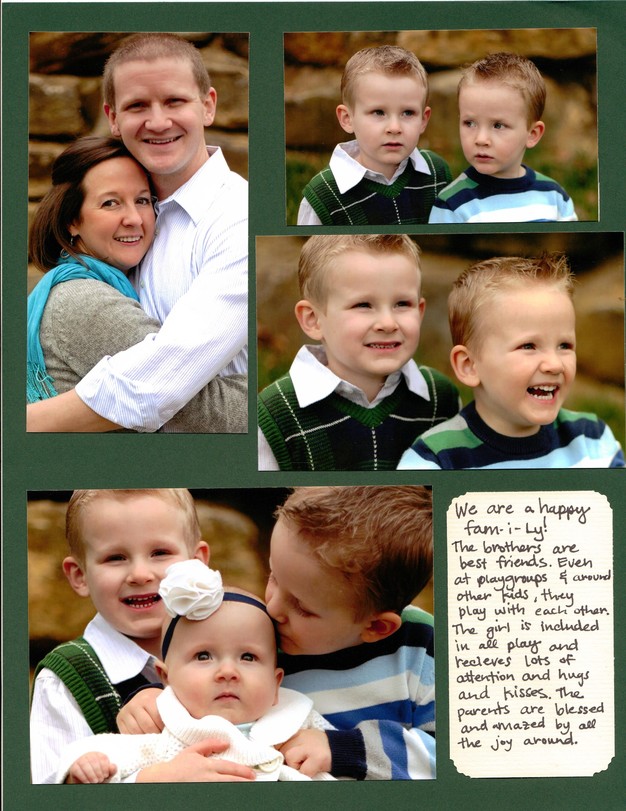 Kris' son, Steffan and family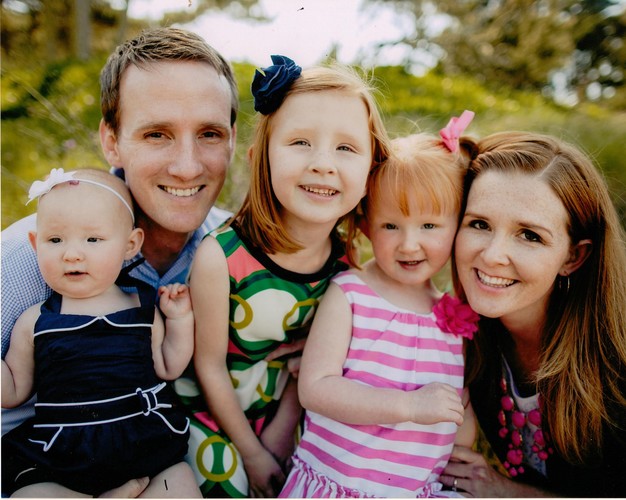 Kris' son, Nathan and family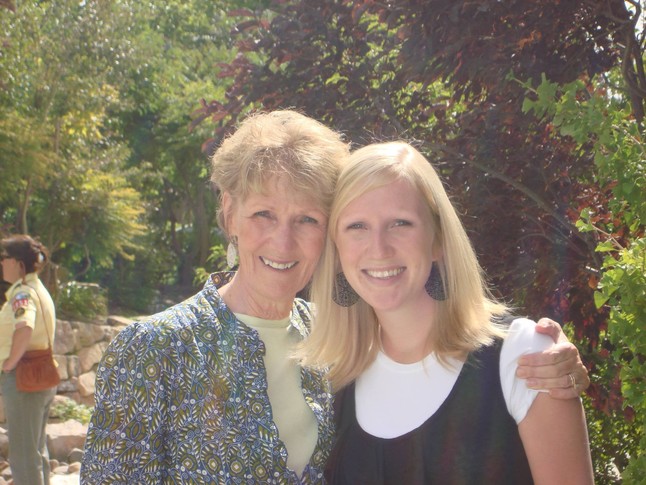 Kris and youngest daughter, Torrie.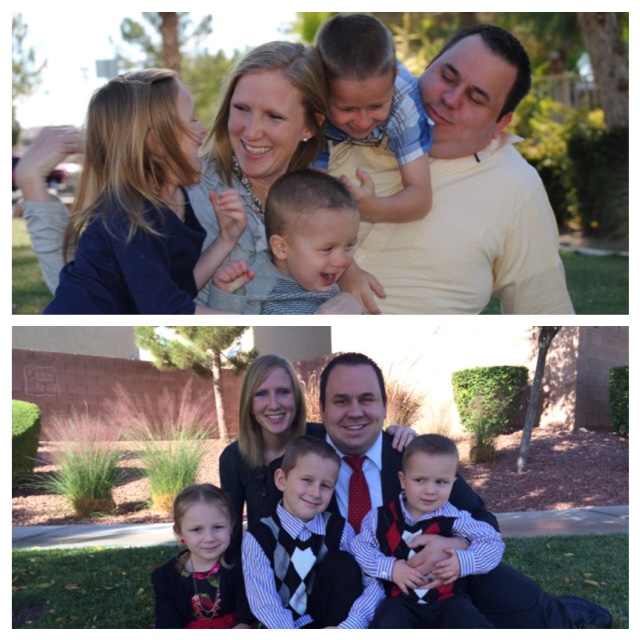 Kris' youngest daughter, Torrie and family.
Terry and Janice in a recent photo.
The Bartschi family
Mike Walling (MHS 63)
Mike Walling and his wife, Kathy.