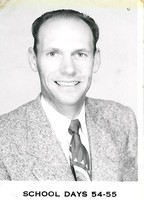 J.L. Jaussi, 90, passed away Saturday, December 12, 2009 at the Logan Nursing and Rehabilitation Center in Logan. He was born December 18, 1918 in Paris, Idaho to John and Estella Shepherd Jaussi, the fourth of nine children.

He was raised in Paris and attended the local schools. He graduated from Ricks College in 1939. He served an LDS mission in the Western States Mission and upon returning home, married Marilyn Bee in the Salt Lake LDS Temple, three days after the bombing of Pearl Harbor. He joined the USMC and served four years, achieving the rank of 1st Lt. spending time in the South Pacific Theater.

He returned home to Montpelier, Idaho after the war and spent 14 years as principal of the junior high there. In 1962 he entered the LDS church education system and taught seminary for two years before moving to Logan, where he earned his M. Ed. degree in educational administration. He then became the principal of the Logan LDS Seminary. He was transferred to Indianapolis, Indiana, where he organized early morning seminaries, home study programs and institutes in nine states, with Marilyn by his side serving as his secretary. This work eventually took them to Australia, The University of Nevada in Reno, Logan LDS Institute, Tonga, and ended in the Northern Utah and Southern Idaho area as an administrator.

After his retirement in 1982, he and Marilyn served two missions for the LDS church, one as directors of the Hyde Park Visitors Center in London and the other in the Hartford, Connecticut LDS mission. J.L. was awarded the Distinguished Emeritus Service award from Ricks College in 1990.

Amidst these many accomplishments, he and Marilyn raised a family of five children. Eventually they settled in Smithfield, where his family could gather and visit.

He is survived by his wife, Marilyn; children: Marian; Curtis (Nancy Peterson); Kyle (Ursula Zurcher); Clair (Janet Broadbent); and Darlene (Tom Stoddard). These precious children have added 25 grandchildren and 66 great grandchildren to their posterity. He is also survived by his siblings: Norman Jaussi; Revola Hobbs; Aurelia Sirstins; Melba Martin and Larry Jaussi.

He was preceded in death by his parents; and brothers: William; Rolland and Clifford.

Funeral services were held Thursday, December 17, 2009 at the Smithfield 10th Ward Chapel, 430 South 250 East, Smithfield. Interment was in the Smithfield City Cemetery.