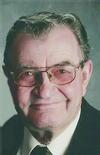 Our loving husband, father, grandfather brother and friend Garald L. Skinner passed away Nov. 20, 2016. Garald L. Skinner was born on December 5, 1938 to Lester Skinner and Lola Mary Patterson in Bloomington, ID. Garald was raised in Nounan, ID on the family ranch. He was the third of five children.

Karen Passey and Garald were married on Sept. 12, 1955 in the Salt Lake Temple. They have celebrated 61 years together. They had four children Michelle (David) Higley, Russell ( Cheryl Daniels) Skinner, Melanie Bowcutt, and Stephanie (John) Carstensen.

Garald was known for his hardworking nature and sense of humor. He attended grade school in Nounan through the sixth grade and then went to Montpelier and graduated from Montpelier High School in 1953. He graduated from Utah State University with a Bachelor's in Agriculture in 1957. He helped to plan and implement the Skinner Irrigation system in Nounan. He was active in Farm Bureau and served as the State Farm Bureau Director for several years. He also served on the Bear Lake County Planning and Zoning board. Garald was very active in the LDS church, and fulfilled many callings. He and Karen served in the Logan Temple for ten years. After his mother passed away in 2002 he and Karen served a 18 month Family History Mission in Salt Lake City. Garald is remembered by many of the students who he taught in Ag and Shop class at Montpelier High School from 1958 until the consolidation of the Paris and Montpelier High School. He was very involved in the FFA program and he and his students won several awards. In 1987 he and Karen became real estate agents and worked for Garald's sister at Julian Real Estate until 2002.

Garald developed an undiagnosed condition that impacted his ability to speak and walk and this became a large challenge to him in his later years.

Garald enjoyed the outdoors until he was unable to go outside without assistance. He loved his family and enjoyed being with them.

He is survived by his wife Karen P. Skinner, his three daughters Michelle, Melanie and Stephanie, three sisters, Dorthy Julian, Mariel Morgan and Diane (John) Jensen and one brother Lynn Skinner, 11 grandchildren and nine step-grandchildren, 22 great-grandchildren six, step-grandchildren and two step great-great grandchildren. He was proceeded in death by his son Russel Skinner, his parents, and brother-in-law K.C. Julian and sister-in law Elvon Skinner.

The viewing will be on Sunday the 27th at Schwabb-Matthews Mortuary at 702 Clay Street at 6:00 -8:00 pm. There will be a viewing Monday November 28, in the Montpelier South Stake Center at 10:00-11:45 and the funeral at 12:00. The interment will follow in the Montpelier City Cemetery.