The Centre Theatre, on Washington Street in Montpelier, was originally the Rich Theatre. The building has been there since 1920.
Currently, the theater is owned by a family in the Salt Lake area. The man who owned it for years kept it going as a service to the community, but he recently died. So his son decided it was time to sell.
Because the theater doesn't turn a large profit, if sold, it likely would not stay a theater.
So Charles Horikami decided to take action when he heard it was for sale.
"Think about it this way - if we don't have a theater, what do we have?" Horikami said. "We have a bowling alley, which is also for sale. And if we don't have that, if we don't have anything in Bear Lake, why do people want to come and stay?"
Horikami said the bowling alley, Jolara Lanes, was put up for sale the night he started the Go Fund Me for the Centre Theatre.
Horikami added that by having to leave town to find that missing entertainment, that means Montpelier's community business is going elsewhere and it could have a domino effect on other businesses in town.
Studebakers Pizza has been neighbors with the Centre Theatre for 27 years. Brian Jensen, the manager at Studebaker's, said being next door has been good for business and he would be sorry to see it go. He said the community needs it. And he said it might affect Studebaker's business too.
"I think it would definitely probably slow it down a little," he said. "When some of those good movies come out that people like to see, we wouldn't have that traffic coming through with people stopping in and getting pizza before they go to the movie."
Horikami has started a Go Fund Me page to try and raise the $150,000 asking price for the theater.
"I'm a numbers guy," he explained. "I see something happening and my first thought is, how can we divide this up? How can we make this work? What are the numbers behind this? And Bear Lake County is about 6,500 people. $150,000 dollars, we divide that by 6,500 people, that's $25 per person."
Horikami said he encourages people to donate because it really is beneficial to keep the theater open in the community.
"If we don't have a theater, we have to drive to Preston, to Soda Springs, or over to Afton. And if you go to Soda Springs, a round trip cost is going to be about $12. Two trips to Soda Springs to the movie theater, you're already paying that $25. You do one and a half trips to Preston - $25. One and a half trips to Afton - $25. So if you even go to the theater once in the rest of your life, it's to your benefit to actually fund our theater."
Emily Keetch's family has managed the theater for 30 years and said it'd be hard to say goodbye.
"It's been like a second home to me so it makes me sad to see it up for sale," Keetch said.
But, she added, having it stay open also comes with its challenges.
"It's kind of a double edged thing," she explained. "I would love to see the theater continue working but I've also seen the backside of it and I know it's not just as simple as coming up with the money to buy it because there's so much more that goes into it. It is an old building and requires a lot of upkeep and unless something changes with the tenants, it's not making enough to cover all of that."
Horkiami said many people have been wondering if they donate, then what?
He said it's still in the early stages, but right now, one idea is to buy it with the community funds and make it a community-run theater. He said they are working with an accountant to try and establish a non-profit organization for the community theater, with community board members, a mission statement and all. Then because it is a theater and does make some money, the non-profit group would lease it out to a for-profit company to run, under the umbrella of the non-profit community group. He said that's all things that they are working on now to make possible.
Horikami said if they get a good amount of money raised but haven't hit the $150,000, another option might to work with a local bank to get a loan and use whatever community funds have been raised so far as a down payment.
He said it's only been up about a week and so they are still working out the kinks, but he wanted to get started on the fundraising.
Horikami also clarified that if you donate, and they can't make any sort of purchase of the theater, all money would be refunded to the donors. If the donation was anonymous and they can't figure out who a certain donor was, those monies would be donated to the local middle school instead.
To donate or see the Go Fund Me page for the theater, go here.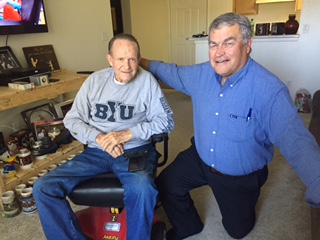 Jerry Bissegger and Ross Peterson, May 21, 2017. MHS class of 1959.
Lynn Roderick provided the following history of the origins of Montpelier High School.
Montpelier High School had its beginning in the basement of Washington School located on the northeast corner of 4th and Clay.
The first high school class was organized in 1906 with Fred L Willis as the Superintendent. Eleven students were enrolled in the first year. They were Jennie Barrett, Finch Ridd, Myrtle Conley, Mabel Pearce, Marguerite Whitman, Harold Toomer, Cecil Hull, Earl Jonley, Forest Stuart, Neil Gee, Raymond Reese and Mildred Whiteman.
Morning sessions were devoted to high school work which met in the one basement room of Washington School. Courses were the same for everyone, Algebra, English and Literature, Ancient History and Physical Geography. All eleven students completed the first year course.
By 1906 a building was under construction which was being built on the playground area of what is now A J Winters Elementary school, adjacent to the Purple Sage property. High school classes continued to meet at the Washington School during the second year, but two rooms were then needed to house the students. Carl F Banghart served as superintendent, principal and instructor, with another teacher Miss Lois V Stoddard. There were 25 freshmen and ten of the original group as sophomores. This year the students choose the colors, banners and the Bear mascot.
At the beginning of the third year students moved into the new building. The faculty included H S Stevens as principal and Georgia Bassett and Harold Sanders as teachers. Only five original students remained in the junior year, Mabel Pearce, Jennie Barrett, Neil Gee, Raymond Reese and Mildred Whitman.
By the fourth year the building was completed and the student body was at 48. Only two Mabel Pearce and Mildred Whitman were in the senior class. These two received their diplomas in the spring of 1910. Both had identical grades and graduation was held in the Montpelier Theatre. Rev James Laughlin, pastor of the Methodist Church presided and Dean Elliott, President of the University of Idaho was the keynote speaker.
~~~~~~~~~~~~~~~~~~~~~~~~~~~~~~~
Ann Kunz Anderson shared this letter that AJ Winters wrote to her grandfather, SN Kunz, regarding Ann's father taking time off from school to hunt deer. Ann's father is Donald Kunz, a graduate of the MHS class of 1938. Ann is a graduate of the MHS class of 1961.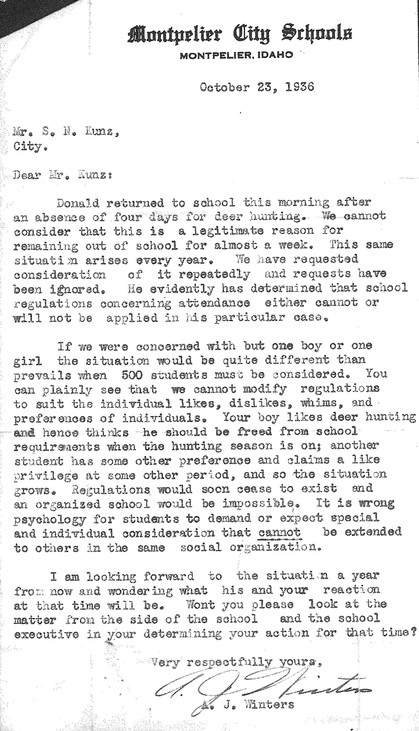 "Have you ever really had a teacher? One who saw you as a raw but precious thing, a jewel that, with wisdom, could be polished to a proud shine? If you are lucky enough to find your way to such teachers, you will always find your way back. Sometimes it is only in your head. Sometimes it is right alongside their beds." Ross Peterson quoting from Mitch Albom's "Tuesdays with Morrie." Mitch Albom had been a student of Prof. Morrie Schwarz at Brandies. Schwarz was diagnosed with ALS and they met on Tuesdays for many months until the professor died.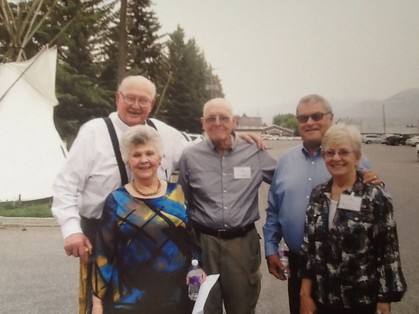 Coach Charles M. Grant, Gay Grant, A.M. Rich, Ross Peterson and Mary Kay Peterson at the 2014 Reunion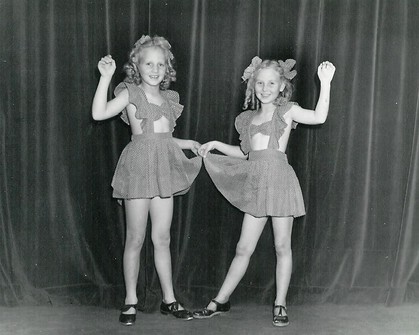 Marilyn Wilcox and Rosanna Combs, Dance Review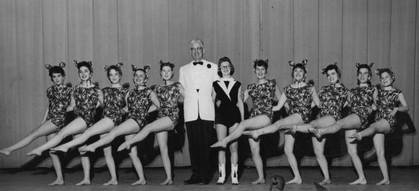 Peppettes Circa 1958 Lion's Club Fund Raiser "Catch That Tiger"
Louise Erramouspe (60), De Anna Roderick (58), GayeLene Booth (59), Marcia Meek (58), Anne Stuart (58), Lions Club representative Clair Barrett, Elaine Spencer (59) tiger trainer, Julie Shepherd (58), Karen Sleight (58), Emma Lou Schmid (58), JoAnn Alleman (59), Linda Buhler (60)