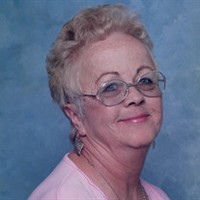 Deloris Meredith, 86, passed away on February 19, 2018. Deloris was born April 12, 1931, in Montpelier, Idaho to Alfred Swa and Minnie Pearl Watson Swa. She moved to Fort Collins in 1959.

Deloris married James "Jim" Leroy Meredith on March 1, 1969 in Colorado Springs. She was a custodian supervisor at Colorado State University for 18 years. She was known as Grandma Green and cared for the students who worked for her. Her spunky and spicy personality endeared her to all who knew her.

Deloris was a loving mother, mother-in-law, grandmother, and great-grandmother. She was an avid bowler. On Wednesday afternoons, you would find her playing Bingo. She loved to crochet and made many blankets for her children and grandchildren. She also loved to fish and go camping. Her favorite activity was spending time with her
grandchildren and great-grandchildren; decking the tree at Christmas when her whole family surrounded her was a very special time, and she would spend weeks making some of their favorite treats.

Deloris is survived by her children Bob LaMar and daughter-in-law Donna; Robbie Bauer and son-in-law Pete, of Ft. Collins; Sherry Meredith-Babeon and son-in-law Lloyd; James "Pug" Meredith and daughter-in-law Deb of Denver; 11 grandchildren; and 12 great-grandchildren.

Preceding Deloris in death was her husband Jim, her parents; 9 brothers and sisters; one son; and one grandchild.

A viewing will be held on Thursday, March 1 from 9 a.m. – 4 p.m. at Bohlender Funeral Chapel. Services will be held Friday, March 2, 2018 at 10 a.m. with a graveside service to follow at 1 p.m. at Resthaven Memory Gardens Cemetery. Please visit bohlenderfuneralchapel.com to send the family online condolences.